There's really not much better than a hot bath at the end of a long day.
It's a fantastic way to relax and let the cares of the day just soak away.
If you love baths as much as I do, you probably have a good supply of bath salts and bath bombs to scent the bath water.
But how about trying something new – bath oil.
Not just any bath oil, but a homemade bath oil that…
colors your bath water a fun shade of red, orange, yellow, green, or blue
surrounds you with the refreshing scent of essential oils (customized to your preference)
soothes dry winter skin, leaving skin silky, moisturized, and smooth
Sounds great, doesn't it?!
Makes some for yourself and make more to give as Christmas gifts.  These adorable Christmas bath oil ornaments are the perfect holiday gift.
Who doesn't love a little self-care?
Give a single bath oil ornament, or give a set of all 5 ornaments for an entire season of bathing fun, or combine the scented bath oil with other essential oil DIYs to make pampering spa gift perfect for almost everyone on your list.
Mix and match the spa bundle using bubbling bath salts, a sugar scrub that smells just like a Christmas sugar cookie, peppermint & charcoal soap, and soft & silky whipped body butter
However you gift them, these adorable homemade bath oils are sure to be a big hit!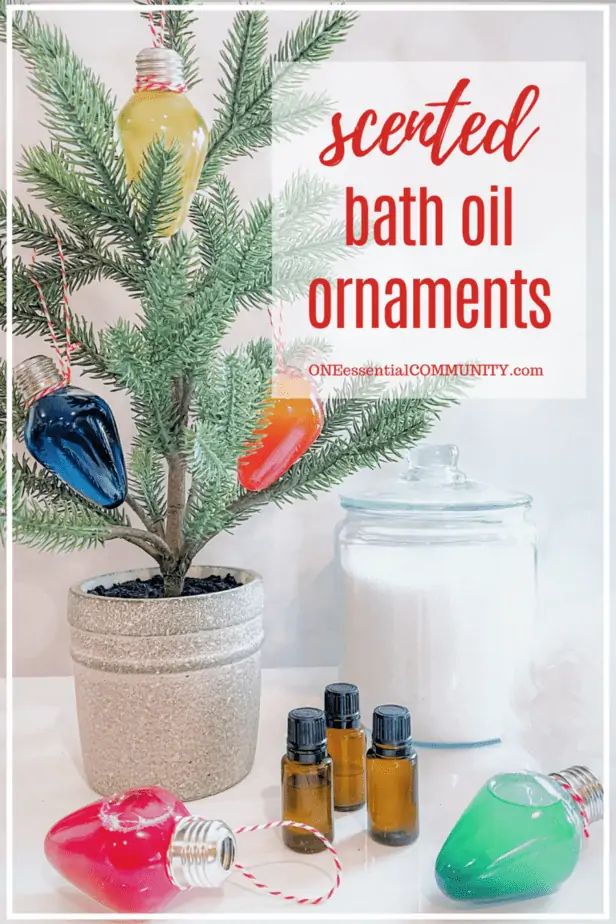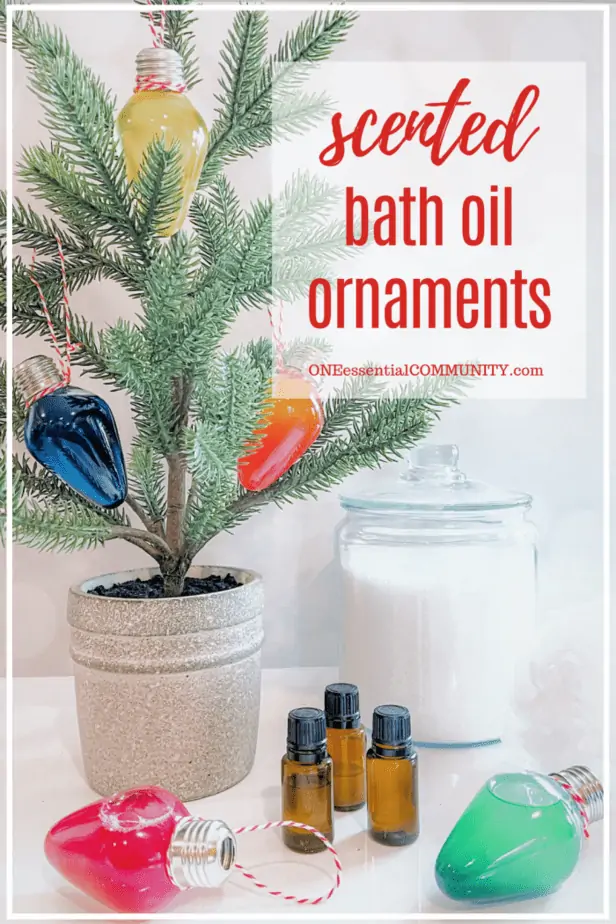 Benefits of Bath Oil
Bath oil moisturizes and soothes dry, itchy skin, leaving it soft and silky smooth.
By making your own bath oil, you get to choose your own essential oils and the therapeutic benefits you want in your bath oil.  Choose from relaxing, mood boosting, muscle soothing, clear breathing, energizing, and more.
Diluting essential oils in a carrier oil like bath oil not only makes using the essential oils safe, diluting also increases the effectiveness of the essential oils.
And by using a bath oil like this one that is a blend of carrier oil and alcohol, the carrier oil, essential oil, and colorant disperse readily throughout the water rather than just sitting on top of the bath water as happens when you only use a carrier oil and essential oil.  Remember water and oil don't mix.  They need something (alcohol in this case) to help the water and oils mix.
Lastly, a hot bath is a great way to relax and reduce stress.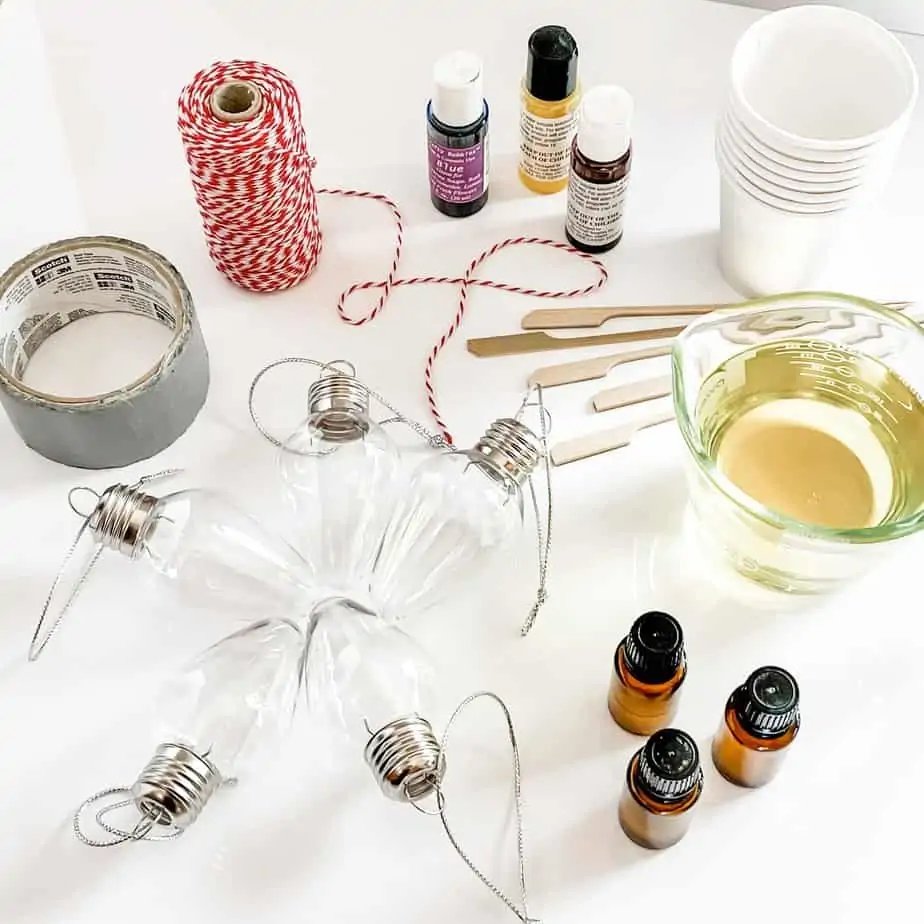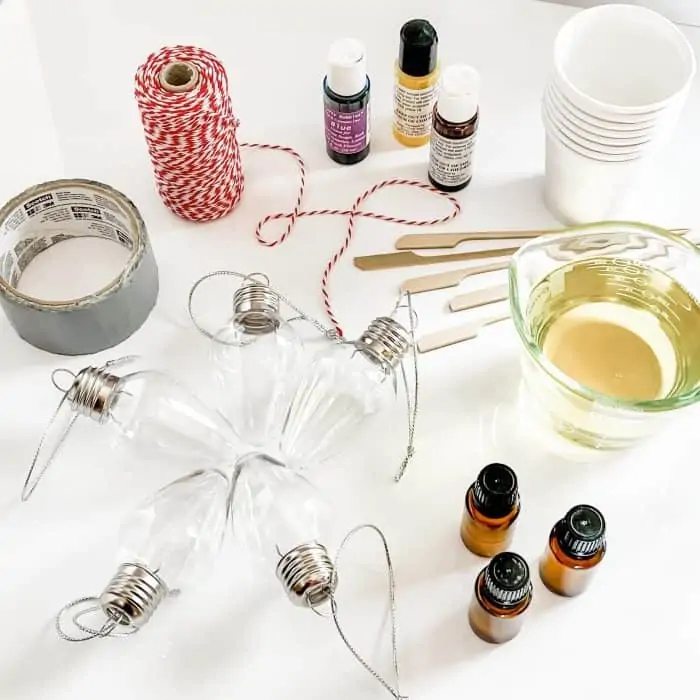 What You Need to Make Scented Bath Oil Ornaments
This website contains affiliate links. This means that should you click on certain links, and then subsequently purchase a product, I will receive a small commission. The price is exactly the same for you as it would be without the affiliate link. 
measuring cup

essential oil

scissors

rubber bands
How to Make Bath Oil Ornaments
step 1:  If you want to put your scented bath oil in a fun container for Christmas gifts, try using a clear Christmas lightbulb ornament like this.  Remove the top from the ornament.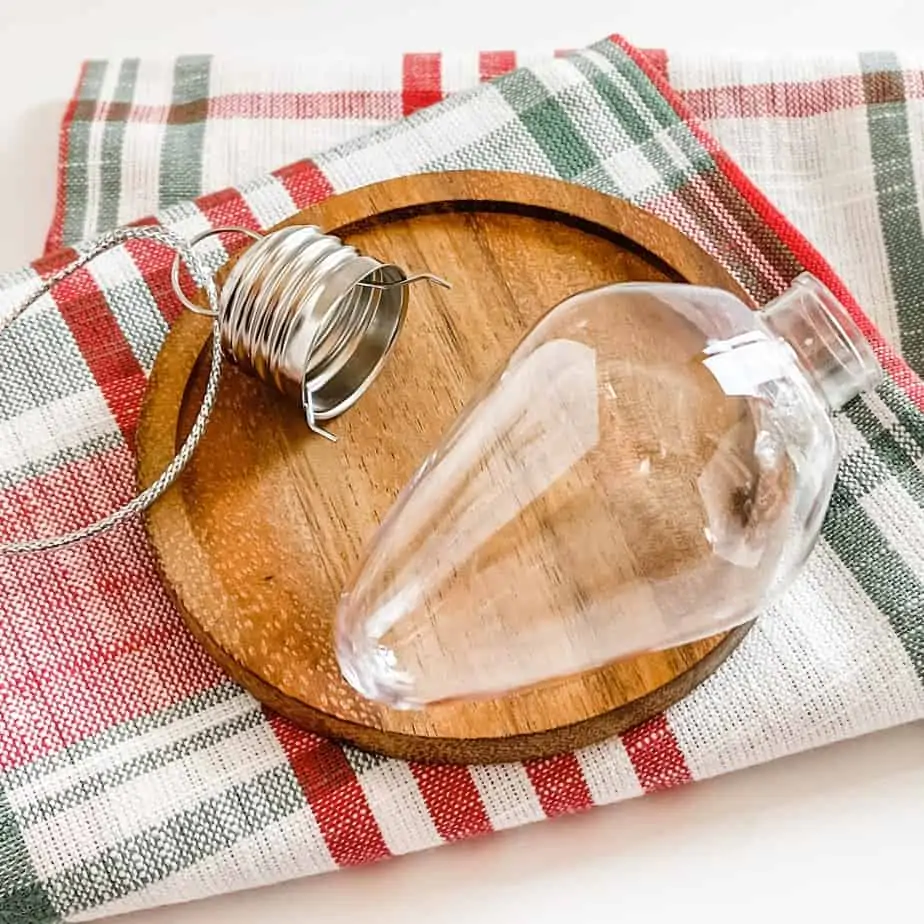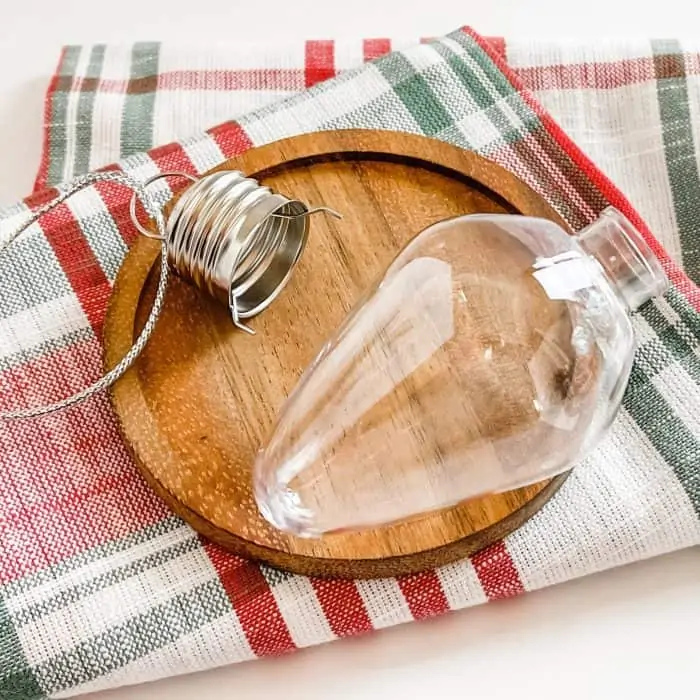 step 2:  figure out how much your ornament (or other container/jar) holds
tip:  If you use the same lightbulb ornaments that I used.  Those are 100mm/4 inches in length and hold slightly more than 1/3 cup of bath oil.
tip:  You can use smaller ornaments if you'd like.  Or you can put the bath oil in a small mason jar or some other container.  To find out how much bath oil your ornament/container holds, fill it most of the way full with water and then pour that water into a measuring cup.  That's how much bath oil you'll want to make for each ornament/jar.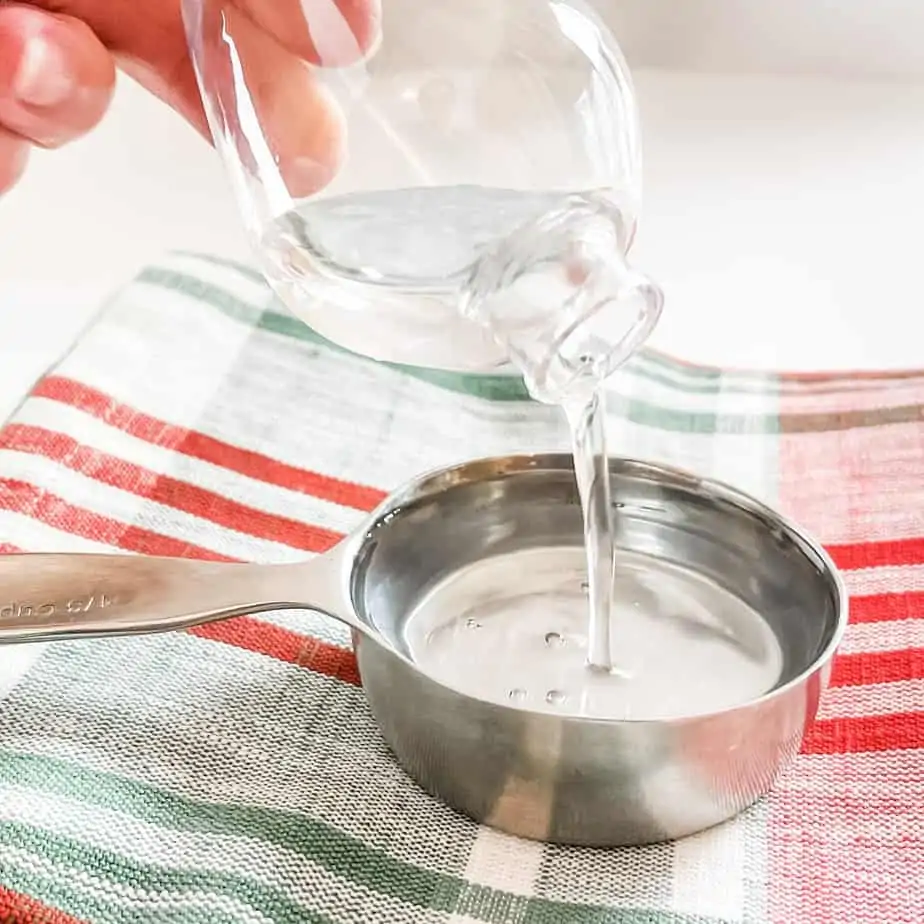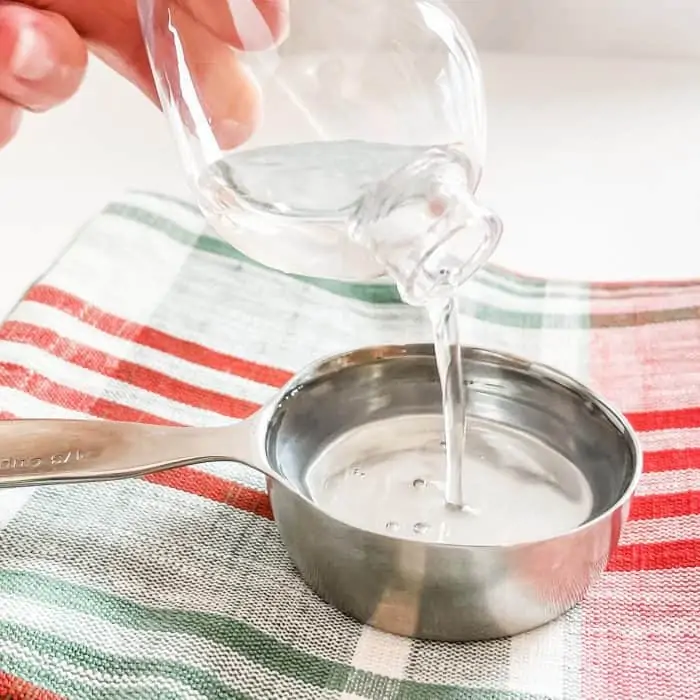 step 3:  pour slightly more than 1/3 cup of bath oil into each paper cup
tip: Slightly more than 1/3 cup is how much bath oil the Christmas lightbulb ornaments I used hold.  Adjust as needed if you are using another container for your scented bath oil.  One bottle of the bath oil makes 5 large ornaments.  (Each ornament is enough for 2-5 baths, depending on the size of the tub).
tip:  You need one paper cup for each ornament you are making.  That's because you'll add essential oil and colorant to each cup in future steps.  If you want all the bath oil to be the exact same scent and color, then you can use one large bowl instead of the individual paper cups.  I want to make red, orange, yellow, green, and blue bath oils along with unique scents for each, so I am using 5 paper cups (one for each ornament).
tip:  I'm using a store-bought bath oil mix of carrier oil and alcohol.  This helps the bath oil, essential oil, and colorant disperse throughout the bath water.  If you don't care if the bath oil sits on top of the bath water, then you can substitute any carrier oil of your choice (almond oil, apricot kernel oil, fractionated coconut oil, and many other carrier oils will all be very moisturizing and dilute the essential oils).  They will not mix with the bath water though.  So if you add colorant, it will simply sit on top of the bath water and will likely cling to the skin (and possibly stain skin).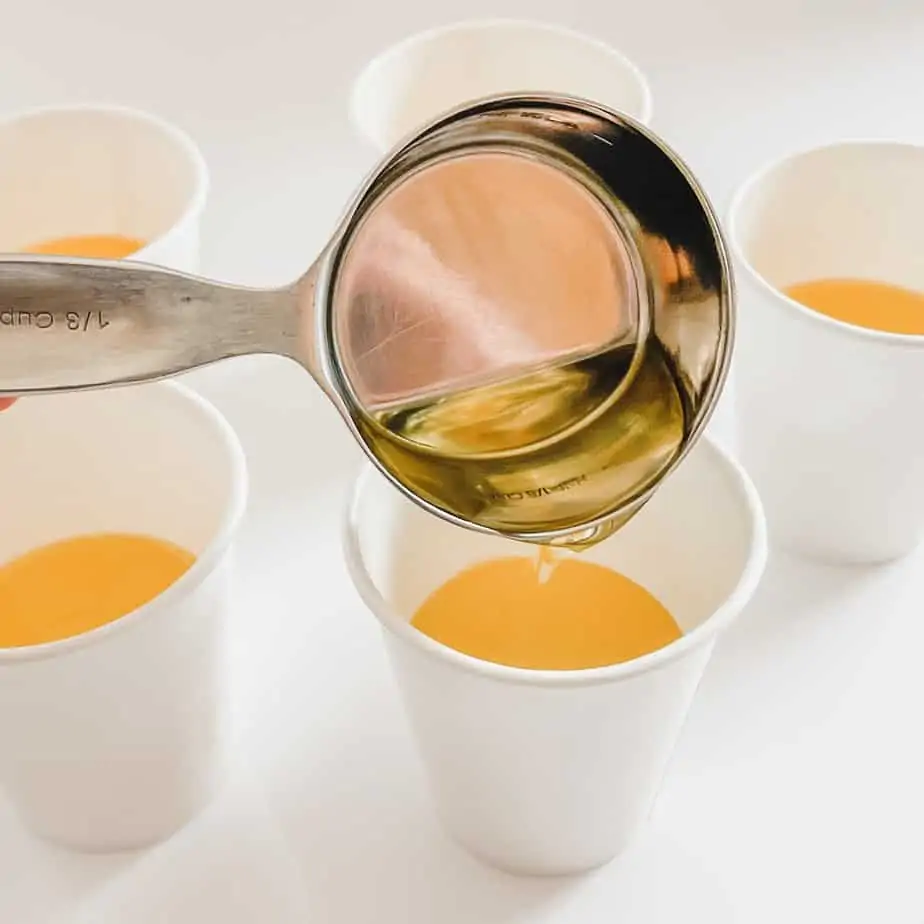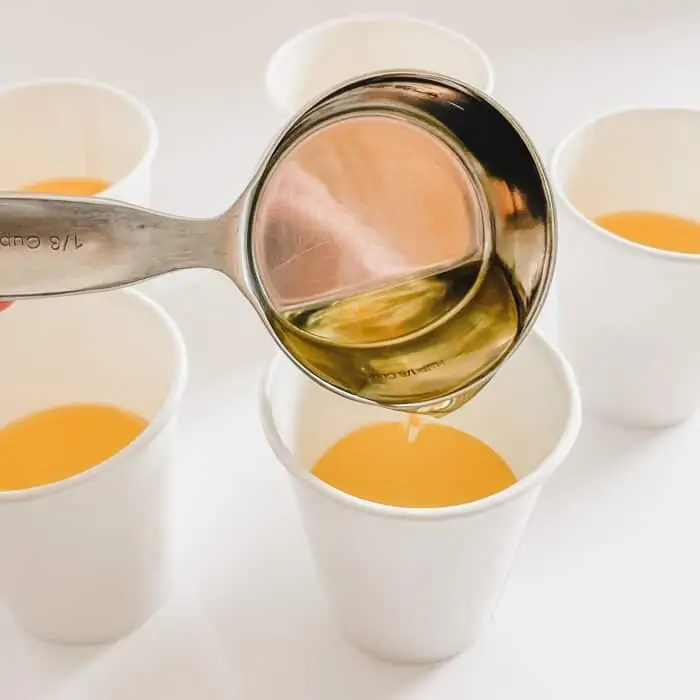 step 4 (optional):  add soap colorant
tip:  I love colored bath water.  I think it's really fun.  But it is optional.  Skip this and do NOT add colorant if you aren't using a bath oil with alcohol or other dispersant in it.  Without a dispersent, the colorant might stick and stain both skin and tub.
tip:  These are simply starting amounts.  After you add the essential oils, you'll stir them up and see if you like the color.  if you don't, simply add a little more red, yellow, or blue until you get the shade you want.
red:  3 drops red
orange: 1 drop red + 2 drops yellow
yellow:  4 drops yellow
green:  2 drops blue + 3 drops yellow
blue: 3 drops blue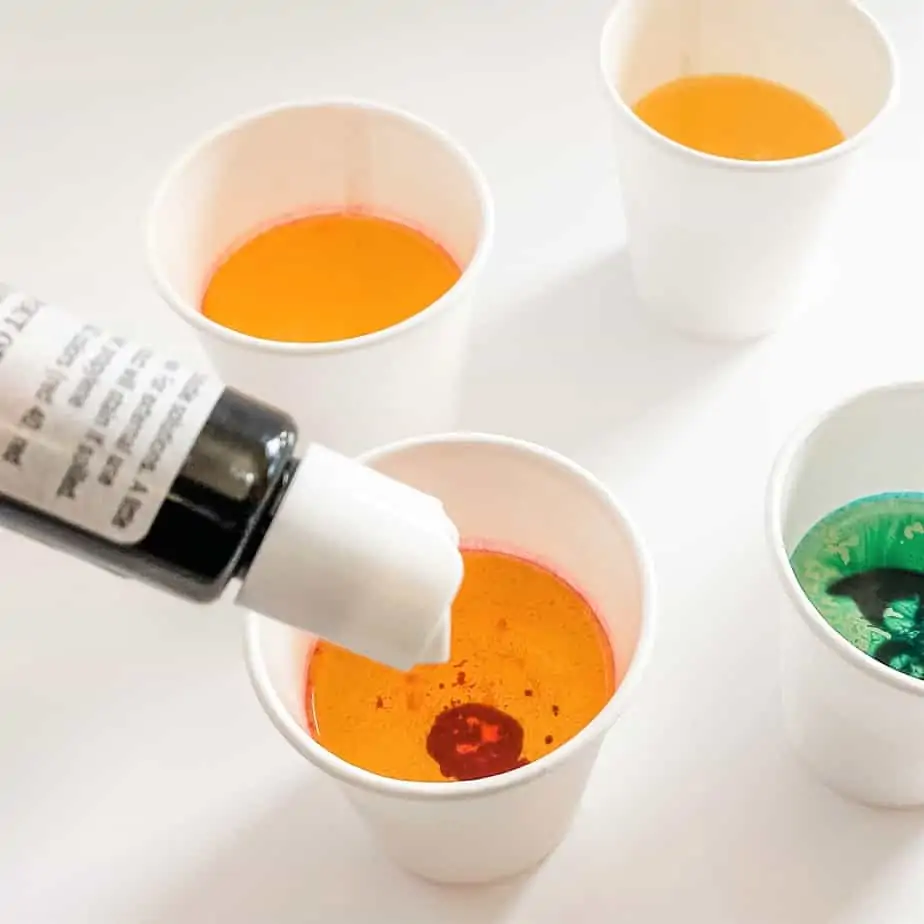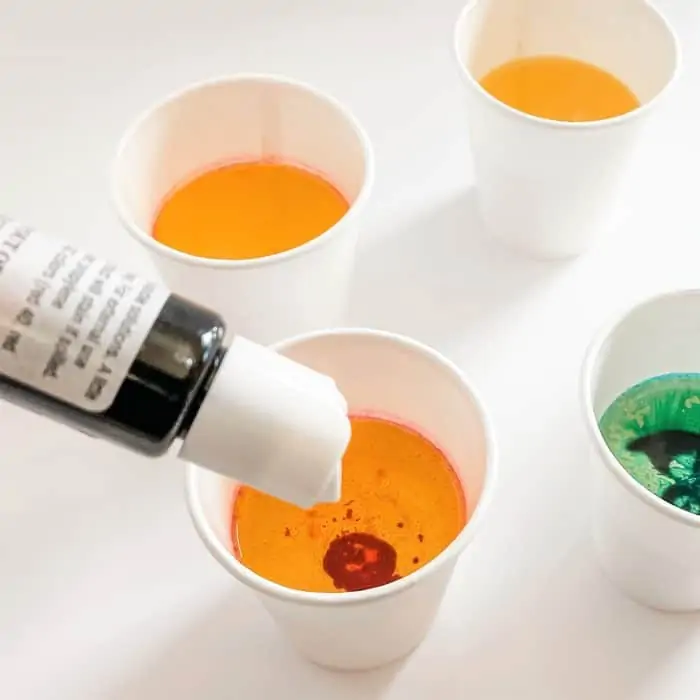 step 5:  add 10-20 drops of essential oil (per 1/3 cup bath oil)
tip:  see below for some of my favorite blends of essential oils to use in bath oil
tip:  10-20 drops can seem like a lot, but this is for 1/3 cup of bath oil.  You'll only use 1 tablespoon of bath oil for a standard size tub and 2-3 tablespoons for a large soaking tub.  That means that each ornament holds enough bath oil for 2-5 baths, depending on the size of the tub.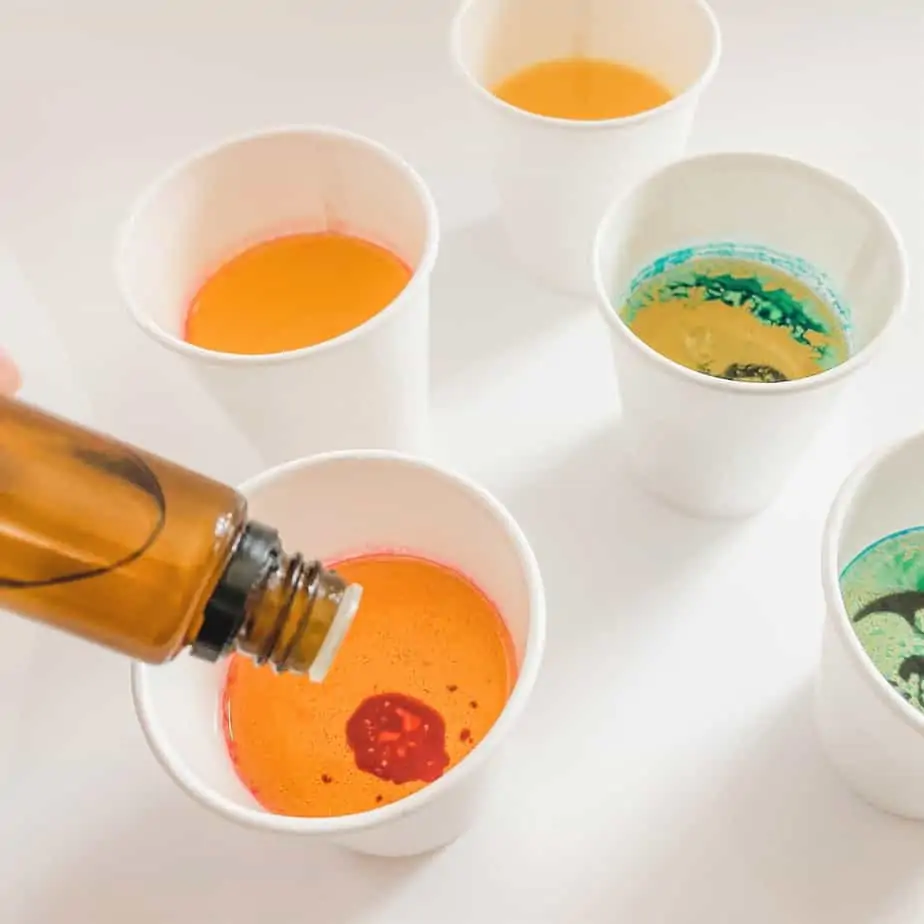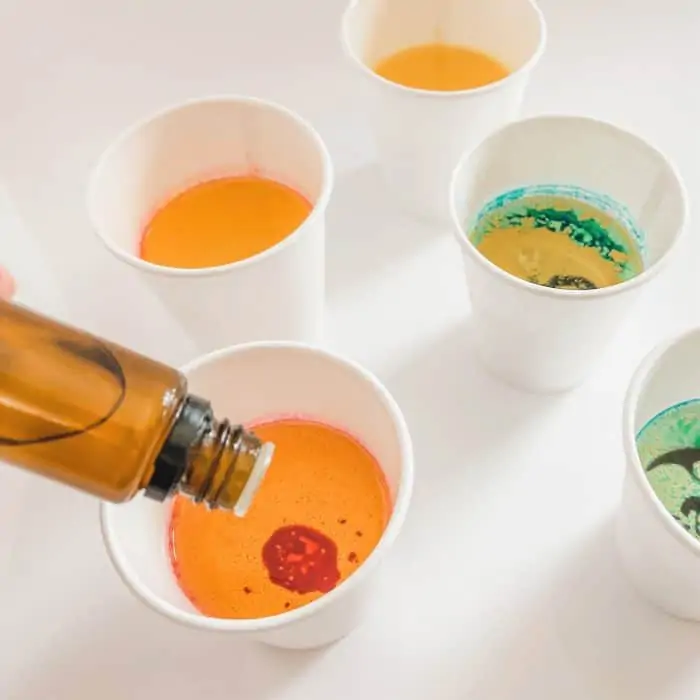 step 6:  stir well and adjust color if needed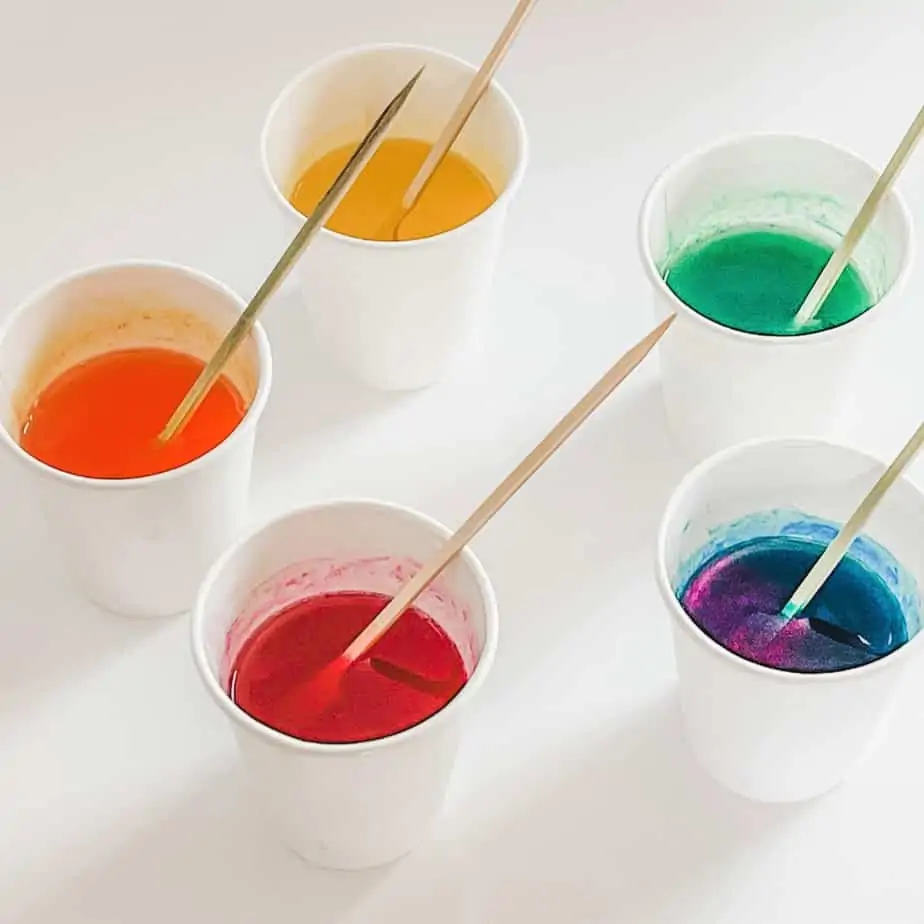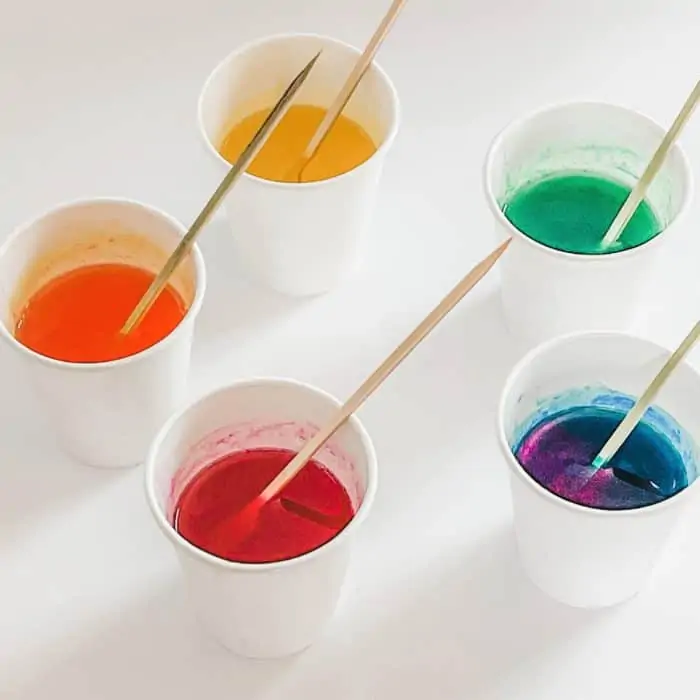 step 7:  take apart the top of the ornament.  You won't need the clip or ribbon that's on the right of the photo below.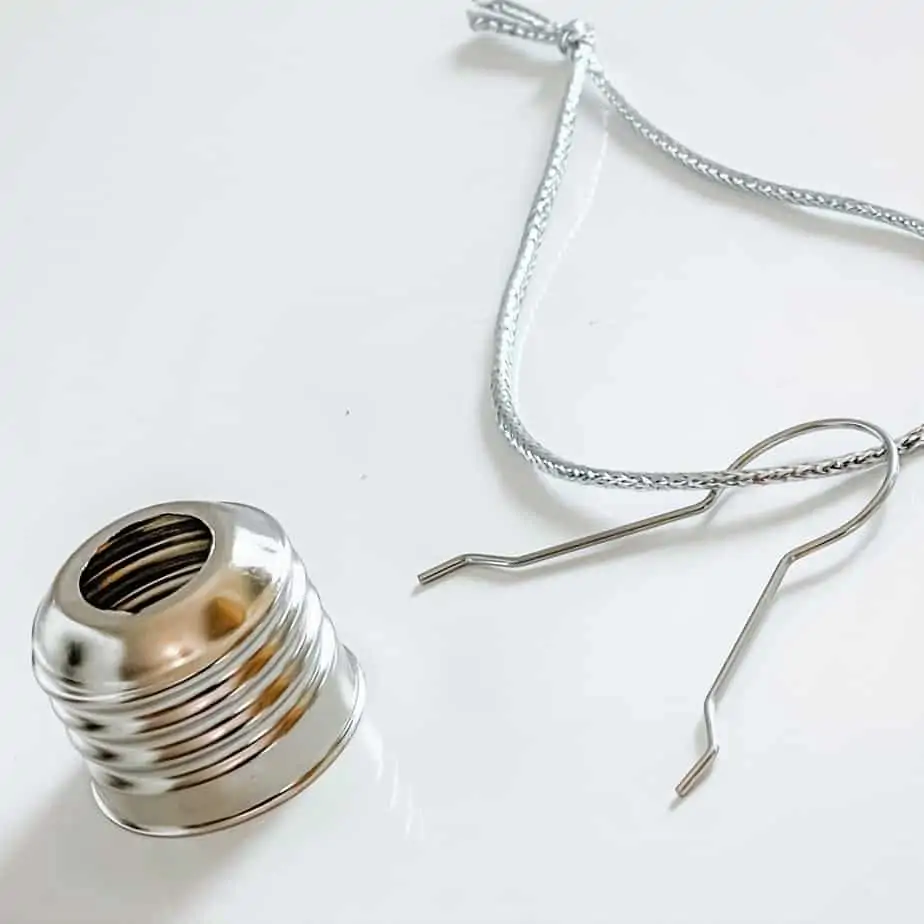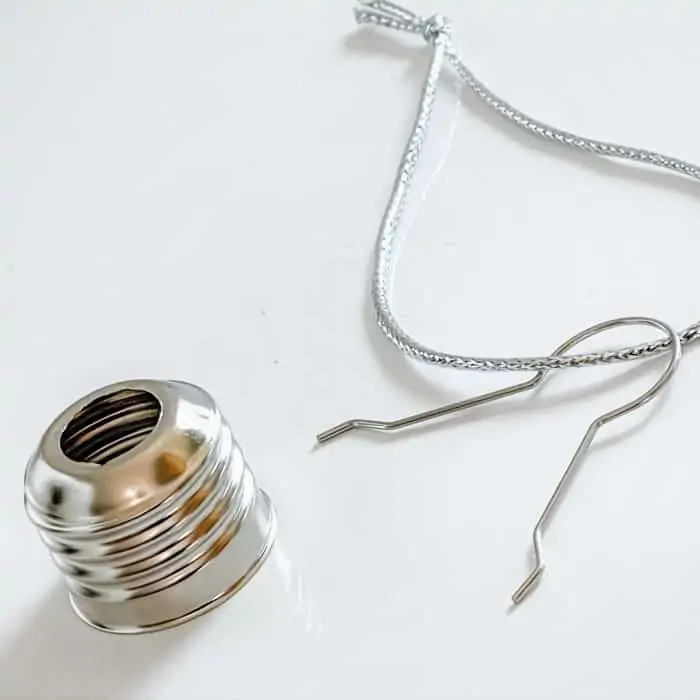 step 8:  Set up your assembly line.  I like to put the ornaments in paper cups or small mason jars to hold them so that it's easier to pour into them and put on the ornament top in the next steps.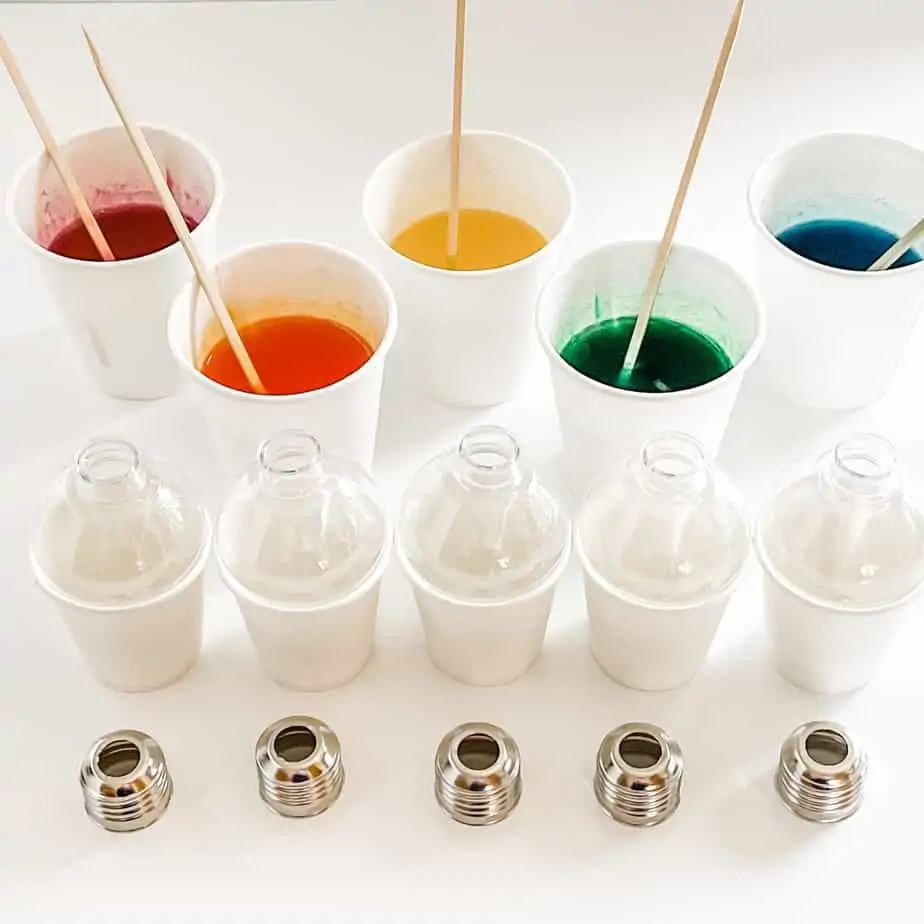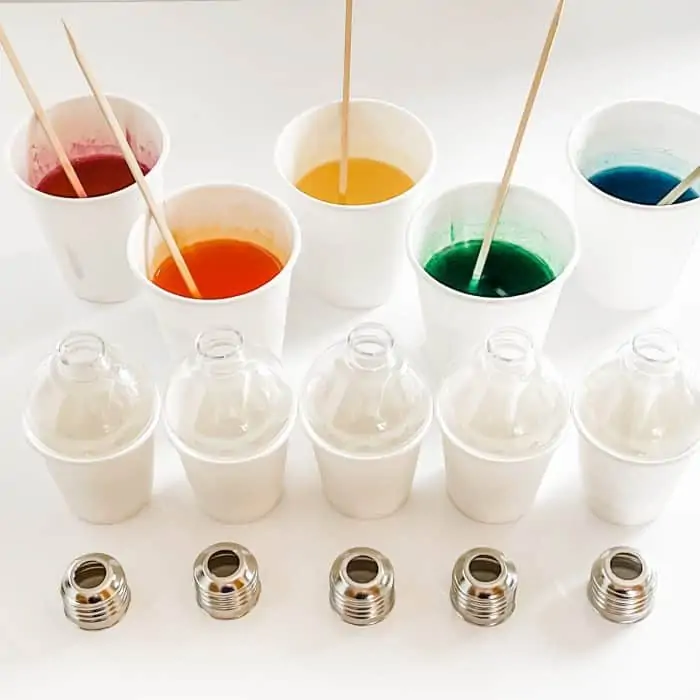 step 9:  Squeeze the side of the paper cup together to make a pour spout.  Then pour the bath oil into the ornaments.
tip:  If you use small bowls to mix the bath oil instead of the paper cups, use a funnel to make this step easier.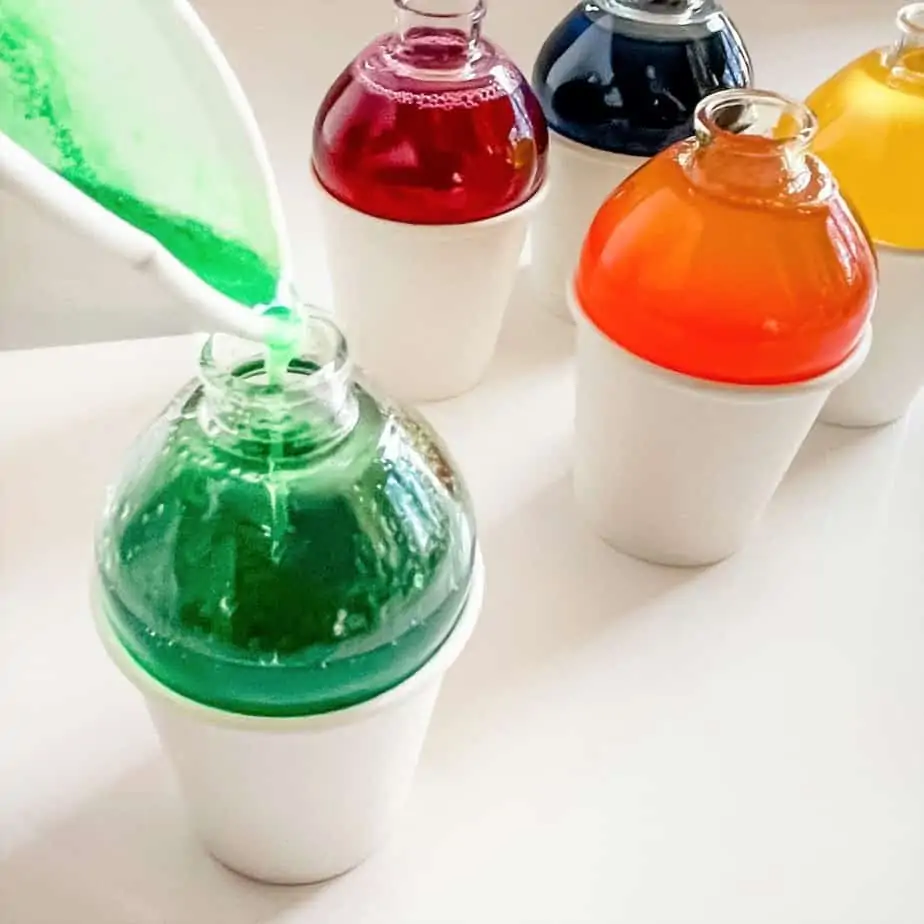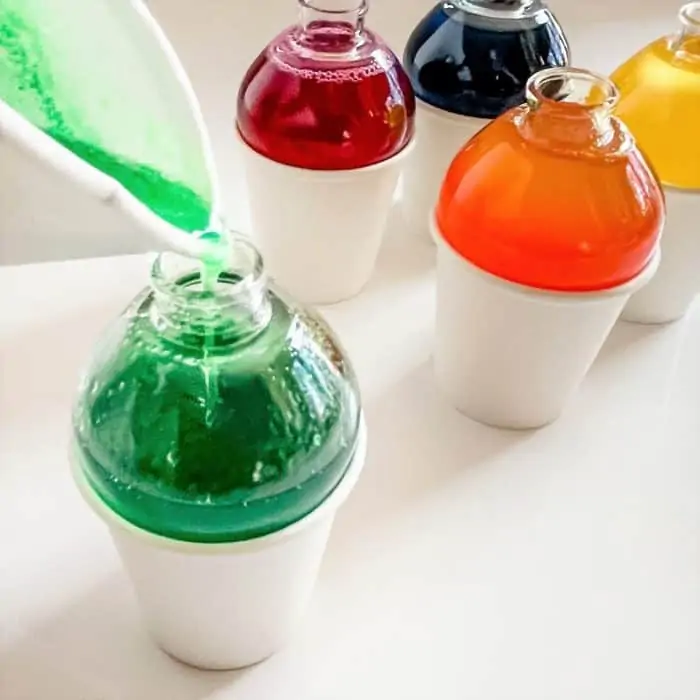 step 10:  Seal the ornament tops.
tip:  Make sure the tops of the ornaments are clean and dry (so that the duct tape will stick really well).
Then place a square of duct tape over the top of each ornament.
Then press the duct tape down around the neck of the ornament forming a tight seal.
Finally, trim the excess duct tape using scissors or a craft knife.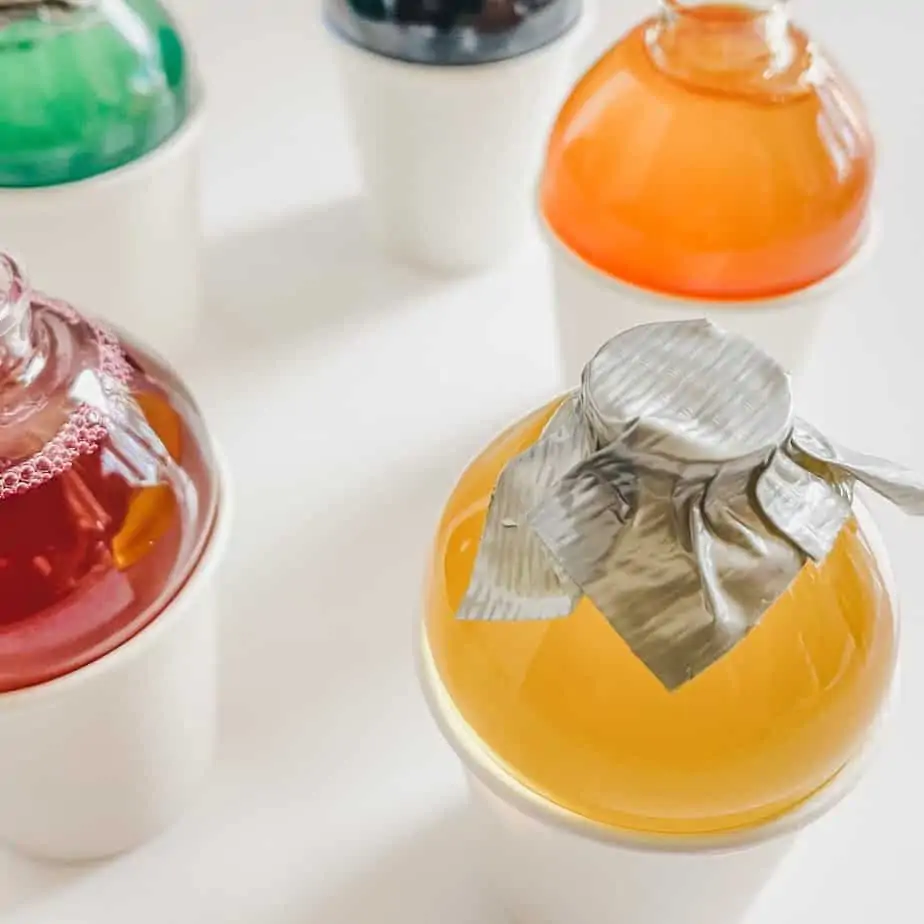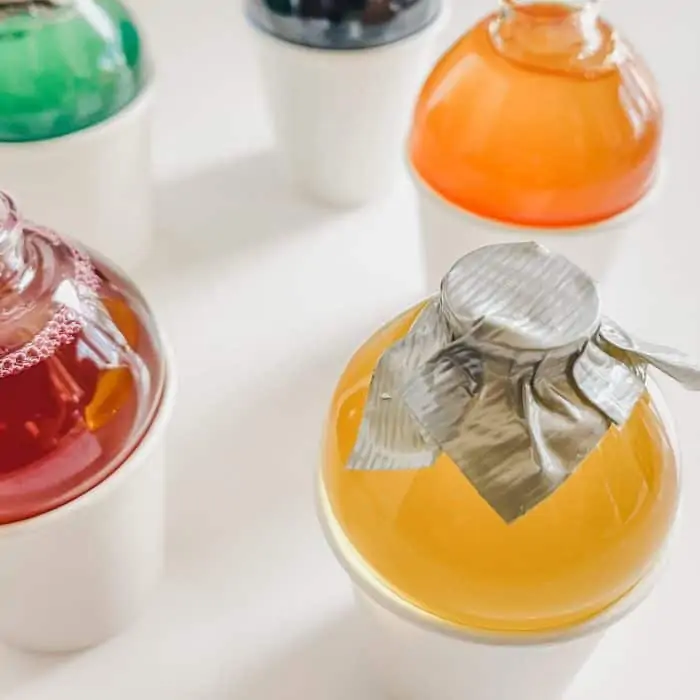 step 11:  Add an extra layer of seal protection
tip:  In addition to the duct tape, I also seal the ornament top with a tightly wrapped rubber band over the duct tape.  It will be easy enough to take off when using the bath oil, but until then I want to be extra sure that bath oil won't leak out of any ornament.
tip:  Then I added two pieces of duct tape over the rubber bands.  These pieces of duct tape are rolled sticky side out.  Adhere them around the rubber bands.  Then put the ornament cap on over the sticky duct tape.  Without this step, I found the caps were much too loose and would slip off.  The two pieces of rolled duct tape stopped that.  The caps stayed on good and tight until I wanted to use the bath oil.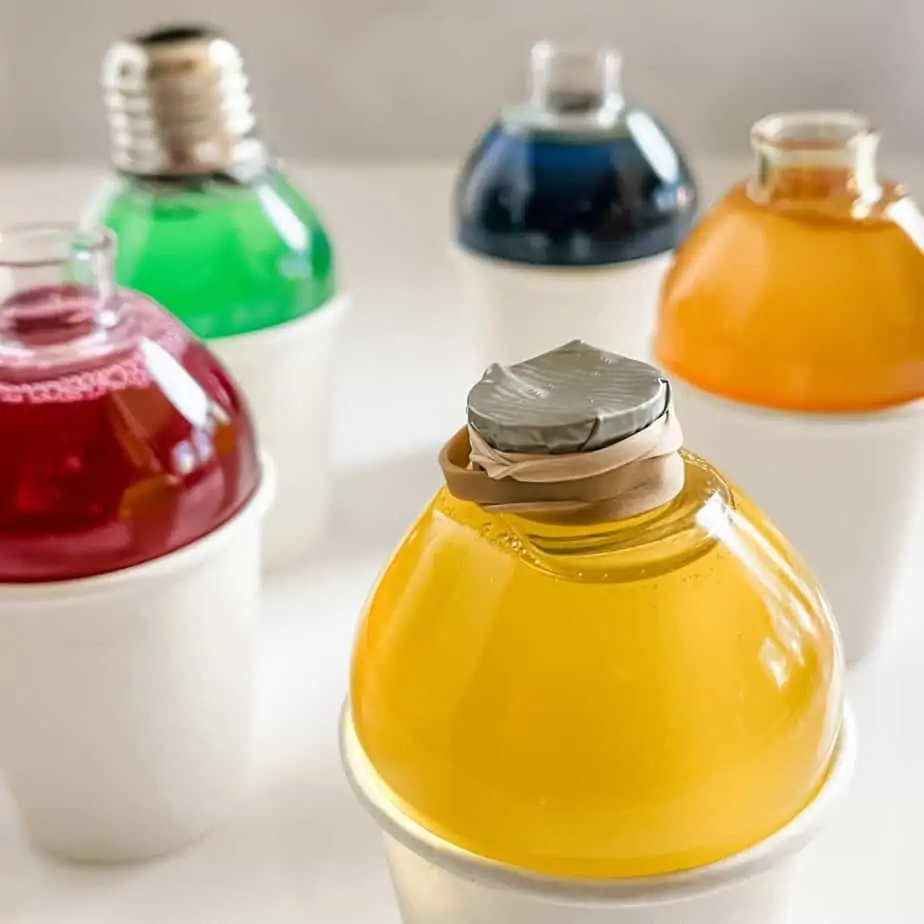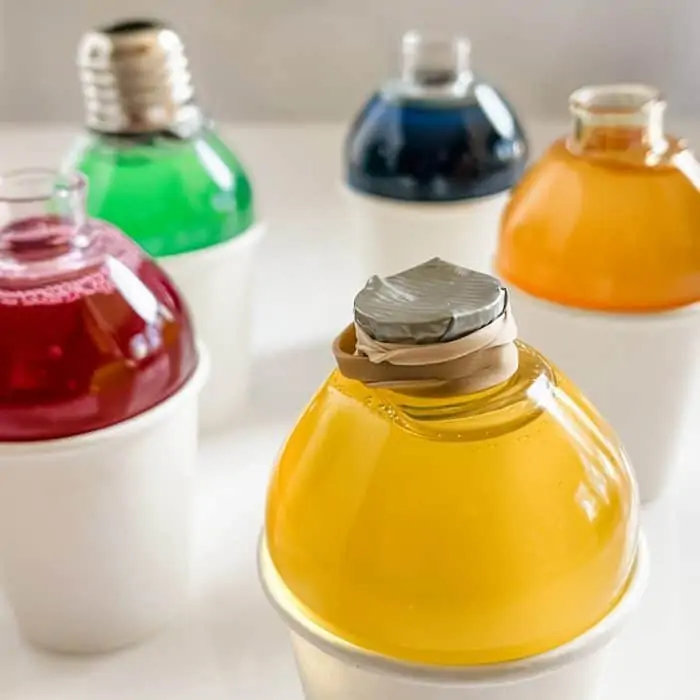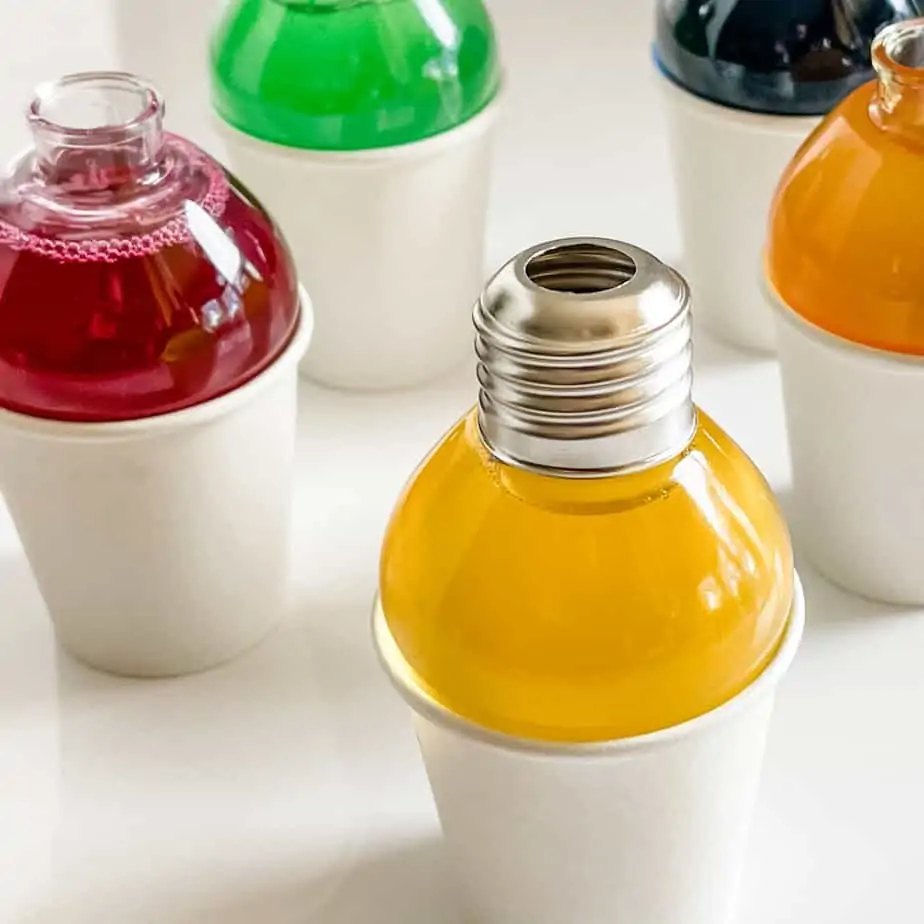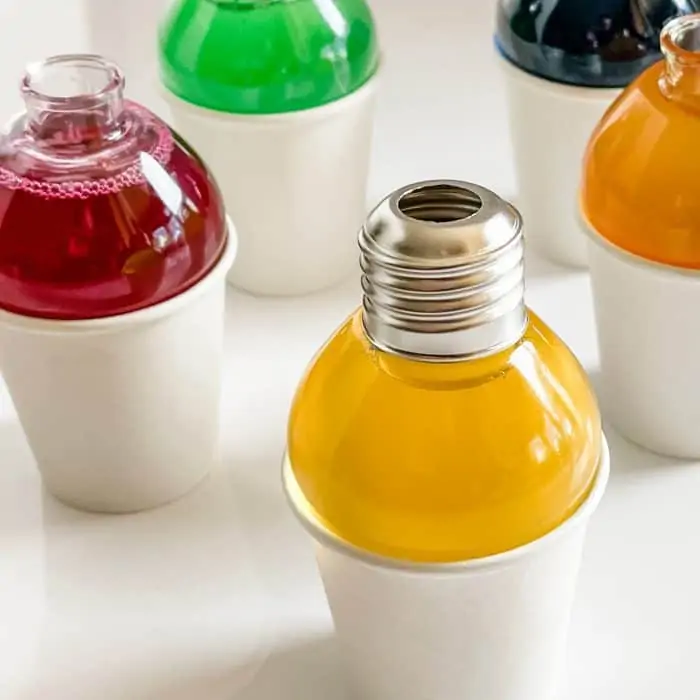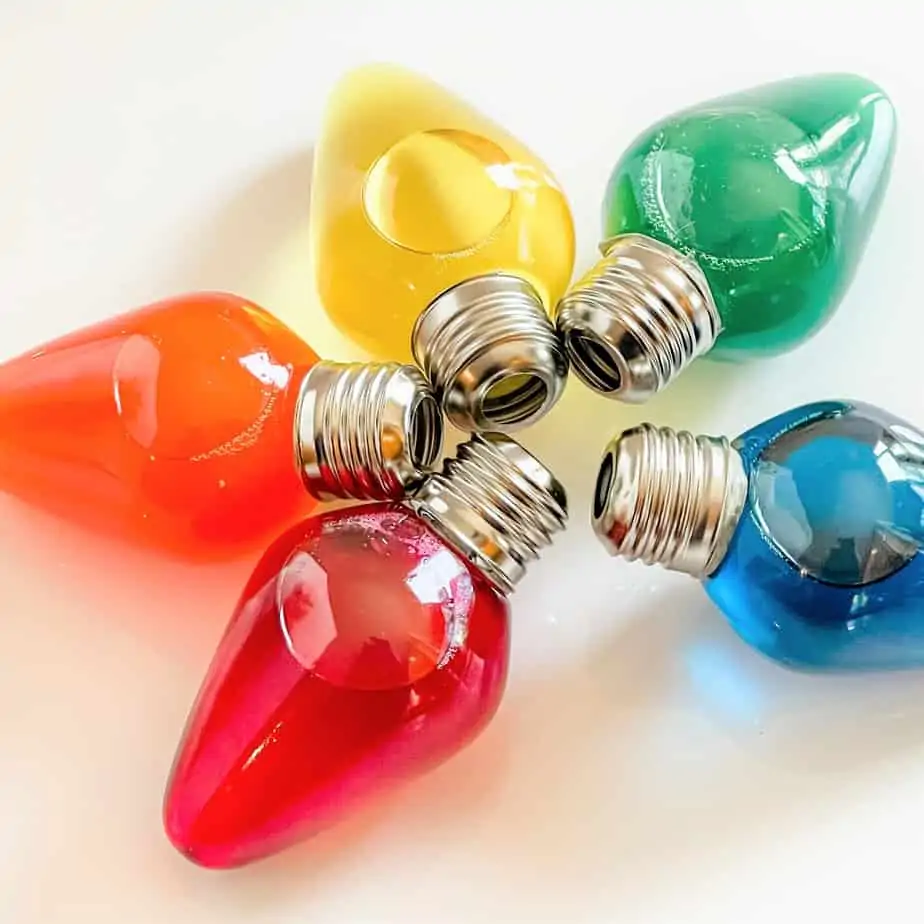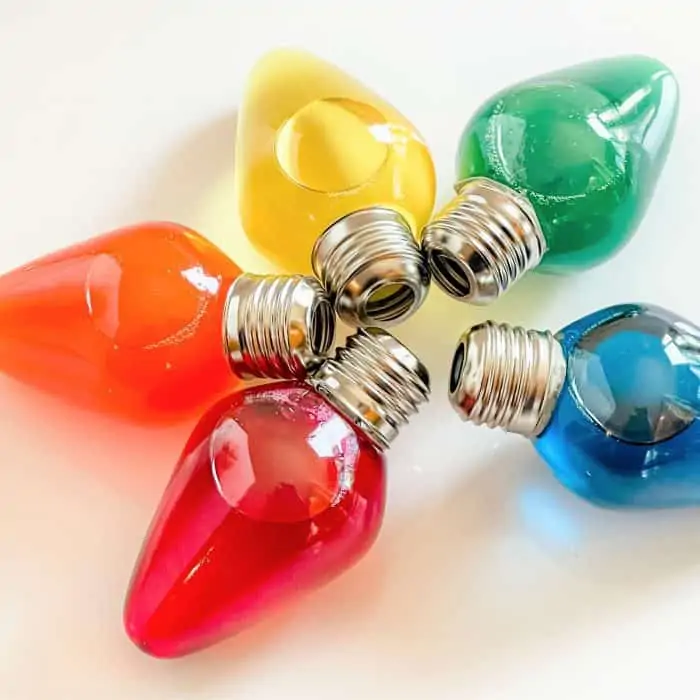 step 12:  Use twine to make an ornament hanger.
tip: use a piece of red & white twine about 12 inches in length.
Wrap the twine around the neck of the ornament and double knot the twine.  Then form a loop about 3 inches in length to make the hanger and double knot it again.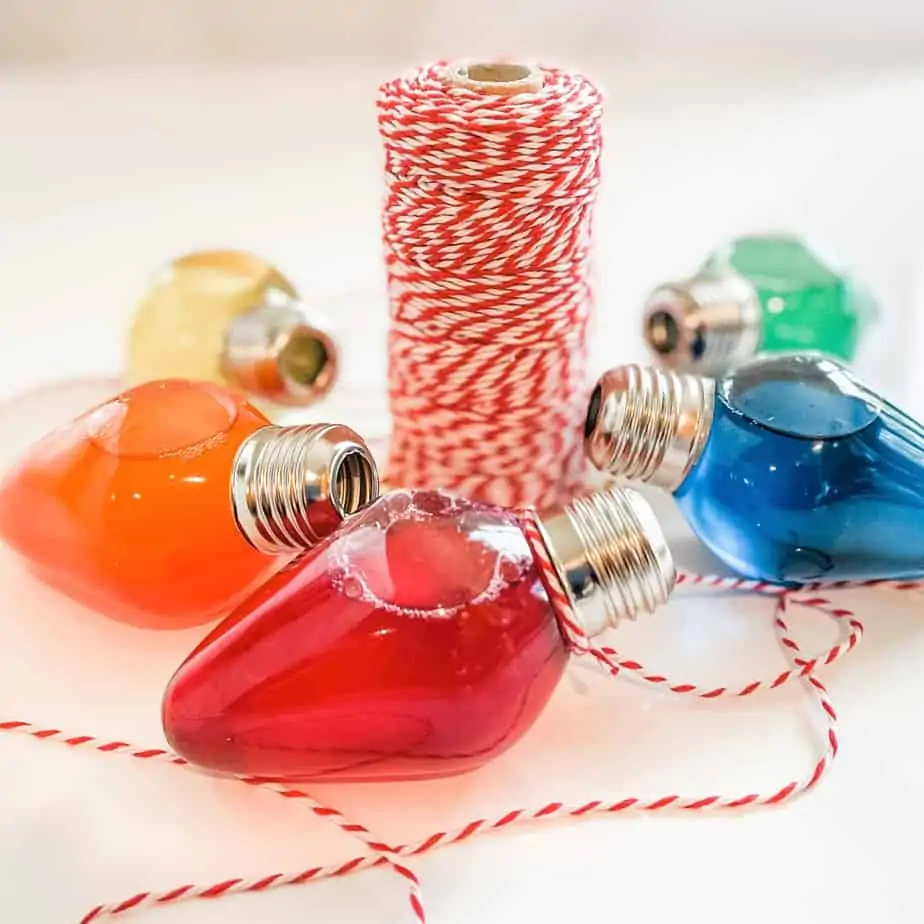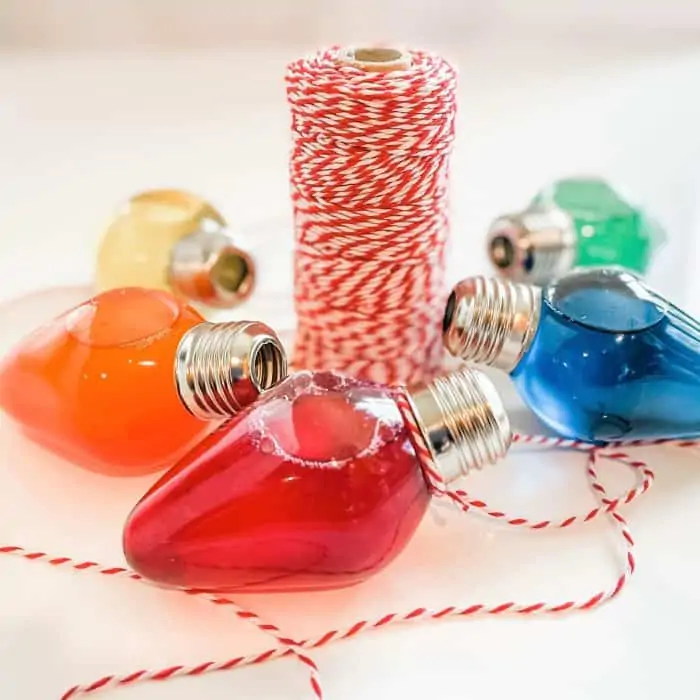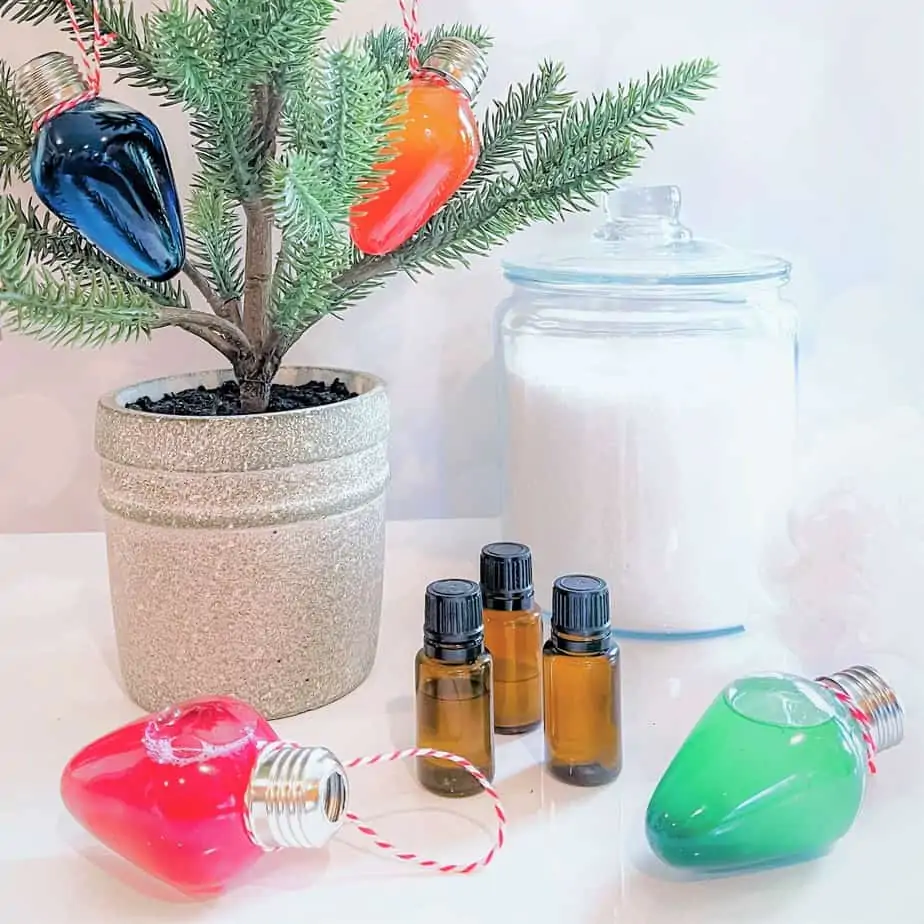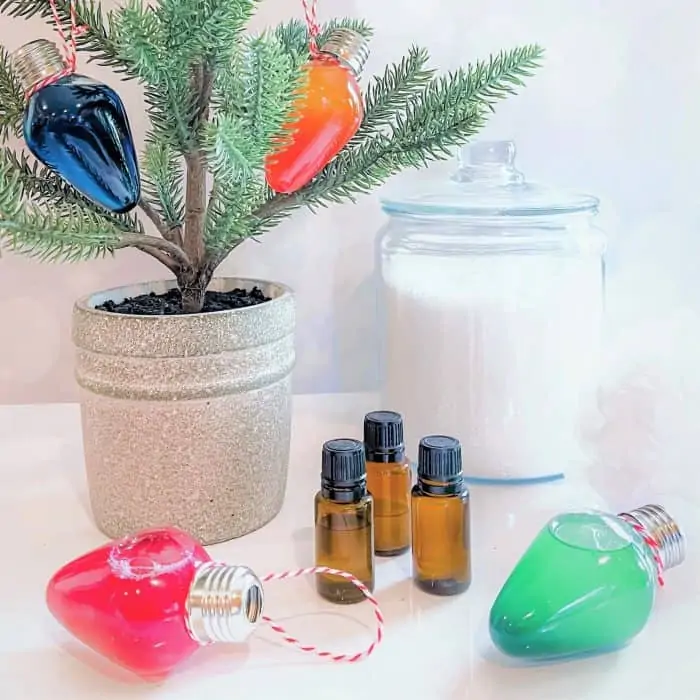 Essential Oils for Bath Oils
Here are some ideas for essential oils to use your bath oils.   I like to coordinate the scent to the bath oil color, but you can mix and match as you want.  Or you can make all the ornaments the same scent.  There are lots of ways to do it.  have fun!
red  –> candy cane = 8 drops peppermint + 4 drops vanilla
orange –> gifts of the Magi=  4 drops frankincense + 2 drops myrrh + 6 drops orange
yellow –> sugar cookie= 15 drops vanilla
green –> oh, Christmas tree = 4 drops Siberian fir + 2 drops spruce + 6 drops cedarwood
blue –> immune support = 4 drops eucalyptus + 4 drops lavender + 2 drops tea tree + 2 drops peppermint
How to Use Bath Oil
Add bath oil to warm running bath water
Use 1 tablespoon bath oil for standard size bath tub and 2-3 tablespoons for large soaking tubs
Agitate water with hands to help bath oil mix with water
Soak and relax
Be careful when getting out of tub as bath oil can make tub slippery
Pat skin dry with soft towel
If you want extra moisture, finish by applying my homemade whipped body butter.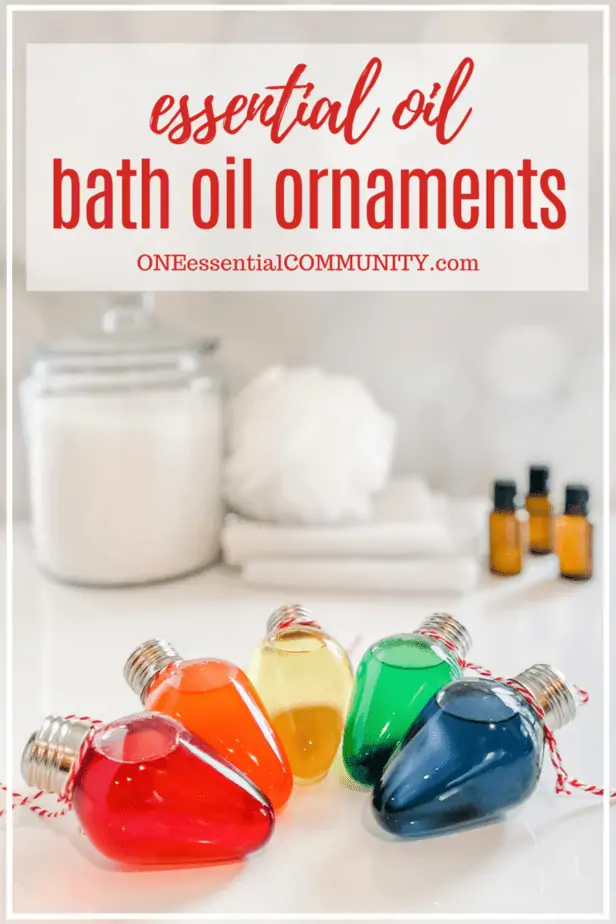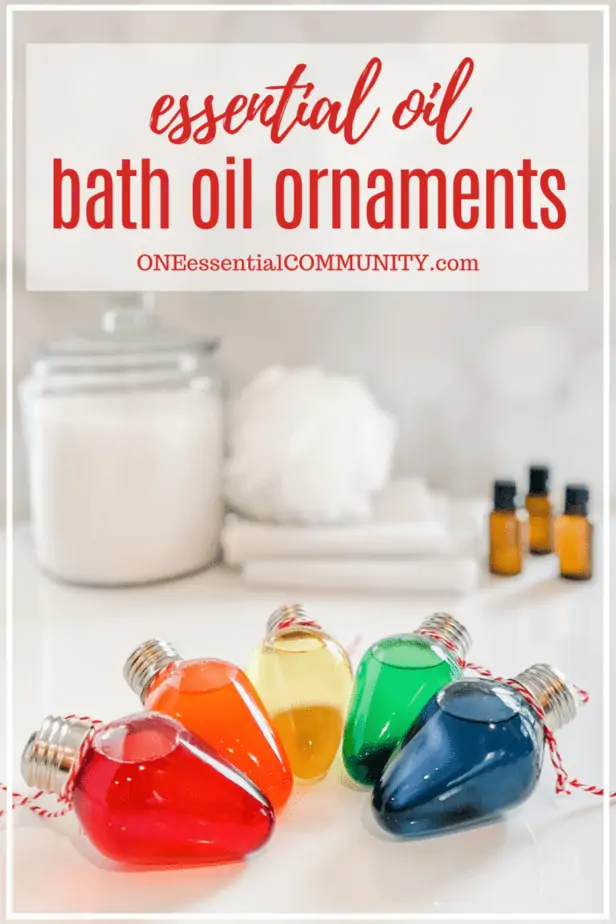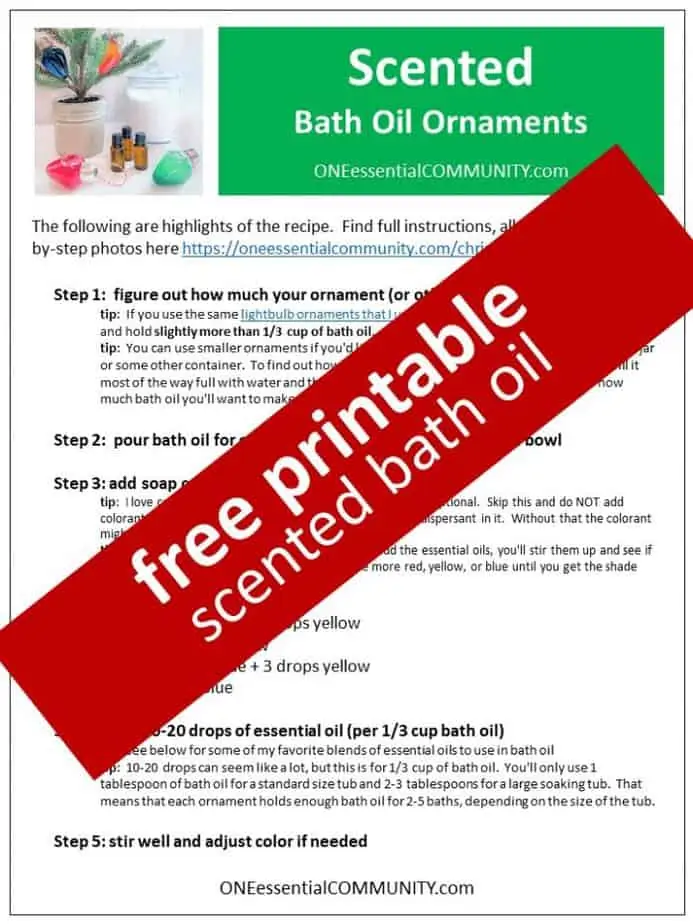 Please join us…
click here to sign up our email newsletter
Please note: Products mentioned in this article have not been evaluated by the FDA. These products and information on this page are not intended to diagnose, treat, cure, or prevent any disease. This website is not a substitute for professional care.  Always consult your medical doctor regarding your medical care. Never disregard professional medical advice or delay in seeking it because of something you have read on this website.
Disclaimer: Please know that this website contains affiliate links. This means that should you click on certain links, and then subsequently purchase a product, I will receive a small commission. The price is exactly the same for you as it would be without the affiliate link.