Homemade Vapor Rub with essential oils
This is one of those recipes you hope to never have to use.  But when you need it, you'll be soooooooo glad to have it!
So whip up a batch of this natural vapor rub now when you feel well.  It's very easy to make and only takes two ingredients plus essential oils.
Then when the stuffy nose, congestion, coughing, cold, aches, and trouble sleeping come, you'll be ready.
Of course, getting sick is no fun.  So let's do all we can to stay healthy.  Click here for a few of my favorite ways to use essential oils to support a healthy immune system and avoid the cold, cough, and congestion in the first place.  There are roller bottle recipes, diffuser blends, room sprays, and cleaning recipes.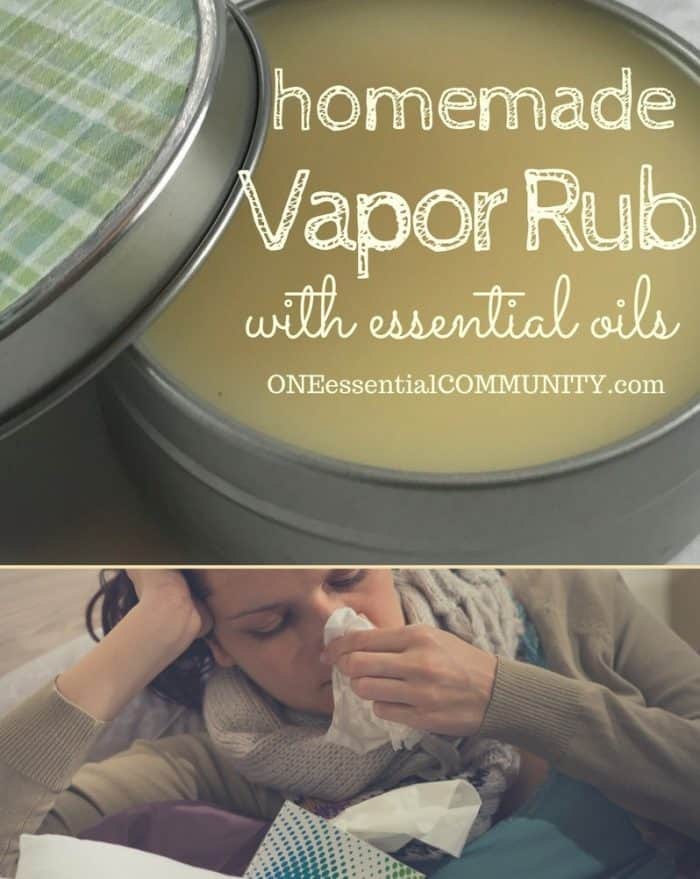 What is homemade vapor rub used for?
temporary relief of stuffy nose and congestion
supports immune system
soothes sore muscles
temporarily supports clear breathing
helps get a good night's sleep
Which essential oils are good for chest congestion and a stuffy nose?
There are many essential oils that help clear breathing.  Here's a list of some of my favorites:
minty (peppermint, spearmint, wintergreen)
eucalyptus & ravintsara
herbs & spices (lavender, rosemary, thyme, basil, coriander, cardamom, clove)
citrus (lemon, lime, tangerine, orange)
woodsy (cedarwood, arborvitae, cypress, white fir, douglas fir)
and, of course, frankincense essential oil– what isn't it great for?!!
Find more essential oils that are great for clear supporting clear breathing here along with favorite diffuser blends
What essential oils are used in this natural vapor rub recipe?
peppermint essential oil
eucalyptus essential oil
lemon essential oil
lavender essential oil
tea tree essential oil
How to make a natural vapor rub with essential oil?
step 1: add 2 tablespoons of beeswax to a heat-safe glass measuring cup or bowl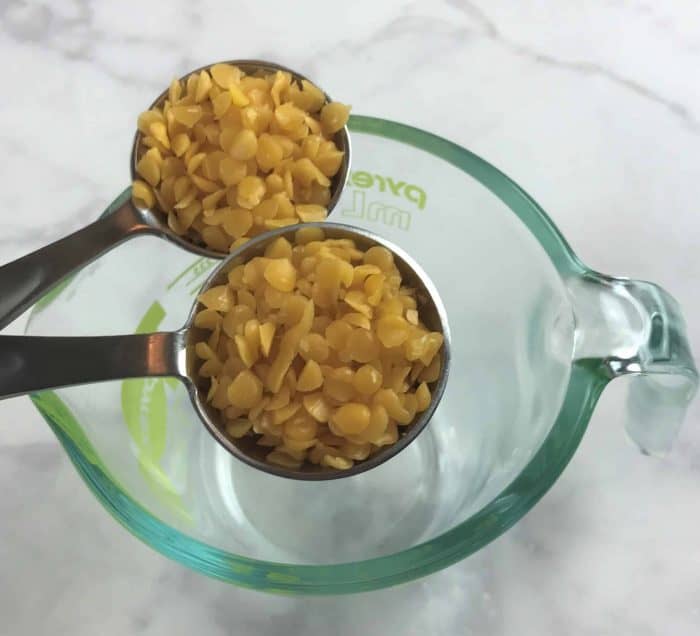 step 2:  melt beeswax
Place heat-safe glass measuring cup in pot of simmering water.  The simmering water will gently warm the measuring cup and melt the beeswax.  (this technique is called the double boiler method)
Stir beeswax occasionally as it melts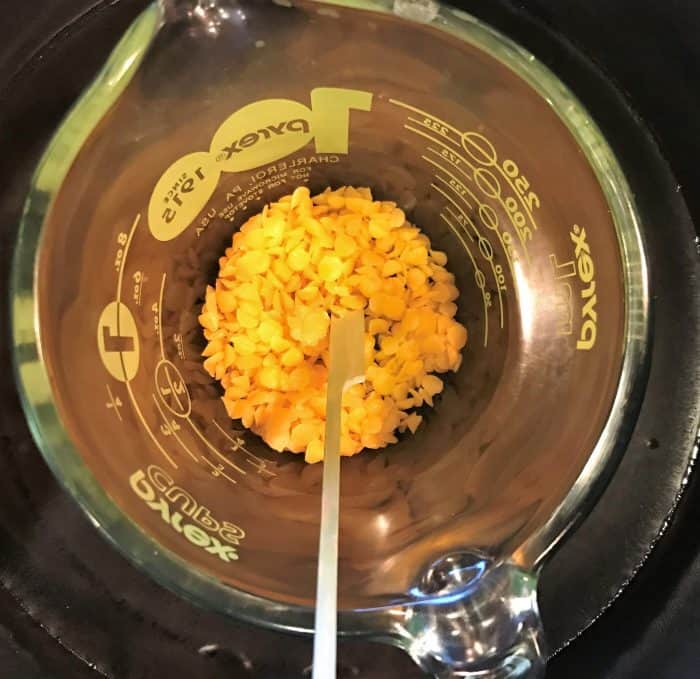 step 3:  add 1/2 cup coconut oil
note: if you don't care for coconut oil, you can substitute babassu oil.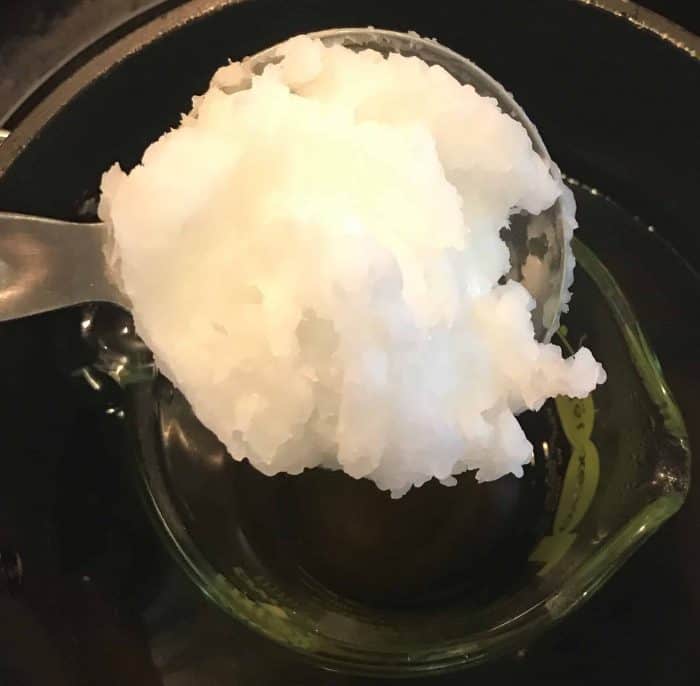 step 4:  Stir occasionally.  Melt completely until it's completely liquid and no pieces of beeswax remain.  This can take 10-15 minutes.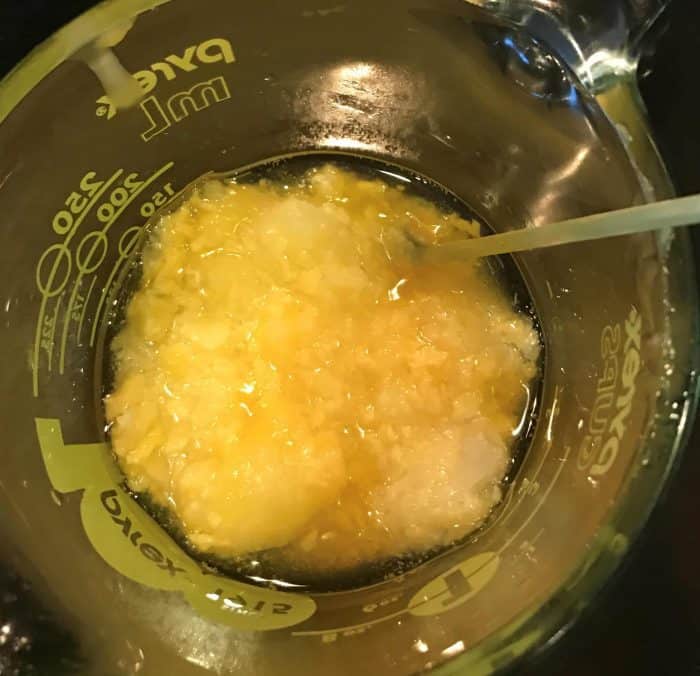 step 5:  remove from heat and allow to cool for a couple minutes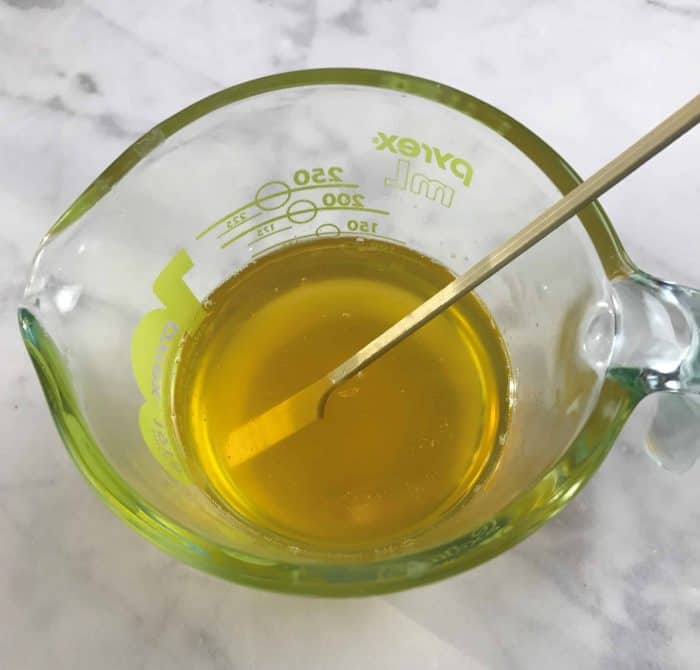 step 6:  add the following essential oils
20 drops peppermint essential oil
20 drops eucalyptus essential oil
15 drops lemon essential oil
15 drops lavender essential oil
10 drops tea tree essential oil
note: this is a 3% dilution.  For occasional use by adult.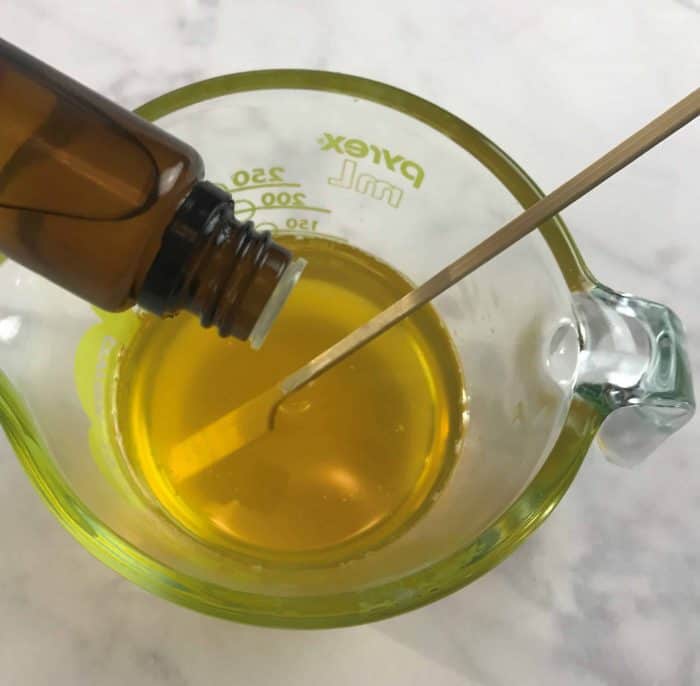 step 7:  pour into airtight container (makes 4-5 oz of vapor rub)
(glass, metal, plastic #1 PET & plastic #2 HDPE jars are all safe for diluted essential oil blends like this)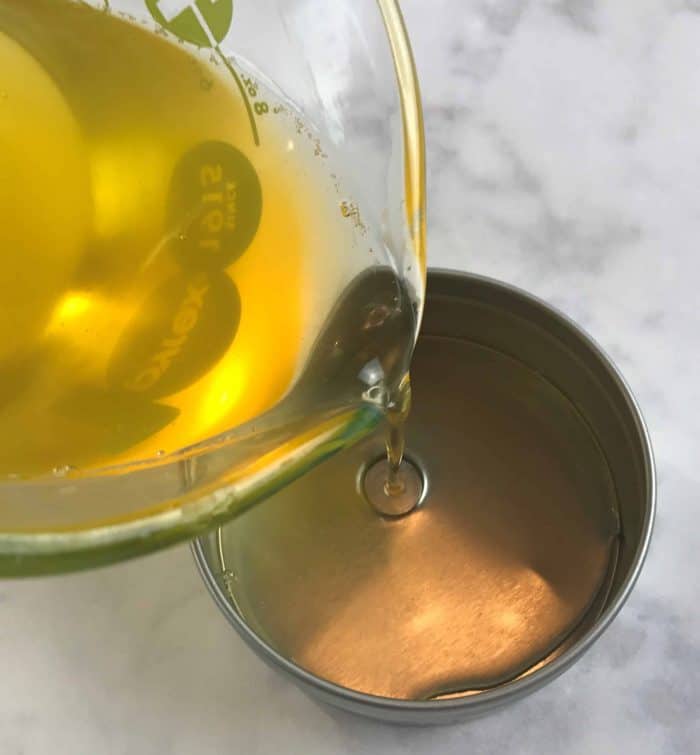 step 8: clean up
Beeswax to hard to clean with just soap & water.  So before it hardens, use paper towels to wipe out the glass bowl/measuring cup and any utensils you used to stir the mixture.  Then once you've wiped off as much as you can, wash as usual with soap and water.
step 9:  allow to completely cool and solidify all the way through the vapor rub before putting the lid on
note: you can put in the refrigerator to speed this step up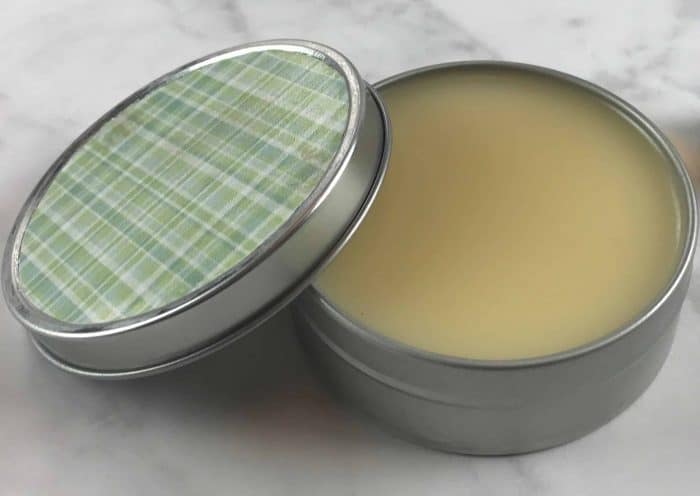 step 10 (optional):  If you use a tin container like I did, then you can decorate the lid with a little scrapbook paper and Modge Podge.
cut out scrapbook paper to fit the lid
use a foam brush to apply a little Modge Podge to the top of the lid (this acts as the glue)
put paper on lid, and starting from the center, use your finger to press down and smooth out any bubbles
then cover the top of the paper with a little more Modge Podge to seal the paper
let it dry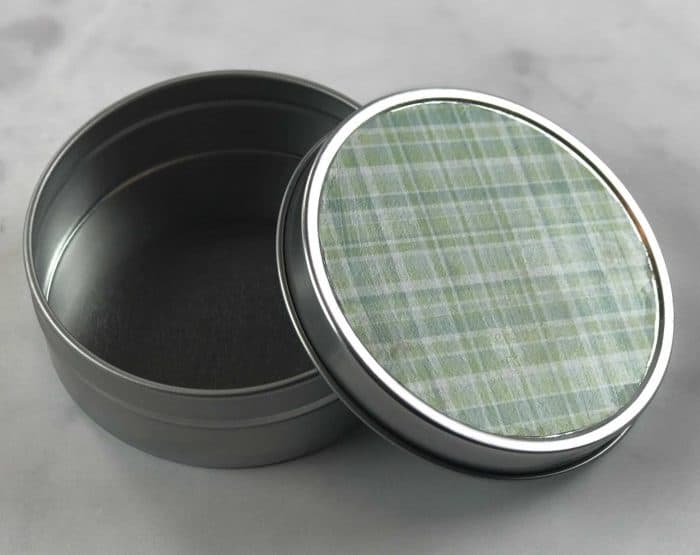 Here's the homemade vapor rub recipe one more time
2 Tbsp beeswax
1/2 cup coconut oil
20 drops peppermint essential oil
20 drops eucalyptus essential oil
15 drops lemon essential oil
15 drops lavender essential oil
10 drops tea tree essential oil
How to use essential oil vapor rub?
Apply a thick layer to upper chest.  Keep clothing around chest and throat loose to allow scent to reach nose and mouth.  If desired, you can cover with a warm dry cloth.
I also apply a light coating of the vapor rub right under my nose
Instead of applying to upper chest and under nose, you can apply vapor rub to feet and cover with socks
If you feel up to it, you may also want to try these
essential oil recipes for clear breathing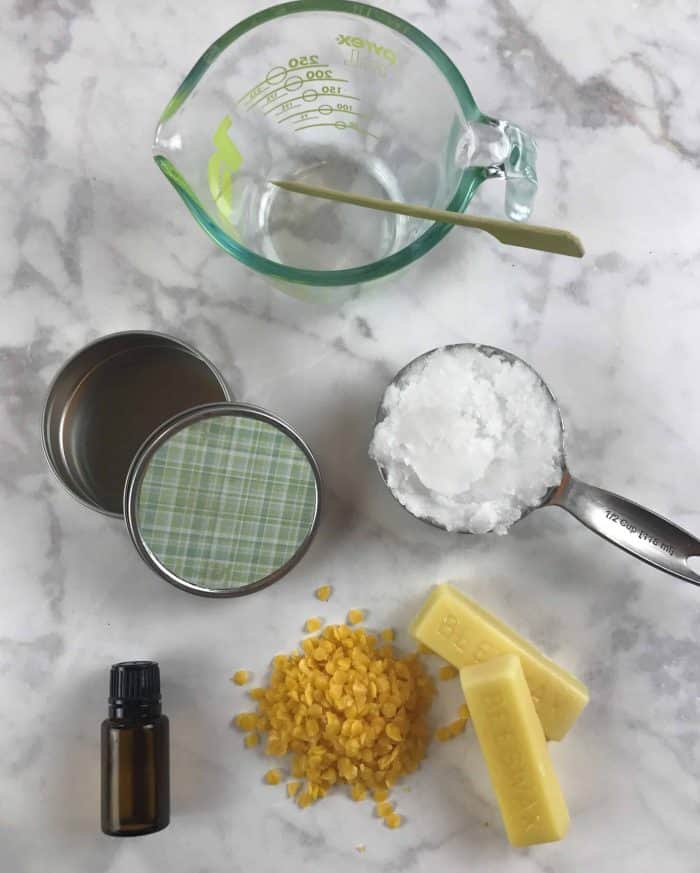 Where to get supplies?
organic, extra-virgin coconut oil (buy here)
organic, cosmetic-grade beeswax (buy here)
4 oz tin jars (buy here)
Modge Podge (buy here)
scrapbook paper (buy here)
adorable 2 oz glass mason jars (buy here)
If you liked this post, here are a few other essential oil posts that I think you'll like:
25 essential oil recipes for immune support
25 essential oil diffuser blends that support clear breathing
15 ways to use essential oils to make you home smell like fall
favorite winter diffuse blends
20 Favorite Roller Bottle Blend Recipes and Free Printable Labels
How to make essential oil inhalers + 24 favorite inhaler recipes
Clever & Creative Ways to Use Empty Essential Oil Bottles
Best deals for essential oil supplies– diffusers cases, spray bottles, carrier oils, essential oil tools
Please join us…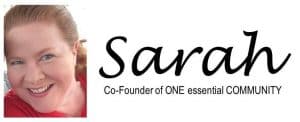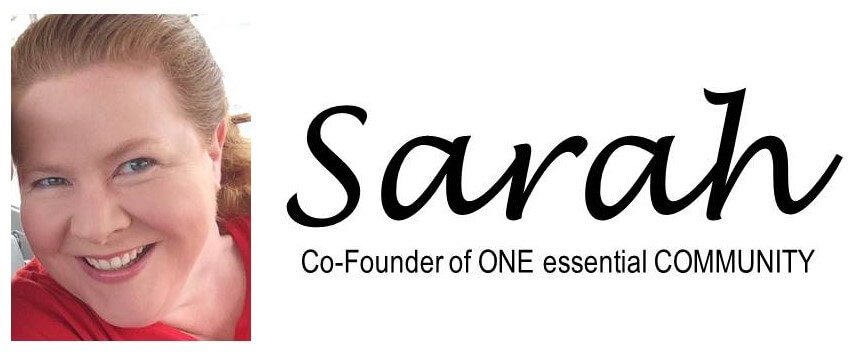 Please note: Products mentioned in this article have not been evaluated by the FDA. These products and information on this page are not intended to diagnose, treat, cure, or prevent any disease. This website is not a substitute for professional care.  Always consult your medical doctor regarding your medical care. Never disregard professional medical advice or delay in seeking it because of something you have read on this website.
Disclaimer: Please know that this website contains affiliate links. This means that should you click on certain links, and then subsequently purchase a product, I will receive a small commission. The price is exactly the same for you as it would be without the affiliate link.  Thank you for supporting me in this way.

Related posts: