Keep your jack o lanterns fresh longer with this simple DIY pumpkin preserver
Carving pumpkins has always been one of my family's favorite Halloween traditions.
Here's how it usually goes:
Everyone in my family gets their own pumpkin, sometimes more than one if we find really cute or unusually shaped pumpkins.
We pick a night when we're all going to be home – those are fewer and fewer these days, but we always find a time.
We have a special dinner, some apple cider from our local orchard, and a fun fall dessert.
Then we get out our Sharpies and carving tools and get to work making our jack o lanterns.
When we're done, we celebrate by putting them out on the front porch and lighting them.
Unfortunately, as much fun as we have making them, they usually don't last long as decorations.  Within just a few short days, the pumpkins are usually withered and rotten.
At least that's how it used to be.
A couple years ago, I discovered this simple homemade pumpkin preserver made from essential oils.  And that was a game changer.  Now, our carved pumpkins stay fresh for at least a week, if not two.
The essential oils in this jack o lantern preservative…
are antifungal (slows down mold and mildew growth)
are antibacterial (helps keep the pumpkin from rotting)
and repel bugs and rodents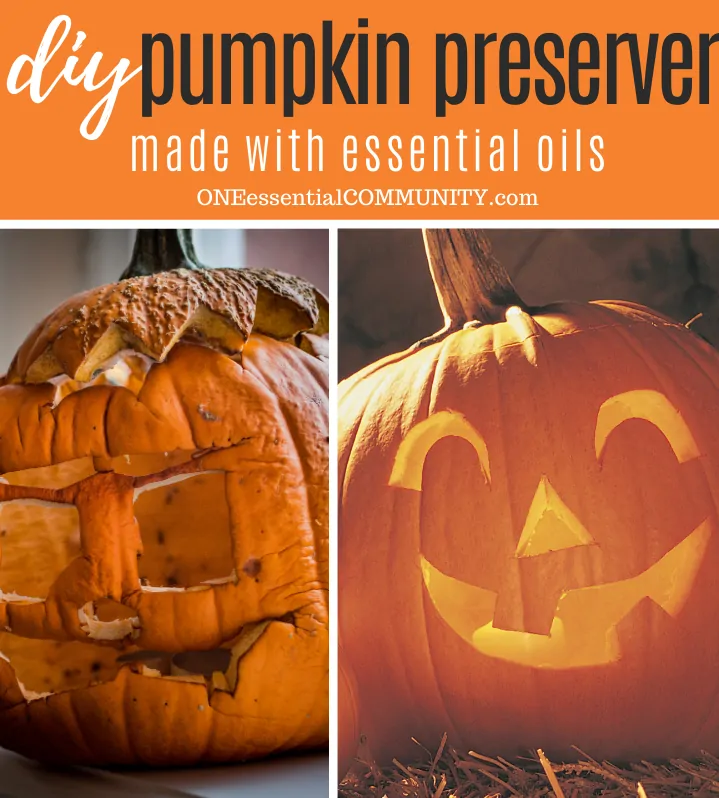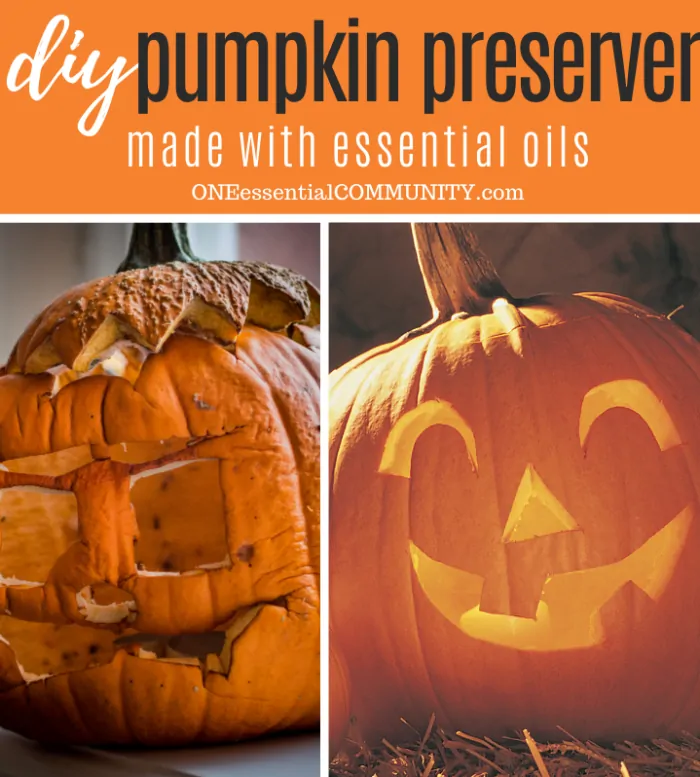 How to make essential oil pumpkin preserver spray
step 1:  add 20 drops of essential oil to a 2 ounce spray bottle
tip:  Choose a spray bottle that's made from materials safe to use with diluted essential oils.  Glass, stainless steel, and certain types of plastic (plastic #1 HDPE or plastic #2 PET) work well.
tip:  I share a few essential oil blends below that you can use for the 20 drops of essential oils, but if you happen to have an immune support blend like Young Living's Thieves, doTERRA's On Guard, Plant Therapy's Germ Fighter blend, or similar premade blends from other brands, you can use those instead of the essential oil combinations below.
blend #1
5 drops tea tree essential oil
10 drops sweet orange essential oil
3 drops cinnamon essential oil
2 drops clove essential oil
blend #2
10 drops lemon essential oil
5 drops tea tree essential oil
5 drops peppermint essential oil
blend #3
10 drops sweet orange essential oil
5 drops cinnamon essential oil
3 drops eucalyptus essential oil
2 drops rosemary essential oil
step 2:  fill bottle most of the way full with vodka
tip: Be sure to leave room in the bottle for the sprayer.  If you fill the bottle too full, when you put the sprayer top in, it will overflow.
tip: A high proof alcohol like vodka is best for this because that will helps disinfect the pumpkin, which will help it stay fresh longer.  But if you don't have vodka or prefer not to use it, you can use distilled water instead.
step 3:  shake well
How to use
Shake well before each use
Cover the inside, outside, and any cut surfaces of the jack o lantern liberally with the spray
Allow the spray to penetrate the pumpkin and dry completely
(optional) Cover the inside and cuts with a light coating of olive oil to help prevent the pumpkin from drying out
If lighting jack o lanterns, only use a battery-powered candle for fire safety.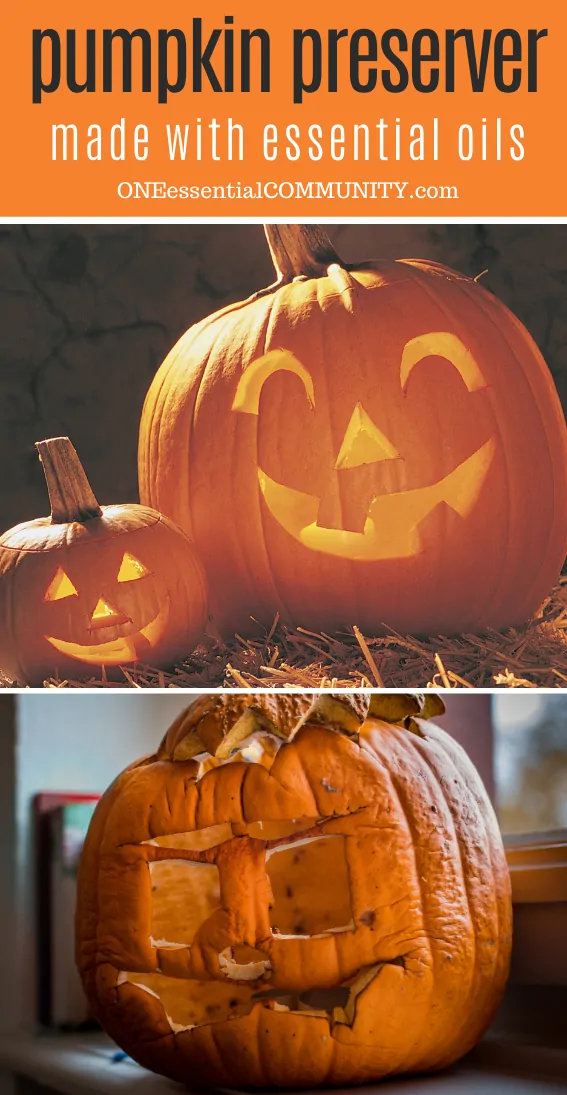 Please join us…
click here to sign up our email newsletter
Please note: Products mentioned in this article have not been evaluated by the FDA. These products and information on this page are not intended to diagnose, treat, cure, or prevent any disease. This website is not a substitute for professional care.  Always consult your medical doctor regarding your medical care. Never disregard professional medical advice or delay in seeking it because of something you have read on this website.
Disclaimer: Please know that this website contains affiliate links. This means that should you click on certain links, and then subsequently purchase a product, I will receive a small commission. The price is exactly the same for you as it would be without the affiliate link.