I love a good scrub. 
Whether it's my homemade lip scrubs (chocolate, candy cane, or vanilla honey), my favorite sugar scrub, my copycat DIY of Lush's Ocean salt scrub, or my relaxing chamomile foot scrub, I just love whipping up a DIY scrub.
I think it's the combination of  1) exfoliating to get rid of dull, rough skin, 2) moisturizers that leave skin feeling super soft and hydrated, and 3) the incredible essential oil scents.  Scrubs just make me feel like I've been to the spa.
This new DIY scrub does all that – exfoliates, moisturizes, and relaxes my senses.
Plus this new DIY scrub is a BAR.  That's right, it's a shower scrub in a bar.  Isn't that fun?!
You simply shower and wash up as normal, then at the end of your shower you run the salt bar all over your skin, giving a little extra scrub to rough patches like elbows.  Then rinse off, pat skin dry with a towel, and you're done.  Very quick and easy.  And you've got soft, glowing, super hydrated skin.

What's in Shower Salt Bars
cocoa butter– Cocoa butter is high in fatty acids that help soften rough, dry skin, strengthen skin making it more resilient, and reduce the appearance of fine lines and wrinkles.
kokum butter– Like cocoa butter, kokum butter is also high in essential fatty acids which soften and smooth skin as well increasing skin elasticity.  Kokum butter is also a powerful antioxidant that helps with skin regeneration and may help less the appearance of cellulite.
mango butter– Mango butter is light, smooth, and creamy.  It's full of skin-loving nutrients like vitamin E and vitamin C that boost radiance, moisturize, and soften skin.
coconut oil– The lauric acid in coconut oil can help calm inflamed skin.
lemon essential oil– Lemon essential oil can help detox skin and minimize the appearance of pores.
lavender essential oil– Lavender essential oil is anti-inflammatory which helps calm and soothe skin.  Lavender can also help reduce redness, blotchy patches, and other skin discolorations.
rock salt– Rock salt contains 84 of the 92 trace elements required by the body.  Plus the exfoliating texture of rock salt is a super slougher that will help leave your skin silky soft.
Himalayan sea salt– Pink Himalayan sea salt is a fantastic exfoliator.  It helps scrub away old, dry skin, revealing healthier, younger-looking skin.  Plus, it's a great anti-inflammatory that helps heal and soothe skin.
Shower Salt bar Recipe
yield: 6 bars
step 1:  add 1 cup finely chopped cocoa butter to a heat-safe measuring cup or bowl
tip: I like to use unrefined cocoa butter, but if the scent is too strong for your liking, then you can use either refined cocoa butter (which has little-to-no scent) or you may replace cocoa butter with more kokum butter (that is, use 2 cups of kokum butter instead of 1 cup each cocoa butter and kokum butter).
step 2: add 1 cup kokum butter
tip:  If you don't have kokum butter, you may substitute with cocoa butter.
step 3:  add 1/2 cup mango butter
tip:  If you'd like, you can replace mango butter with shea butter.
step 4:  add 1 tablespoon coconut oil
tip: use the kind of coconut oil that's solid at room temperature.  Do not use fractionated coconut oil that's liquid.
tip:  If you don't like coconut oil, you can substitute babassu oil for it instead.
step 5:  melt the butters and oil
tip:  I like to melt my butters and coconut oil using the double boiler method.  To do this, place heat-safe measuring cup inside a pan that has about 1 inch of gently simmering water over medium-low heat.  Stir the butters occasionally and continue heating until completely melted.
tip:  If you prefer, you may melt using microwave.  Use 50% power and stir every 30 seconds.
step 6:  allow the melted butters to cool for about 1 minute before adding essential oil
step 7:  add about 75 drops essential oil
I like to use a blend of 40 drops lemon essential oil and 35 drops lavender essential oil.
But you can adjust and use any combination of essential oils you prefer.
step 8:  divide 1.5 cups of rock salt fairly evenly between 6 cavities in a silicone mold.  Each bar will have about 1/4 cup of rock salt.  You can play around with this amount and use more or less salt as you prefer.
step 9: pour the melted butter and essential oil mixture over the rock salt
step 10: use a spoon or small stirring stick to mix the rock salt and melted butter mixture together.
tip:  make sure you get the butter mixture into all the corners and the bottom of each mold
step 11:  While the bars are still wet, sprinkle about 1/2 cup of coarse Himalayan sea salt over the top of the bars
step 12:  allow the bars to harden completely before removing from molds.  Depending on the heat and humidity in the room, this could take as little as 2 hours to overnight.
How to use salt bars
Wash and clean skin as normal in shower
Massage salt bar onto wet skin allowing the salt to help exfoliate skin
Rinse
Pat skin dry (don't rub skin with towel, just pat dry so that all those wonderful butters and coconut oil stay on the skin and help keep it moisturized and glowing all day.
important: Keep salt bar dry and away from heat in between uses.
Where to get supplies
This website contains affiliate links. This means that should you click on certain links, and then subsequently purchase a product, I will receive a small commission. The price is exactly the same for you as it would be without the affiliate link. 
rock salt  – I buy this at the grocery store.  It's usually in the baking aisle.  It's called ice cream salt or rock salt.  Here's what you're looking for.
coarse pink Himalayan sea salt
silicone molds- I used Crafter's Choice basic square mold #1605 in the photos shown in this recipe.  You can find that silicone mold here.  But don't worry about using that exact mold.  If you have another silicone mold that will make something about the size of a shower bar, then use that mold.  It can be round, rectangle, or square.  There's no magic to the specific silicone mold I used.
click here for free printable recipe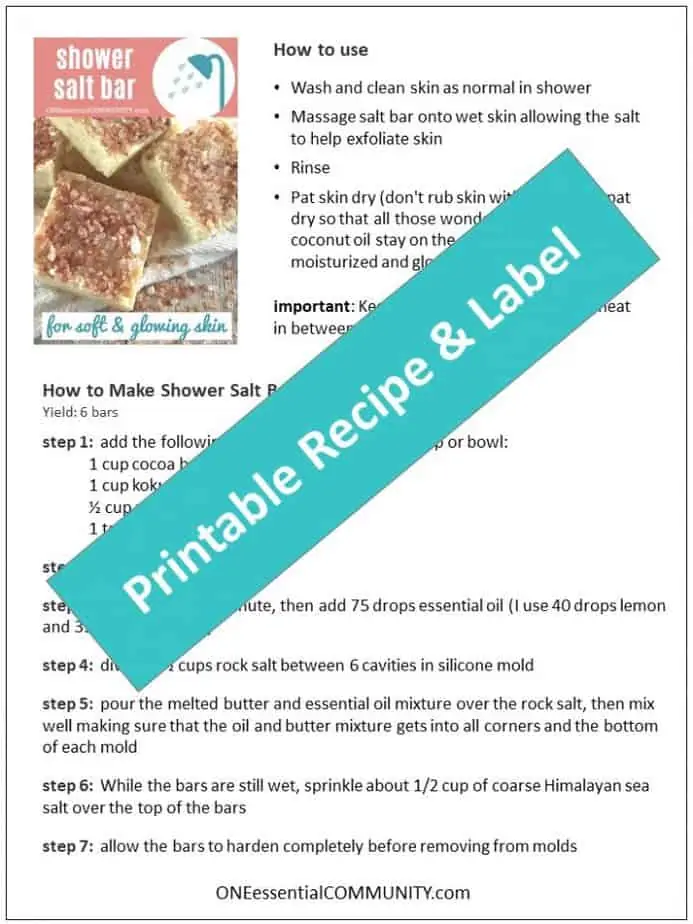 Please join us…
Please note: Products mentioned in this article have not been evaluated by the FDA. These products and information on this page are not intended to diagnose, treat, cure, or prevent any disease. This website is not a substitute for professional care.  Always consult your medical doctor regarding your medical care. Never disregard professional medical advice or delay in seeking it because of something you have read on this website.
Disclaimer: Please know that this website contains affiliate links. This means that should you click on certain links, and then subsequently purchase a product, I will receive a small commission. The price is exactly the same for you as it would be without the affiliate link.  Thank you for supporting me in this way.