As I've gotten older, it seems to happen to me more and more often.
I wake up with puffy eyes.
Not really the way I want to start my morning.
It makes me look tired, even if I've gotten a full night's sleep.
So I've researched and experimented to find this fantastic natural treatment that gets rid of my under eye bags and puffiness.
It's just 2 ingredients + essential oils.
Super simple, and it works!

What causes puffy eyes in the morning?
Waking up with puffy eyes is a common issue.  It's usually caused by a buildup of fluid in the tissue under the eyes.
Here are some of the most common causes of the fluid gathering in the lymph nodes under our eyes, resulting in swelling and puffiness.
not getting enough sleep or not sleeping well
seasonal allergies, colds, and other sinus congestion
stress
too much salt (sodium is hidden in many packaged foods we eat)
chronic inflammation
dehydrated – not drinking enough water
Puffy eyes become even more common as we age.  Skin tissue weakens as we age.  When fluid accumulates under the eyes, the weakened skin sags and results in puffy eyes and eye bags.
Essential Oils

for Puffy Eyes
1.  Cypress Essential Oil
When it comes to reducing puffy eyes, cypress essential oil is a rockstar!
Cypress essential oil is a natural diuretic.  It's these diuretic properties that can help drain the fluid out under eyes that's causing puffiness.  Cypress can prove very helpful in getting the water balance back to normal.
Additionally, cypress has wonderful astringent properties – that helps tighten sagging skin and shrink under eye bags.
And lastly, cypress also has vasoconstricting properties to help reduce swollen blood vessels.  Vasoconstriction is the reason why so many people use Preparation H hemorrhoid cream as a DIY puffy-eye remedy.  Preparation H also narrows blood vessels and helps restrict the flow of blood, which in turn can help reduce puffy eyes.  But, of course, Preparation H isn't natural.  It is primarily petrolatum and mineral oil.  I greatly prefer to use a natural DIY solution with cypress essential oil like this rollerball recipe instead of a chemically processed, manmade drug.
2.  Geranium Essential Oil
Like cypress, geranium essential oil is also a diuretic and can help relieve excess water retention, thereby reducing puffy eyes.
Geranium is also an astringent which tightens skin and reduces the appearance of puffiness.
Plus, geranium is calming and soothing on skin.
And as an added bonus geranium has anti-aging properties that help prevent fine lines and wrinkles around eyes.  Who wouldn't want that?!
3.  Frankincense Essential Oil
Frankincense essential oil has wonderful detoxing and cleansing properties.  When used over lymph nodes, frankincense helps drain and cleanse them, reducing under eye puffiness and bags.
Frankincense's anti-inflammatory properties also help reduce redness and puffiness.
And frankincense promotes cell regeneration and growth, which can help reduce appearance of fine lines and wrinkles.
other ingredients

in this essential oil serum for puffy eyes
1.  sweet almond oil
Almond oil contains oleic acid which is wonderful at nourishing mature skin.
It has anti-inflammatory and healing properties which are extremely good at minimizing puffy eyes.
Sweet almond oil's emollient properties help your skin balance water retention and dehydration.
And as with all carrier oils, almond oil dilutes the essential oils in this recipe, making them safe to use and more effective.
note:  If you have a nut allergy or simply prefer not to use almond oil for any reason, you can substitute with another skin-nourishing carrier oil like rosehip seed oil, argan oil, or apricot kernel oil.
2.  vitamin E (optional)
While vitamin E is not essential to reducing puffiness, I choose to add a few drops to this eye serum.
Vitamin E is a powerful under-eye protector.  It's an antioxidant as well as anti-aging and anti-inflammatory.
It even helps promote cell regeneration which can help give a more youthful appearance to eyes and help minimize the appearance of fine lines and wrinkles.
Again, it's optional in this roller bottle recipe, but I like to include it to give my eyes a little extra love.
How to make essential oil rollerball for puffy eyes
step 1: use a small funnel to fill standard 10ml roller bottle about 3/4s full with sweet almond oil
tip:  Essential oils are very powerful, so it's important to use a carrier oil to dilute essential oils when applying topically.
tip:  Be sure to leave about 1 inch in the roller bottle for adding vitamin E and essential oils in next steps.
tip:  You can substitute another nourishing carrier oil (like rosehip seed oil, argan oil, or apricot kernel oil) for the sweet almond oil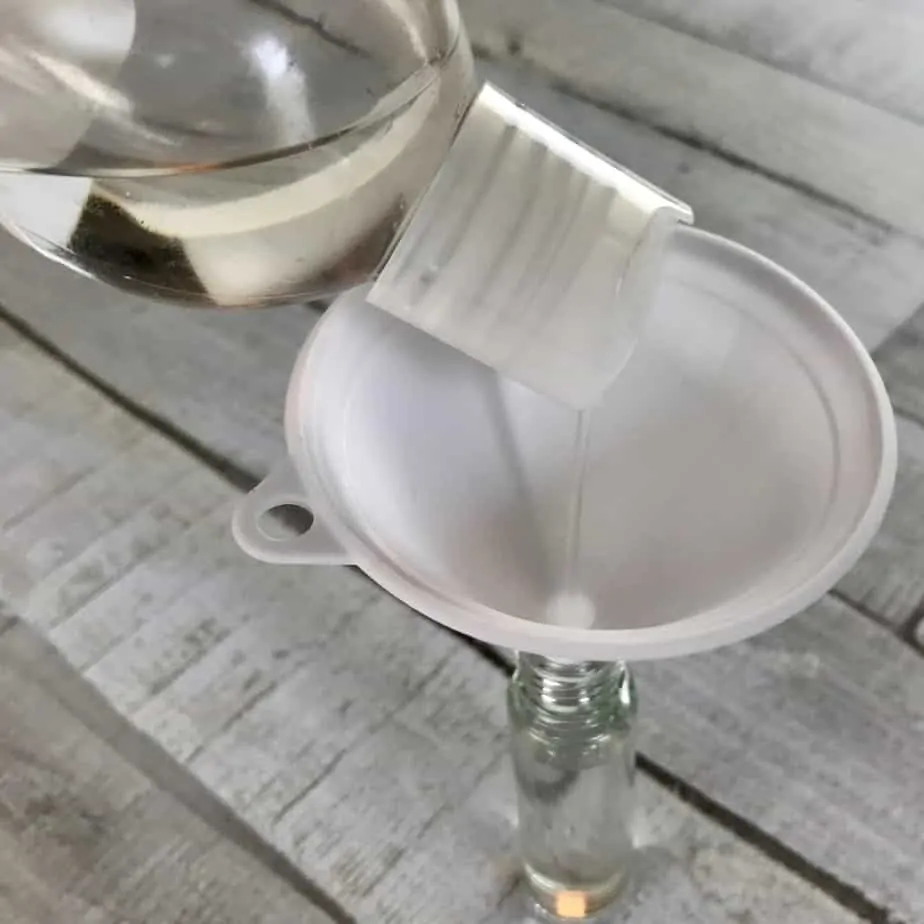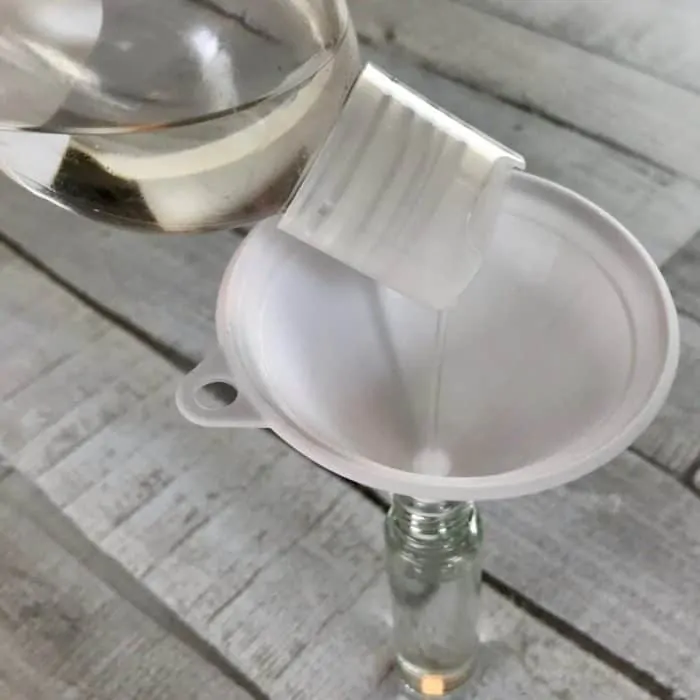 step 2 (optional):  add 1/2 teaspoon of vitamin E oil
step 3:  add the following essential oils
5 drops cypress essential oil
2 drops geranium essential oil
3 drops frankincense essential oil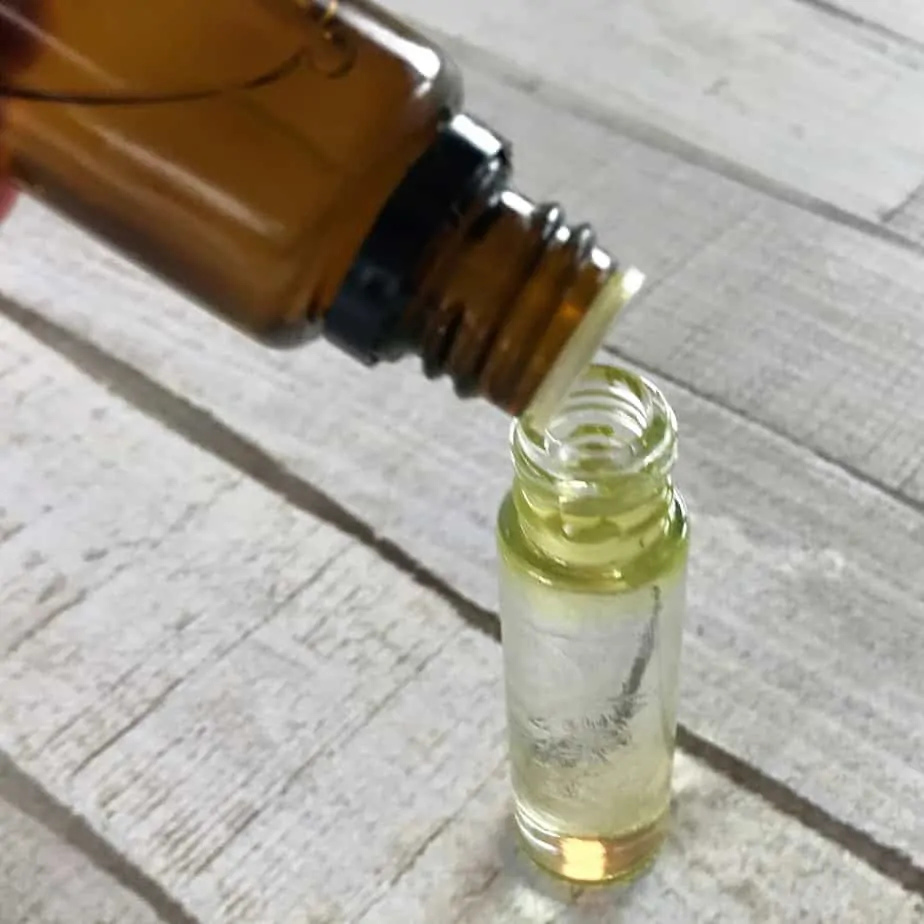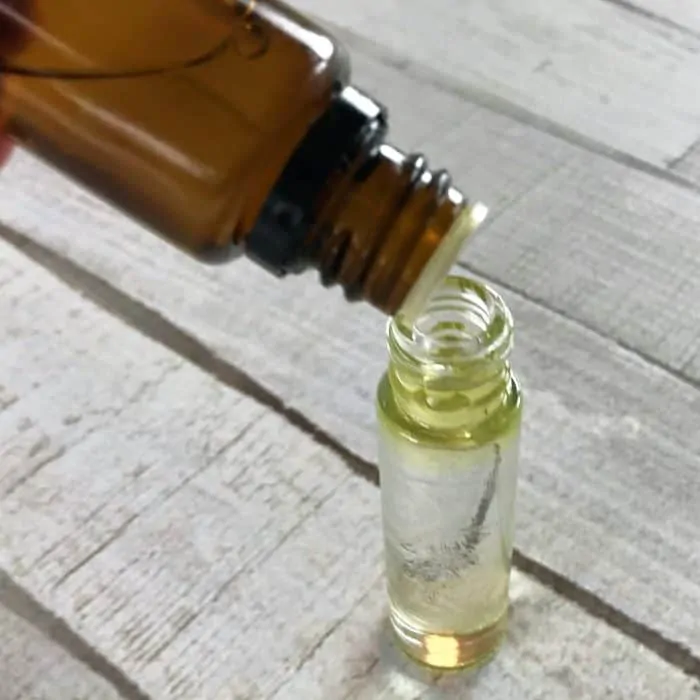 step 4:  snap the rollerball onto the bottle and then gently roll the bottle in your hand to mix the oils together
tip:  This little tool is super handy.  You place it over the rollerball, then press down on both sides of the tool.  It makes snapping the rollerball into place super easy and it makes sure that it really gets sealed tight.  You don't want to have roller bottle with a loose top.  That's a good way to have oils leak all over.
It also works great to take rollerballs off, and it not only works on 10ml roller bottles, but also 10ml and 15ml essential oil bottles.  How cool is that?!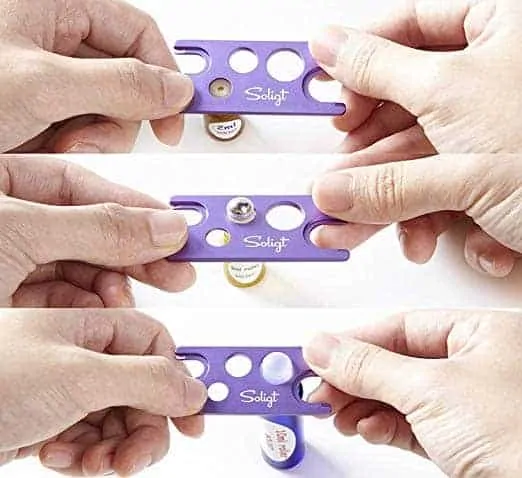 step 5:  wipe down the outside of the glass bottle and cap with a little rubbing alcohol
This will get rid of any dirt and oil and prep the bottle before putting on a label.  Labels stick best to squeaky clean bottles.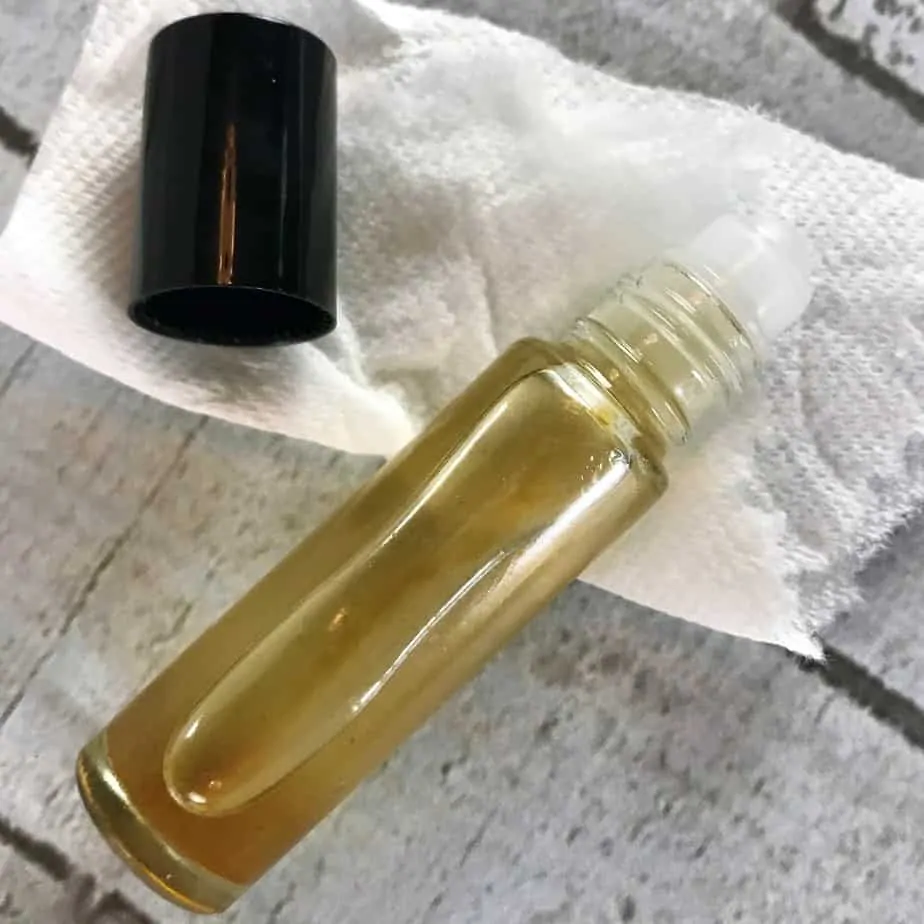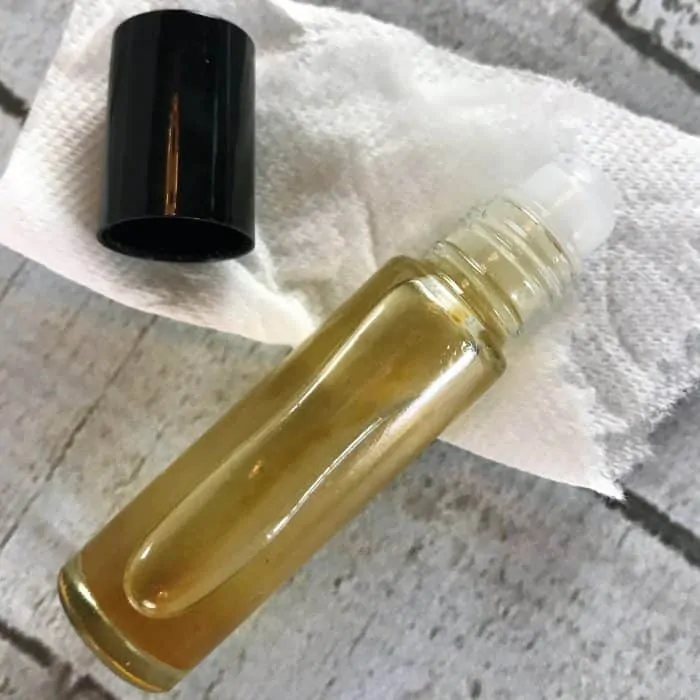 tip:  Here's how I make cheap labels that look great and stand up to lots of use–>   I print the label on plain printer paper.  Cut the label out.  Then I place label face down on clear packing tape.  I trim around the label, leaving about 1/8 to 1/4 inch on the top and bottom of the label and 1/2 to 1 inch on each end.  Then I secure label to roller bottle by lining up one side of the label and pressing label down to smooth it as I turn the bottle.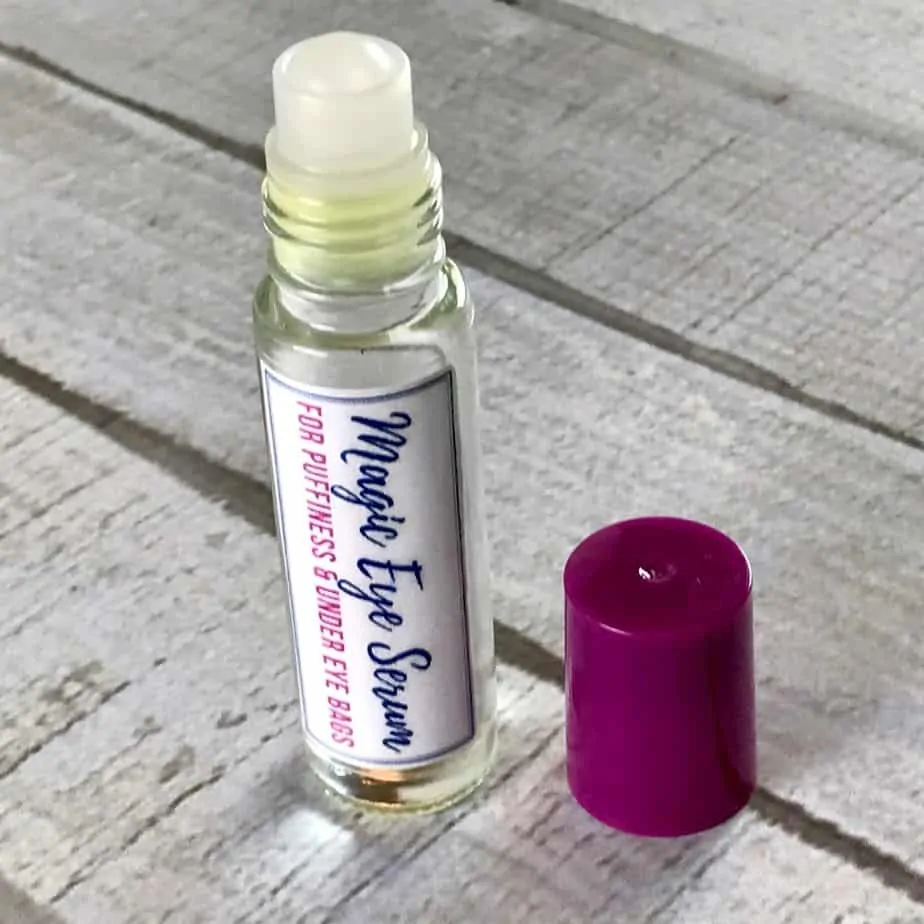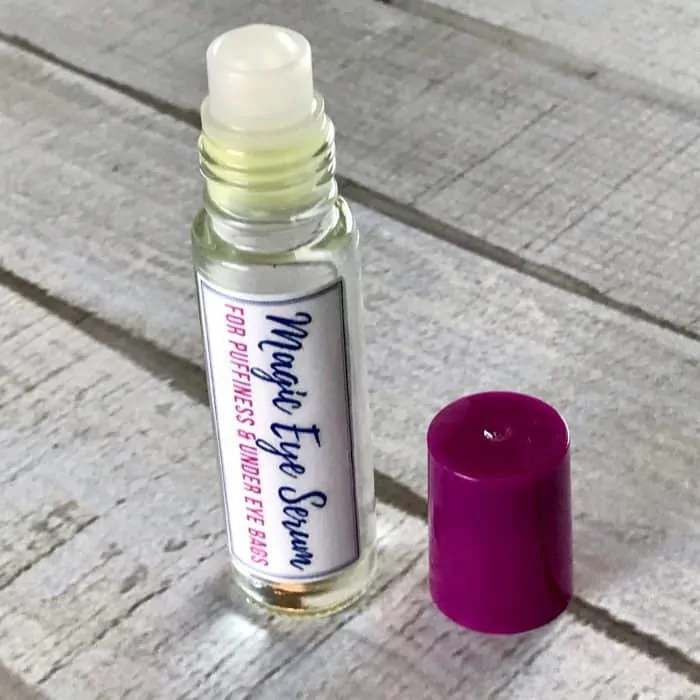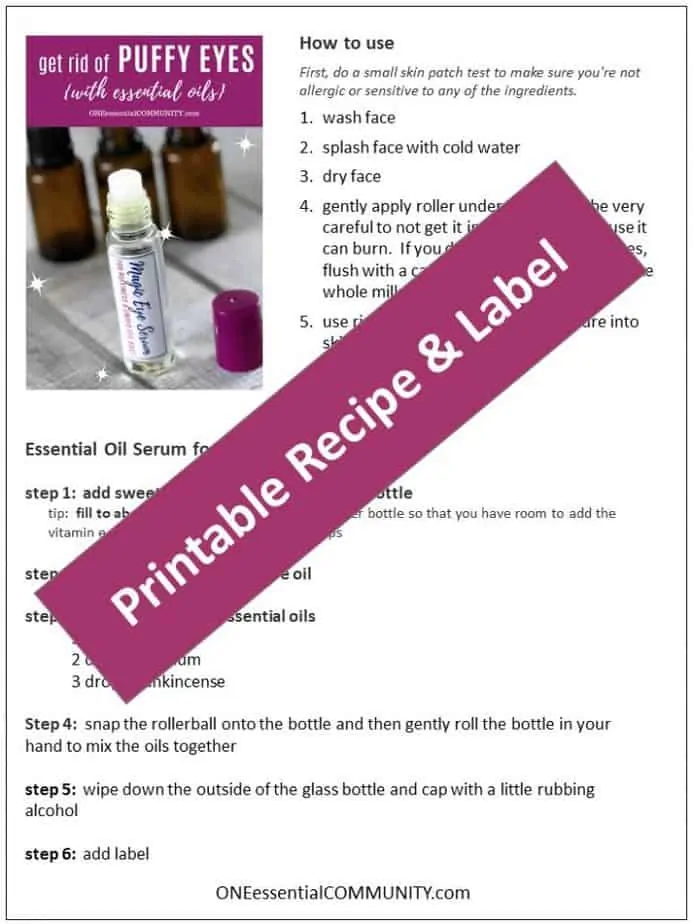 How to use
wash face as normal (DIY recipe here)
splash face with cold water
dry face
gently apply roller under each eye — be very careful to not get it into your eyes because it can burn.  If you do get essential oils in eyes, flush with a carrier oil or other natural fat like whole milk.
use ring finger to gently pat oil mixture into skin
tip:  Always do a patch skin test to make sure that you're not allergic or sensitive to any of the ingredients in new-to-you beauty products.
tip:  Store your roller bottles upright.   To help them last a long time and not leak, you don't want the essential oils to touch the rollerball except when you are actually using the roller bottle.  Storing them standing up is the best way to do this.
tip:  For an extra boost, I keep this roller in the fridge.  It feels great going on, and the cool temperature further helps to reduce my puffiness.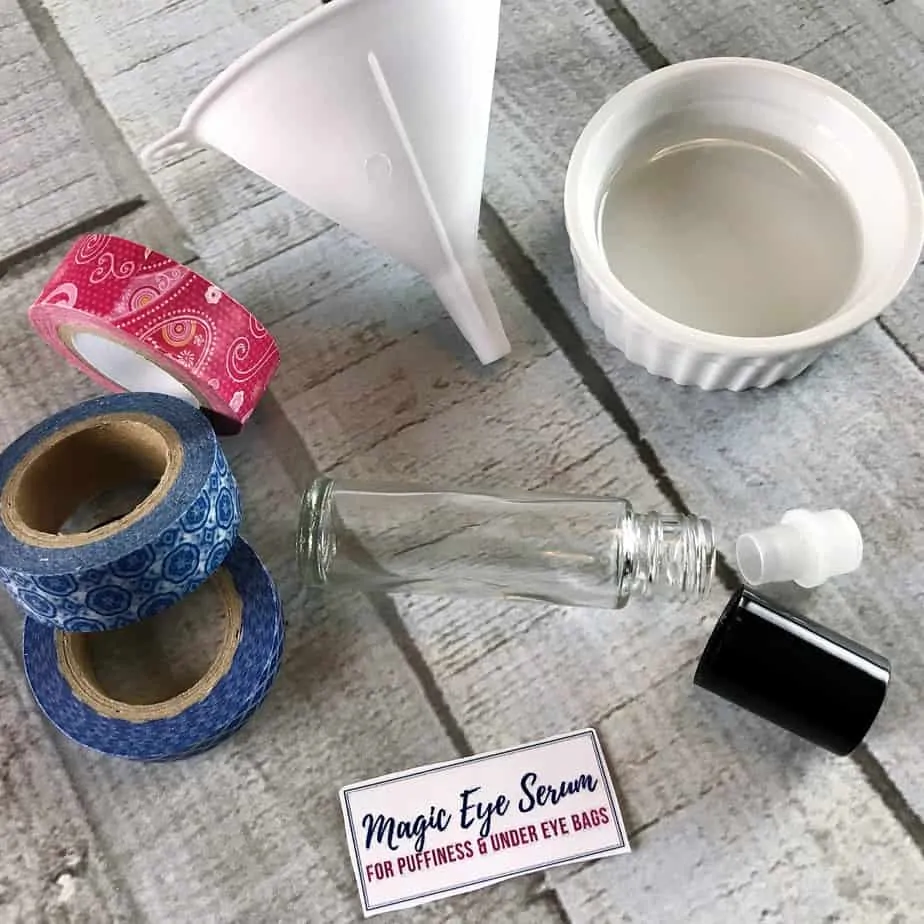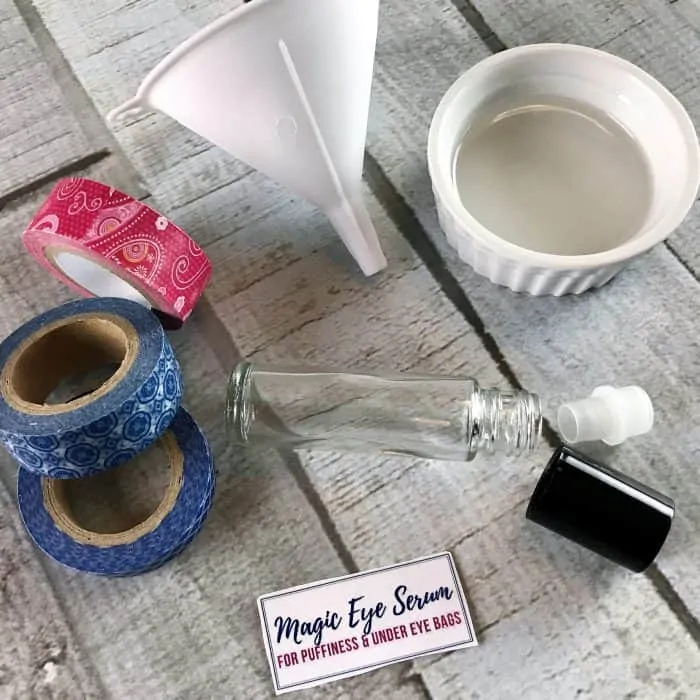 Where to get supplies?
This website contains affiliate links. This means that should you click on certain links, and then subsequently purchase a product, I will receive a small commission. The price is exactly the same for you as it would be without the affiliate link. 
tool to help close and open roller bottles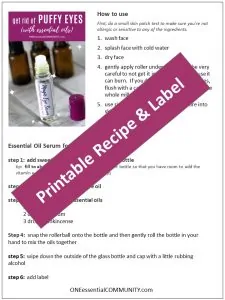 Please join us…
click here to sign up our email newsletter
Please note: Products mentioned in this article have not been evaluated by the FDA. These products and information on this page are not intended to diagnose, treat, cure, or prevent any disease. This website is not a substitute for professional care.  Always consult your medical doctor regarding your medical care. Never disregard professional medical advice or delay in seeking it because of something you have read on this website.
Disclaimer: Please know that this website contains affiliate links. This means that should you click on certain links, and then subsequently purchase a product, I will receive a small commission. The price is exactly the same for you as it would be without the affiliate link.