It's normal to lose 50-100 strands of hair a day.  But if you have tangled, knotted hair, you can lose much, much more.  That's why as part of my regime for healthy hair growth, I use this easy homemade hair detangler spray.
It smooths and conditions hair, leaving it soft, silky, and shiny.
Plus it helps strengthen hair so there's less fallout and hair loss.
And it even helps promote new hair growth.
Use this DIY hair detangler along with these other homemade hair treatments for maximum hair growth:
Dry Shampoo — It's best to only wash your hair once every 2-3 days so that it does not dry out and become brittle.  Using a dry shampoo can help extend the time in between washings, keeping your hair moisturized, strong, and healthy.  That helps hair grow longer faster.  Find Dry shampoo powder (recipe here) and dry shampoo shampoo spray (recipe here)
Hot oil treatment — warm 2 tablespoons jojoba oil and 2 tablespoons honey in microwave or on stovetop.  Heat just until warm and viscous but

not

hot.  Then add 3 drops peppermint essential oil and 2 drops rosemary essential oil.  Stir.  Apply to scalp and hair.  Leave on hair for 20 minutes before washing out.
Scalp exfoliator — Healthy hair starts with a healthy scalp.  Using a scalp exfoliator like this helps remove dead skin cells and open pores so that hair can grow properly.  To make, simply combine 2 tablespoons rolled oats, 1 tablespoon brown sugar, 2 tablespoons olive oil, and 4 drops of tea tree oil.  Mix together then apply to scalp, gently massage on scalp for 1-2 minutes, and then shampoo as normal.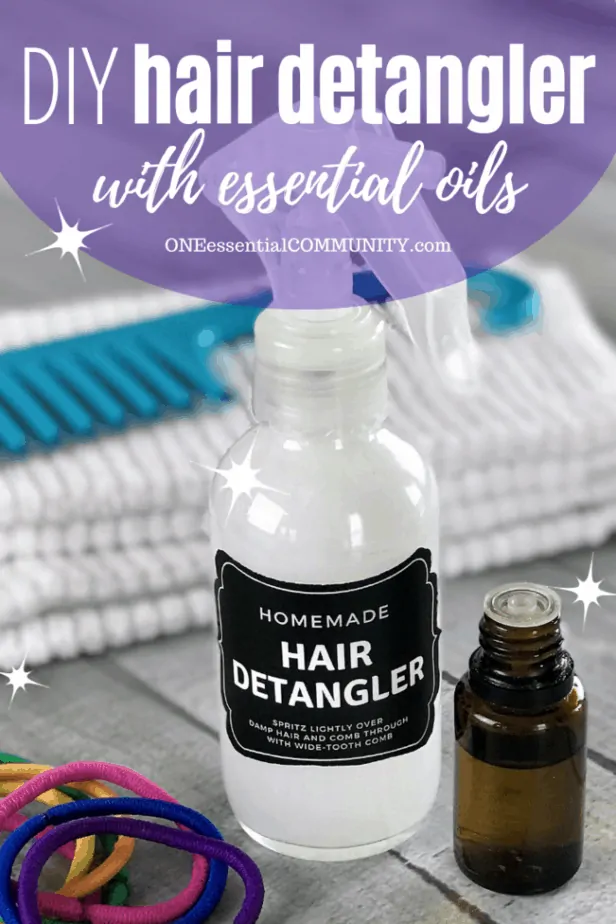 How to make hair detangler with essential oils
step 1:  add 1 teaspoon vegetable glycerin to 4 oz spray bottle
Why use this?
Vegetable glycerin is a humectant.  It helps keep hair moisturized.
Moisturized hair is strong hair.  Strong hair doesn't break as easily, keeping it healthy and growing long.
tip:  If you live in a humid climate, skip the glycerin as it can attract too much moisture, making hair frizzy in humid weather.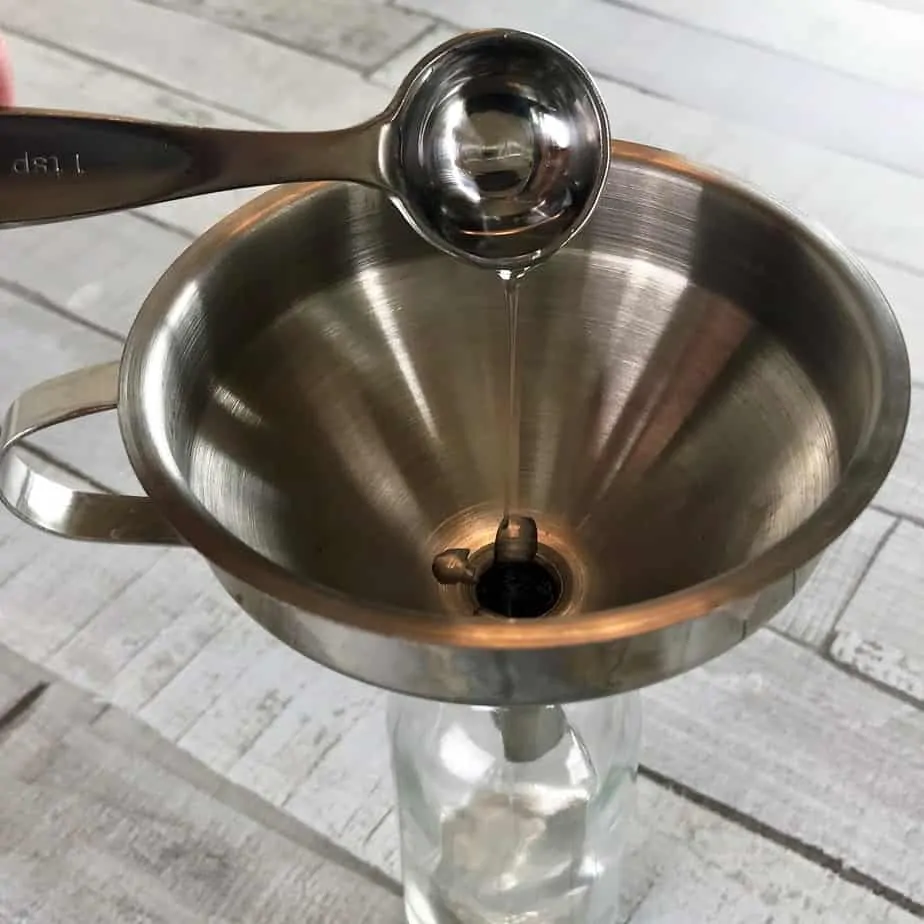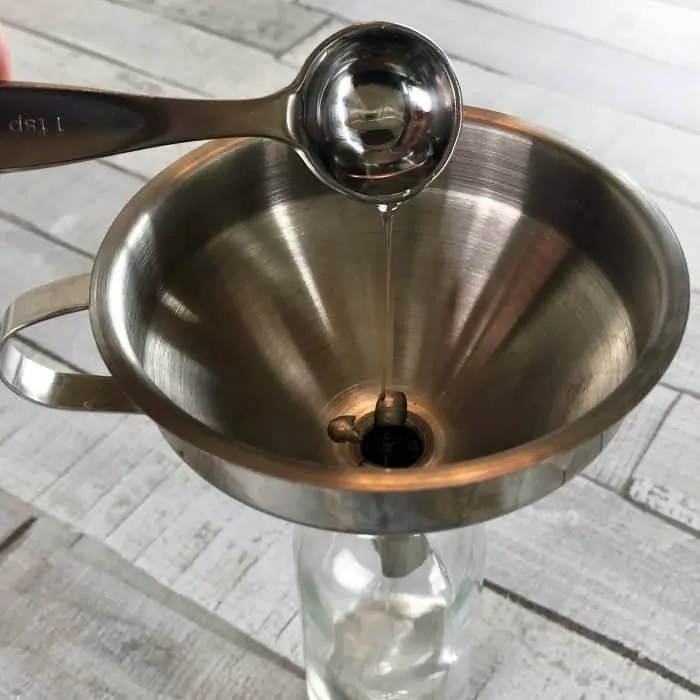 step 2:  add 1 tablespoon of your favorite conditioner
why use this?
Conditioner is the powerhouse ingredient of this homemade detangler spray.
It adds slip to detangle even the unruliest of long, tangled hair.
Plus it smooths and conditions hair to leave it silky soft and shiny all day long.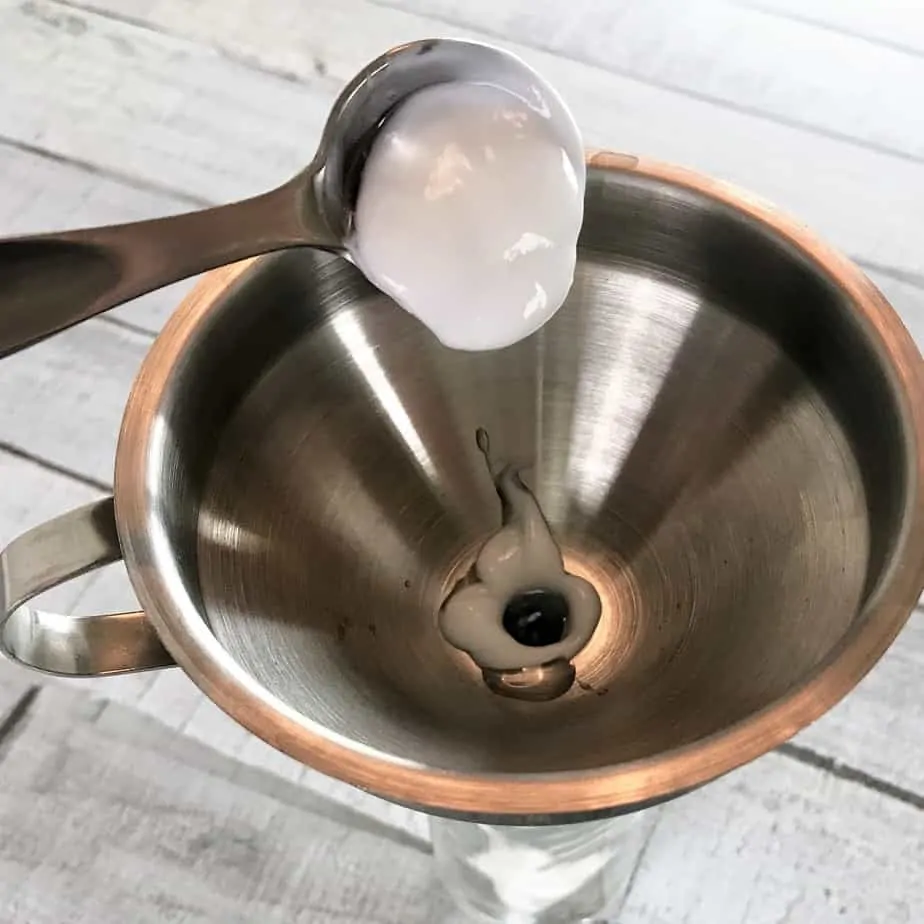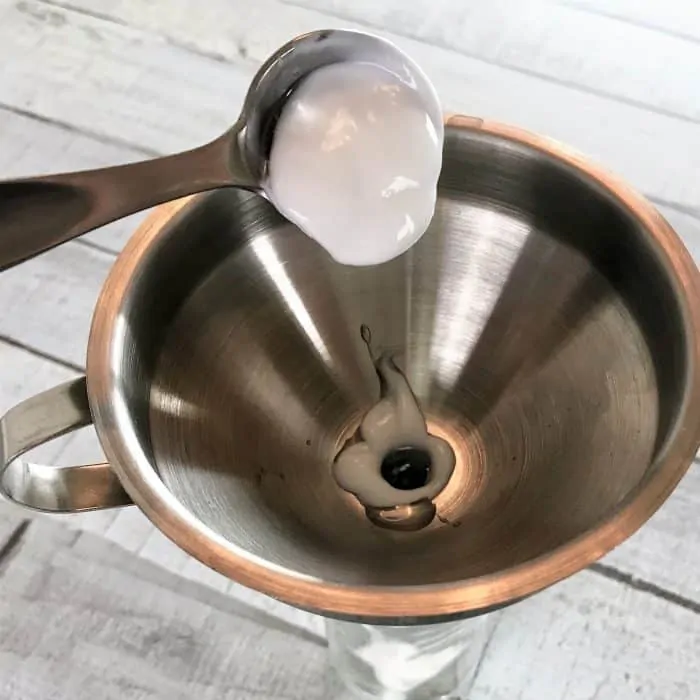 step 3:  fill your 4 oz bottle with distilled water
tip: leave about 1 inch of space at the top of the bottle so that you have room to put on the spray top
tip: If you don't have distilled water, you can use boiled and cooled filtered water instead.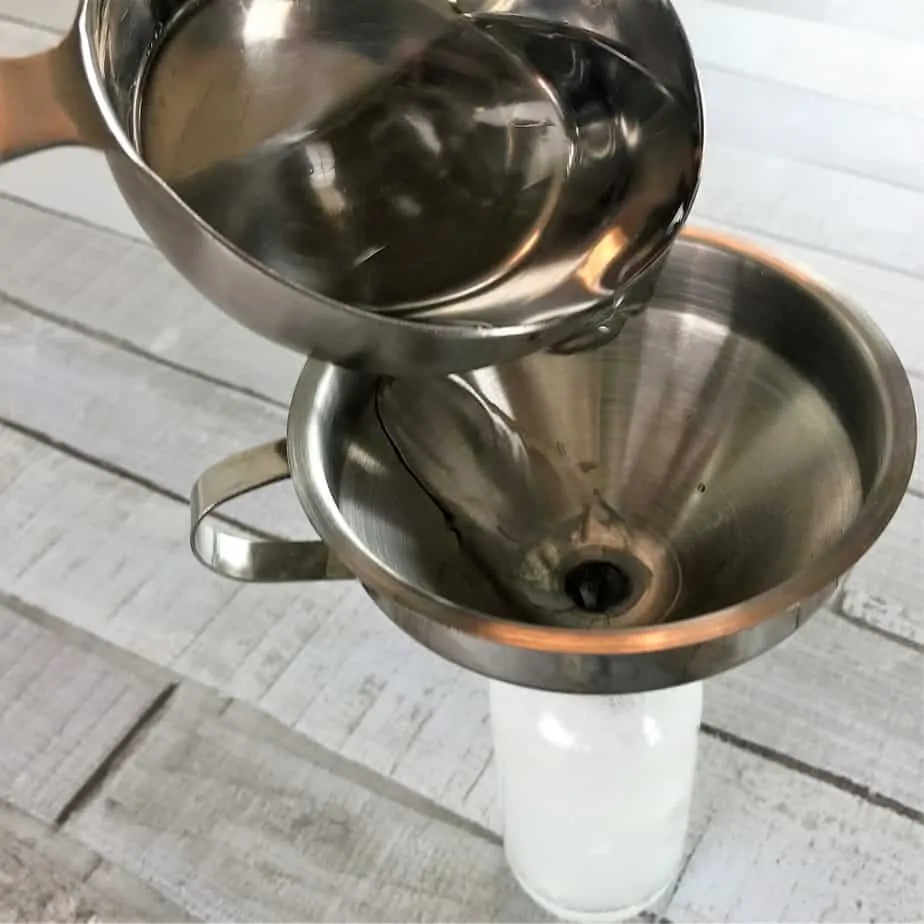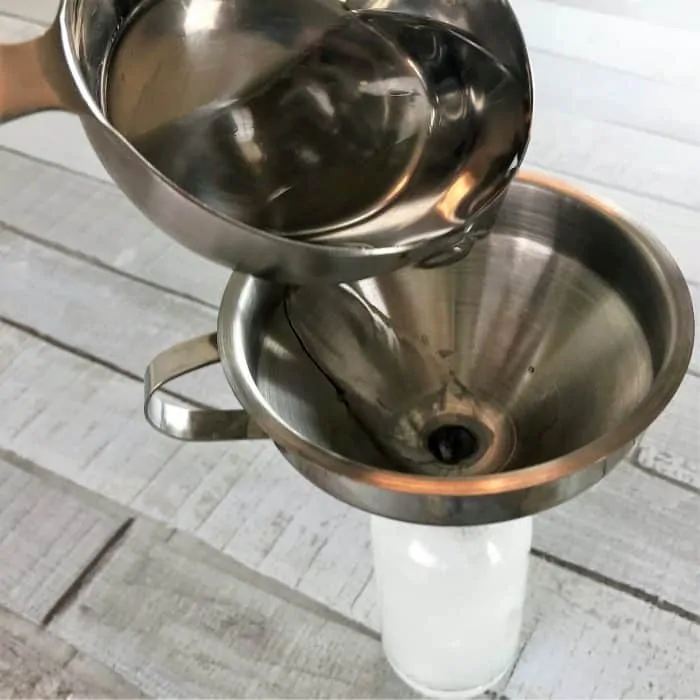 step 4:  add the following essential oils (24 drops in total)
6 drops lavender
6 drops rosemary
6 drops peppermint
6 drops tea tree
While essential oils are optional in a hair detangler, I love to use these four essential oils in my detangler because they help keep my hair healthy and promote growth.
Why use these oils?
Lavender
Research has found that lavender essential oil can help hair grow faster and longer, perhaps even helping thinning hair to regrow.
Additionally, lavender oil helps moisturize hair which can prevent damage and prevent further breakage.
Rosemary
Rosemary oil

increases blood circulation, stimulates hair follicles, improves hair growth, and lessens hair loss, resulting in thicker, fuller, longer hair.
Peppermint
Peppermint oil strengthens hair roots and lessens hair loss. 

It also increases blood flow, which rejuvenates hair follicles and promotes hair growth.
Tea Tree
The antifungal properties of tea tree essential oil minimize dandruff.
It also helps prevent buildup on hair which can encourage hair growth and prevent it from falling out.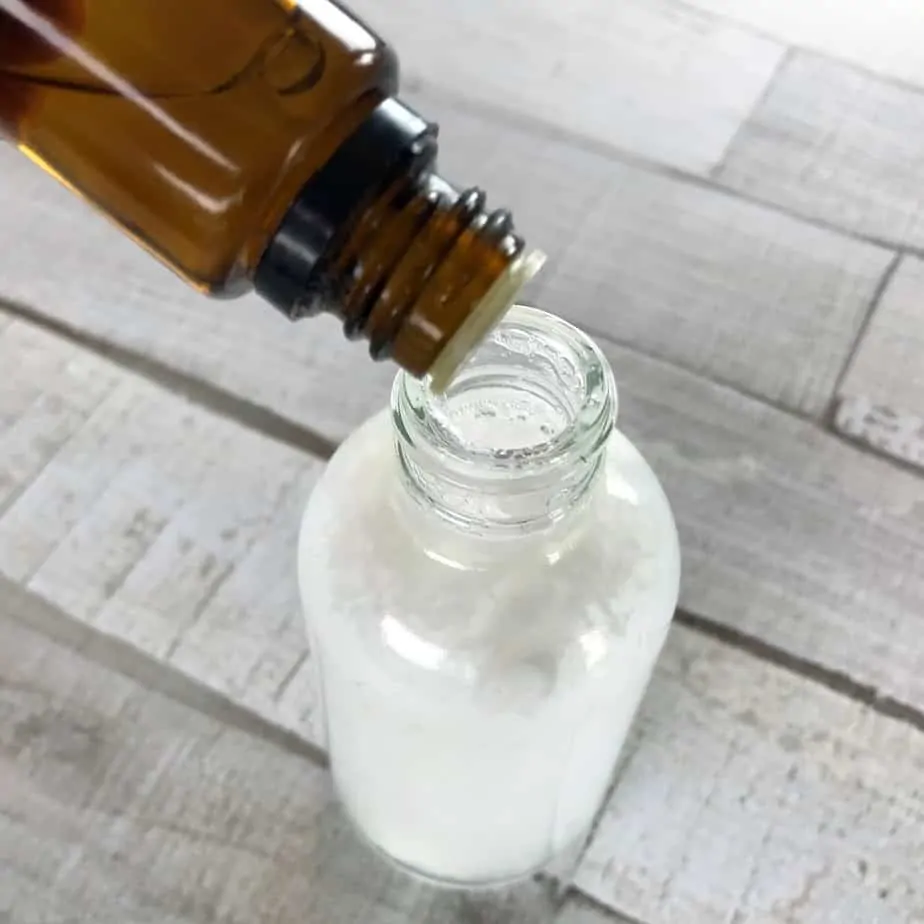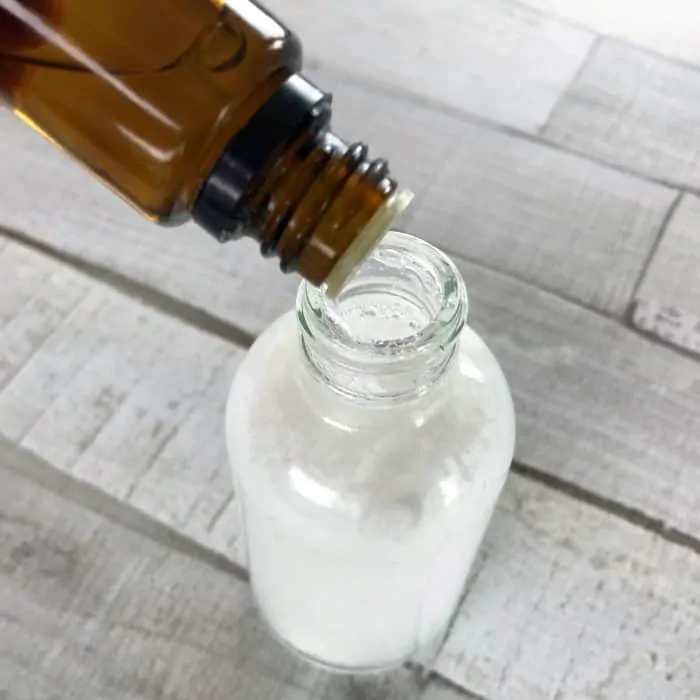 step 5:  Put on the spray top and shake to mix well
tip:  wiping down your bottle with a little rubbing alcohol will clean and remove any oil from the outside of the bottle so that your label will stick really well
tip: you can print the printable label on full-sheet label paper, or do what I do and print label on regular plain printer paper then attach the label to the bottle with clear packing tape.  To do this, print label, cut it out, then place label face down on piece of packing tape that's at least 1 inch longer than the label on both ends.  Line the label up on the bottle and press it on starting from the center and smoothing out the label from the center out.  Using packing tape like this has become my favorite way to do labels.  It's cheap, easy to do, and the labels stay on and look great for a long time.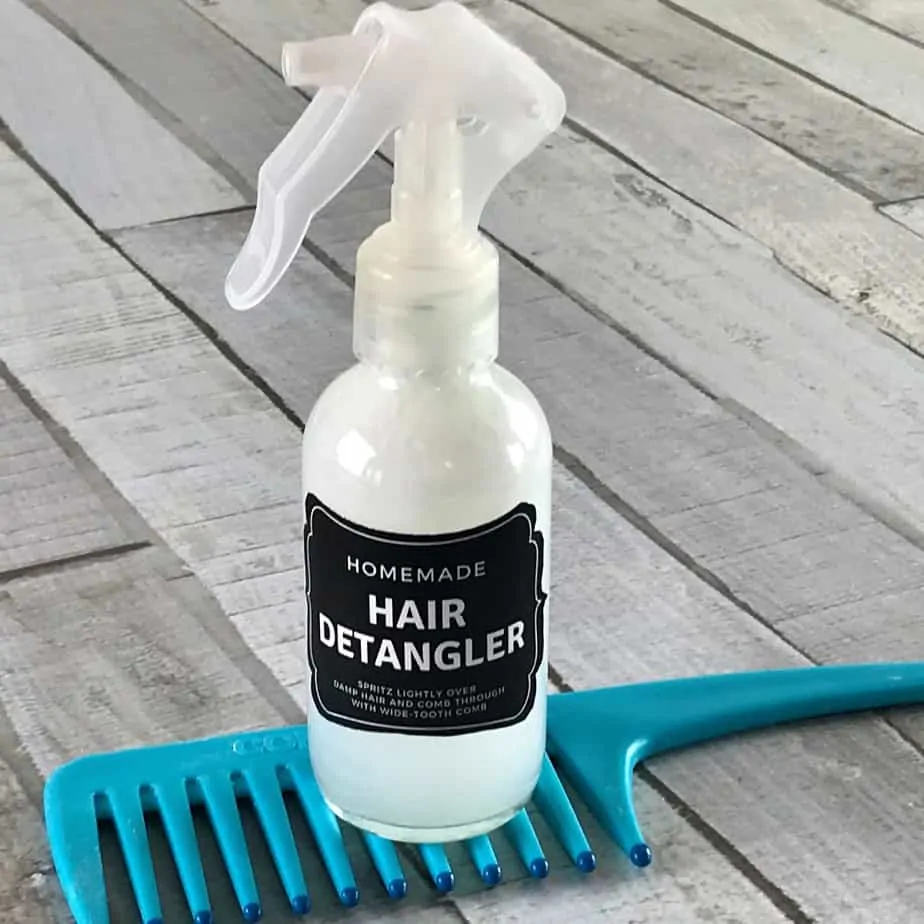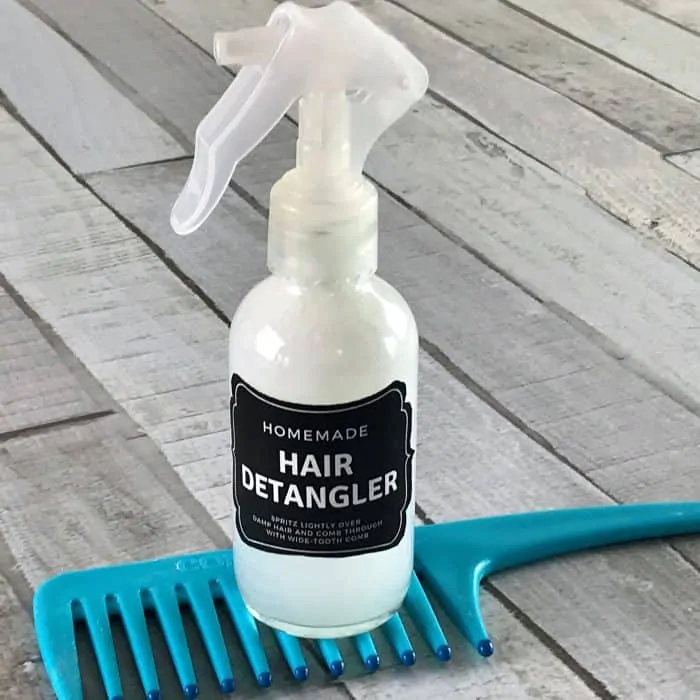 How to use
Use on wet or dry hair
Shake well to mix before each use
Spritz lightly over hair
Comb through with wide-tooth comb or paddle brush
Detangle hair in sections, starting at the ends and working way back towards roots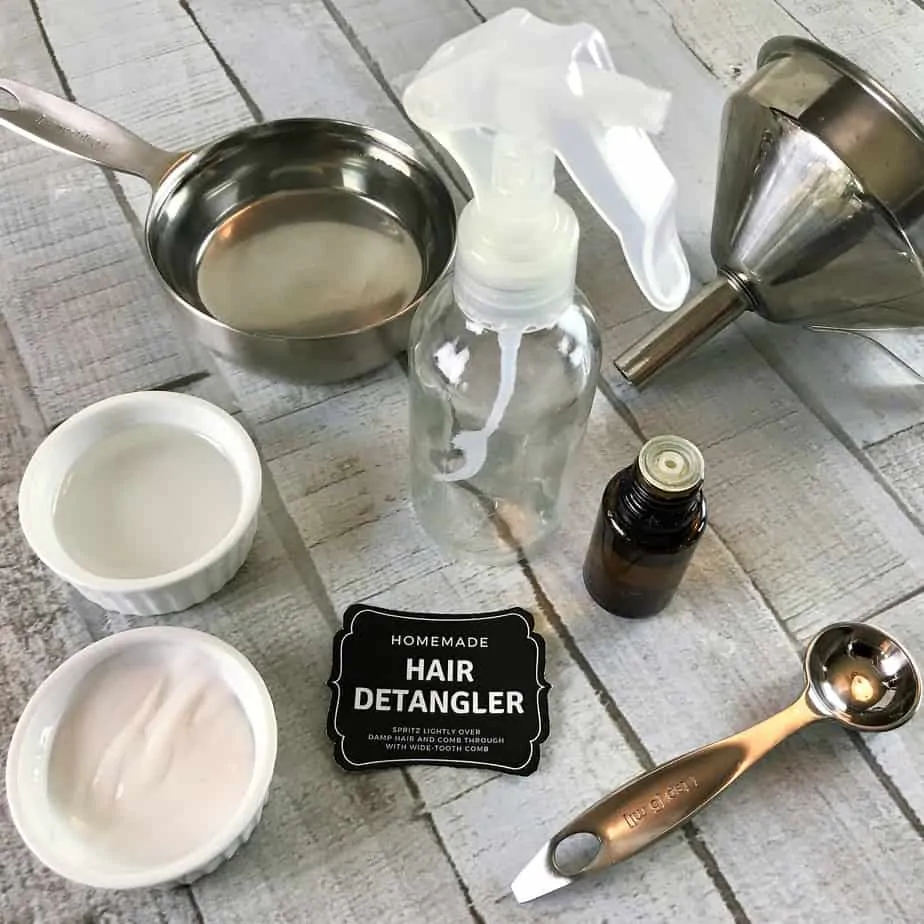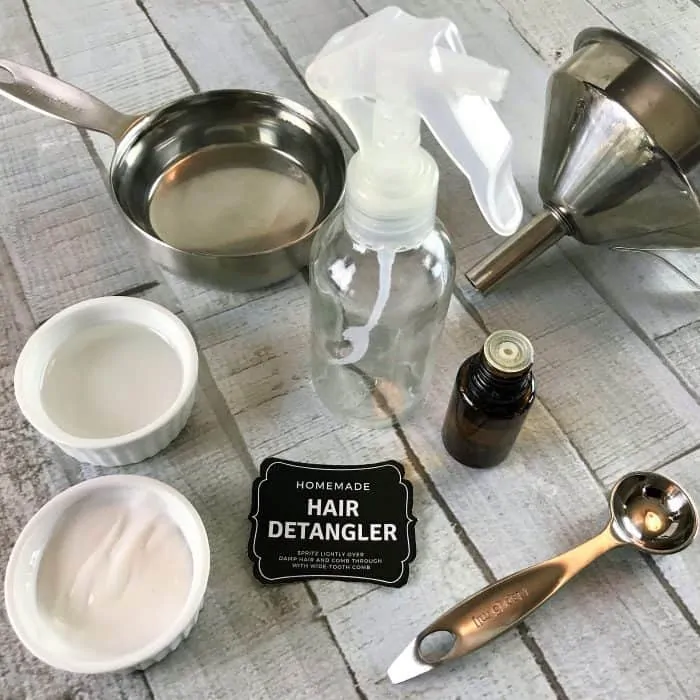 Where to get supplies?
This website contains affiliate links. This means that should you click on certain links, and then subsequently purchase a product, I will receive a small commission. The price is exactly the same for you as it would be without the affiliate link. 
distilled water– find in the water aisle of the grocery store
4 ounce spray bottle – I like these trigger sprayers (click here).  Sometimes regular spray bottles can get clogged with oils and essential oils.  But I've found these kind of trigger sprayers work really well – they don't tend to clog and spray a nice fine mist.  perfect for sprays like this hair detangler.
click here for free printable label and recipe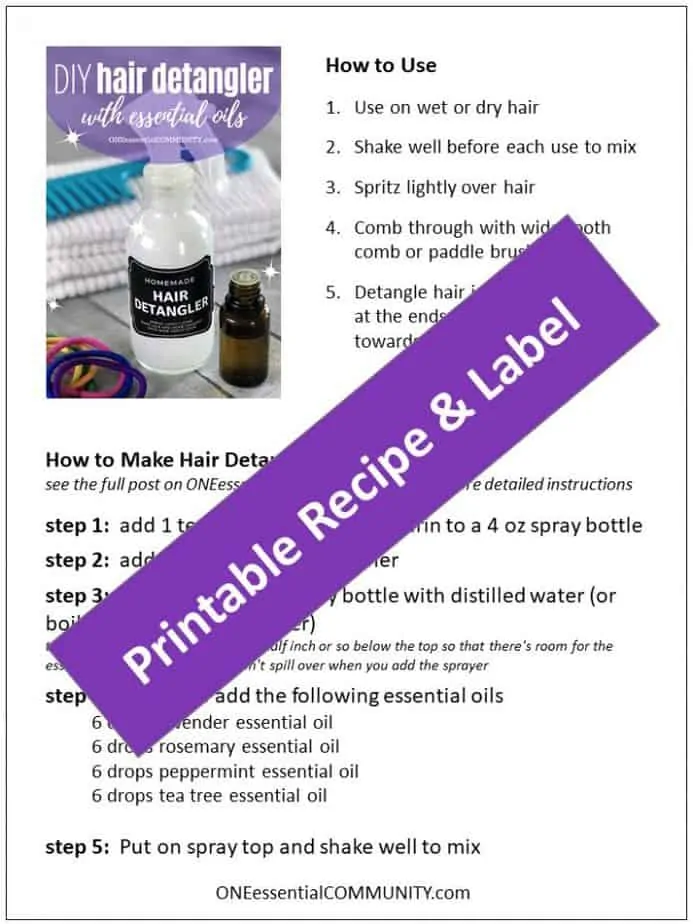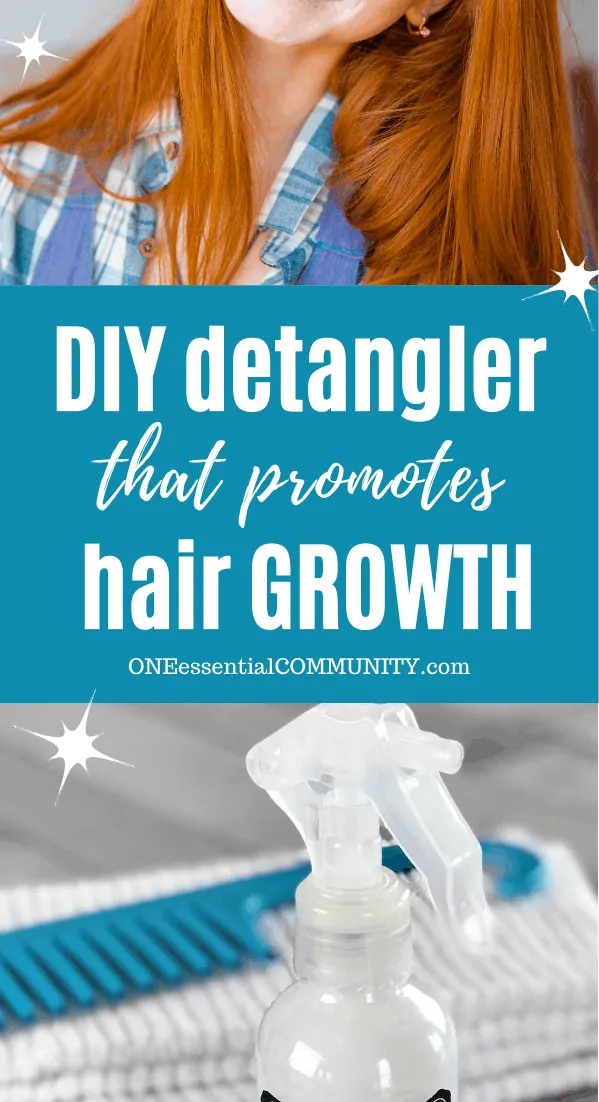 Please join us…
click here to sign up our email newsletter
Please note: Products mentioned in this article have not been evaluated by the FDA. These products and information on this page are not intended to diagnose, treat, cure, or prevent any disease. This website is not a substitute for professional care.  Always consult your medical doctor regarding your medical care. Never disregard professional medical advice or delay in seeking it because of something you have read on this website.
Disclaimer: Please know that this website contains affiliate links. This means that should you click on certain links, and then subsequently purchase a product, I will receive a small commission. The price is exactly the same for you as it would be without the affiliate link.