Bacon grease, chicken cooked in too much olive oil, hamburger splatters  – – Grease gets everywhere in the kitchen.  That's probably why the kitchen is one of the hardest rooms in the whole house to clean.
Thankfully, this homemade citrus degreaser powers through grease, oil splatters, and burnt-on messes to get your kitchen truly clean.
It dissolves grease and grime on all kinds of hard, non-porous kitchen surfaces:
range hood

stovetop

microwave

vent

oven

kitchen cabinets

drip pans

indoor grill
It even makes quick work of fingerprints on refrigerators, dishwashers, and other appliances.
Best of all, unlike most store-bought degreasers, this homemade citrus cleaner is made from natural, plant-derived ingredients like citrus essential oils and vinegar.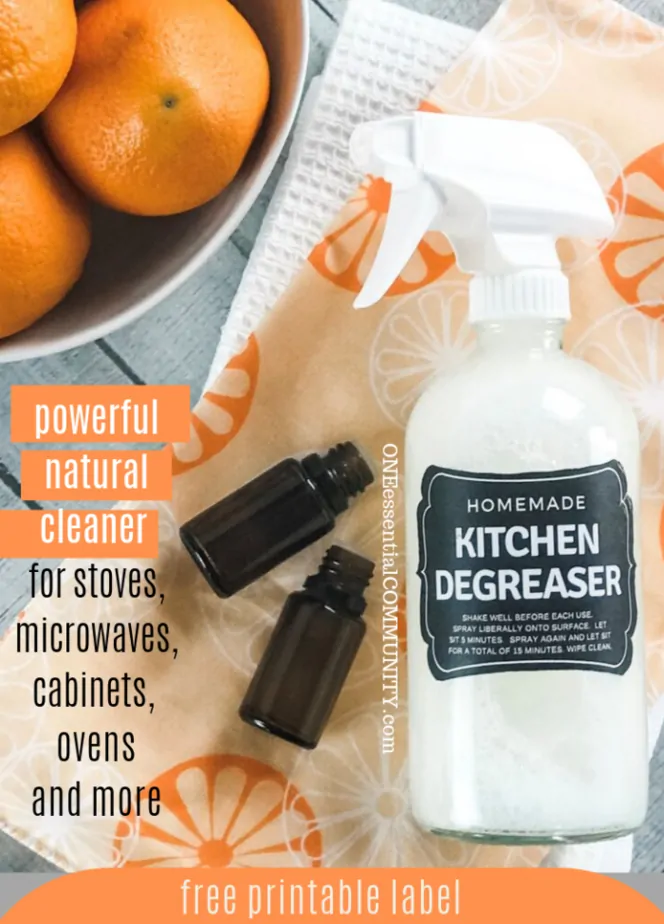 What you need to make your own natural kitchen degreaser spray
This website contains affiliate links. This means that should you click on certain links, and then subsequently purchase a product, I will receive a small commission. The price is exactly the same for you as it would be without the affiliate link. 
To help extend the shelf life of your citrus degreaser cleaner, use distilled or filtered water that's been boiled and cooled.
Vinegar is a fantastic natural cleaner.  It disinfects, deodorizes, and helps remove grease
Sal Suds is made by Dr. Bronner's, the same company that makes liquid Castile soap.
Like Castile soap, Sal Suds is made from plants.
But Sal Suds is a much more powerful cleaner than Castile soap.  It's a natural detergent that cuts through grease, dirt, and grime with ease.
It works so well that I use Sal Suds in many of my homemade cleaners: dish soap, daily shower cleaner, granite cleaner, and liquid laundry detergent.
Lemon EO is a powerful, natural cleaner.  It's antimicrobial, antifungal, antibacterial, and antiviral — plus it's a great degreaser.
sweet orange essential oil (also known as wild orange)
Not only do essential oils smell great, they are powerhouse natural cleaners.
Citrus essential oils like sweet orange are excellent degreasers.  They can make quick work of removing dirt, grime, and grease on kitchen cabinets, stovetops, microwaves, ovens, and appliances.
use a 16 oz or larger spray bottle made of glass, stainless steel, or essential-oil-safe plastic like PET (plastic #1) or HDPE (plastic #2).  Here's a link to where I get my spray bottles: plastic spray bottle and glass spray bottle
click here for your free printable label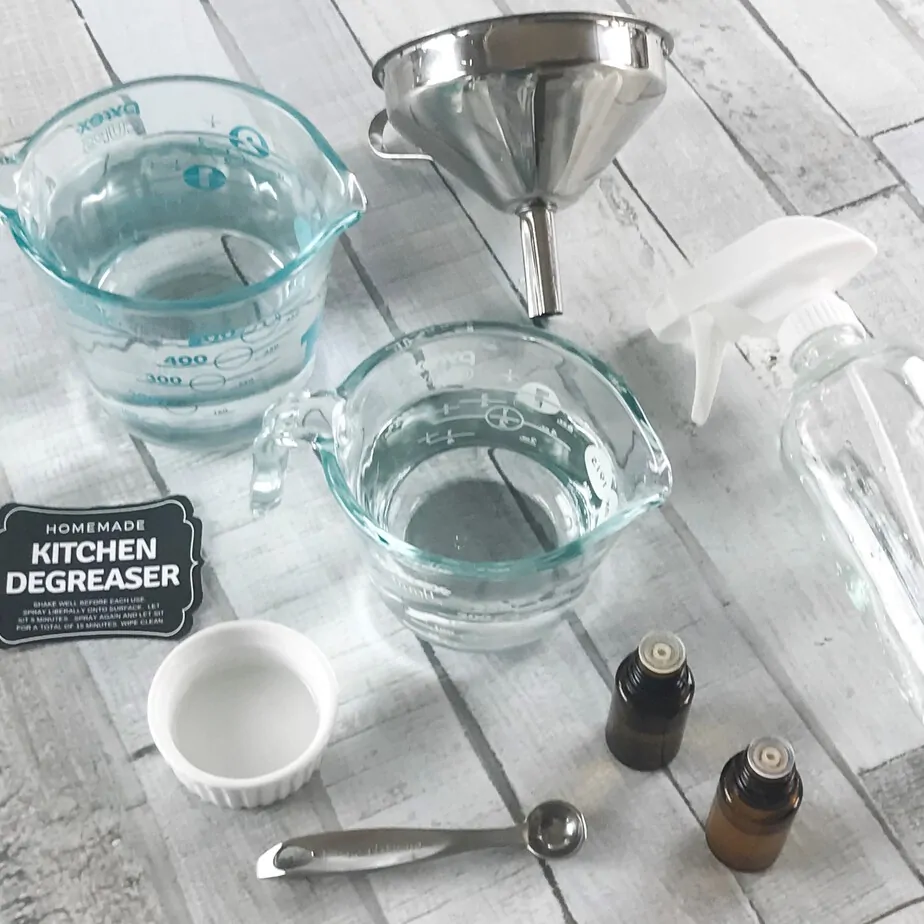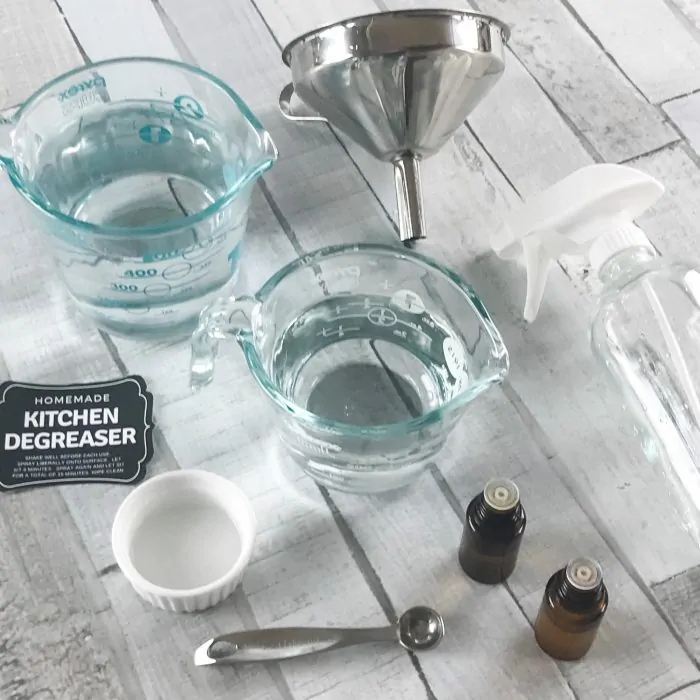 How to make natural kitchen degreaser cleaner with essential oils
step 1: add 1/2 teaspoon Sal Suds to 16 oz spray bottle
tip: choose a spray bottle that's made from materials safe to use with diluted essential oils.  Glass, stainless steel, and certain types of plastic (plastic #1 HDPE or plastic #2 PET) work well.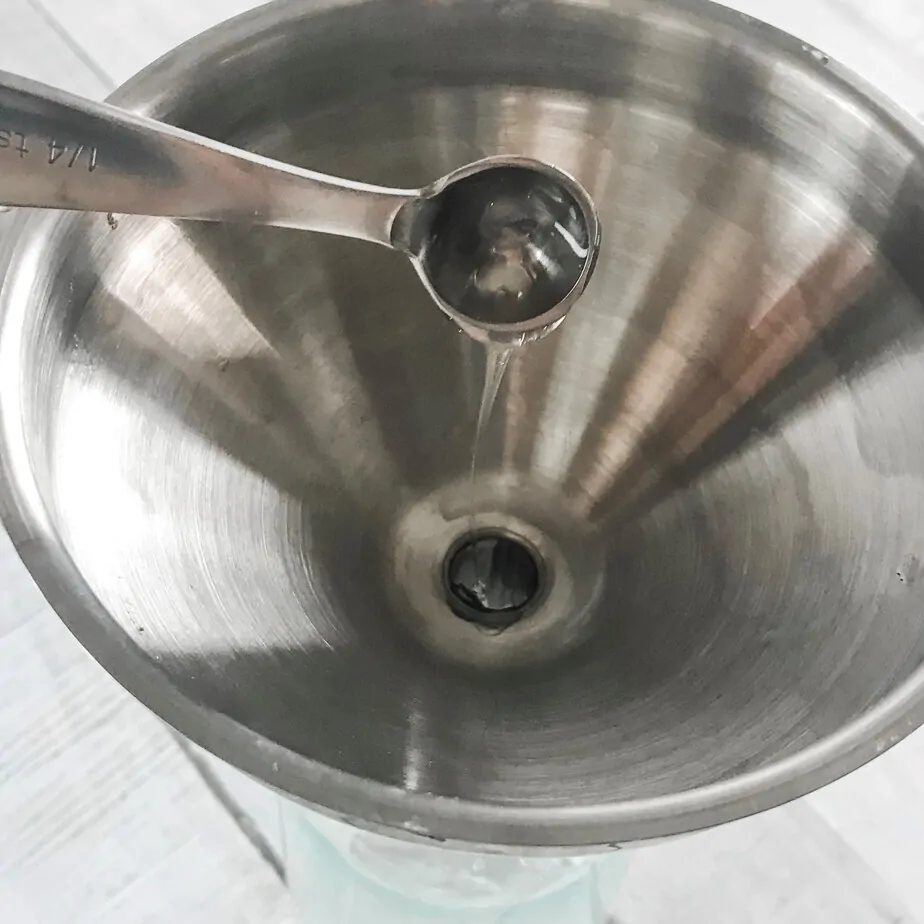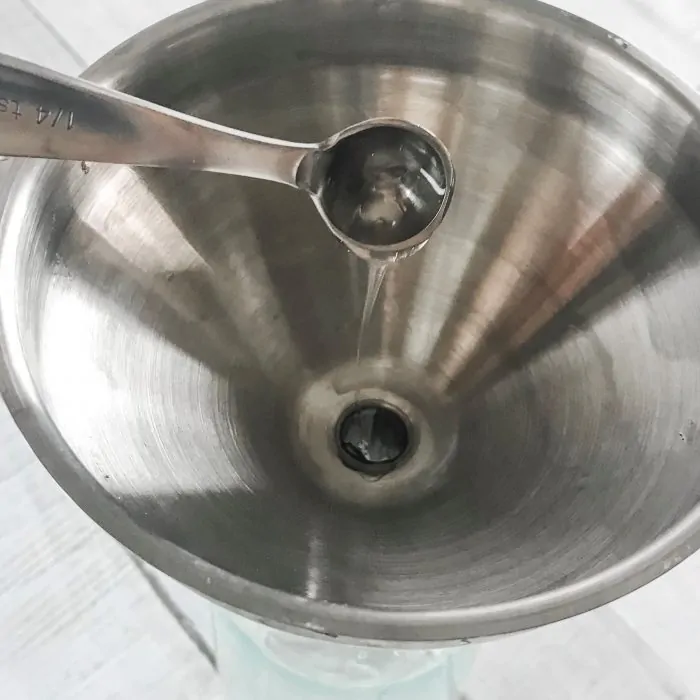 step 2:  add 1/2 cup white vinegar
tip:  If you don't like the smell of vinegar, you can use less, but do use some vinegar. 
It's a great natural cleaner that helps cut through the dirt and grime, and even helps repel dirt from sticking to the surface, keeping your kitchen clean for longer.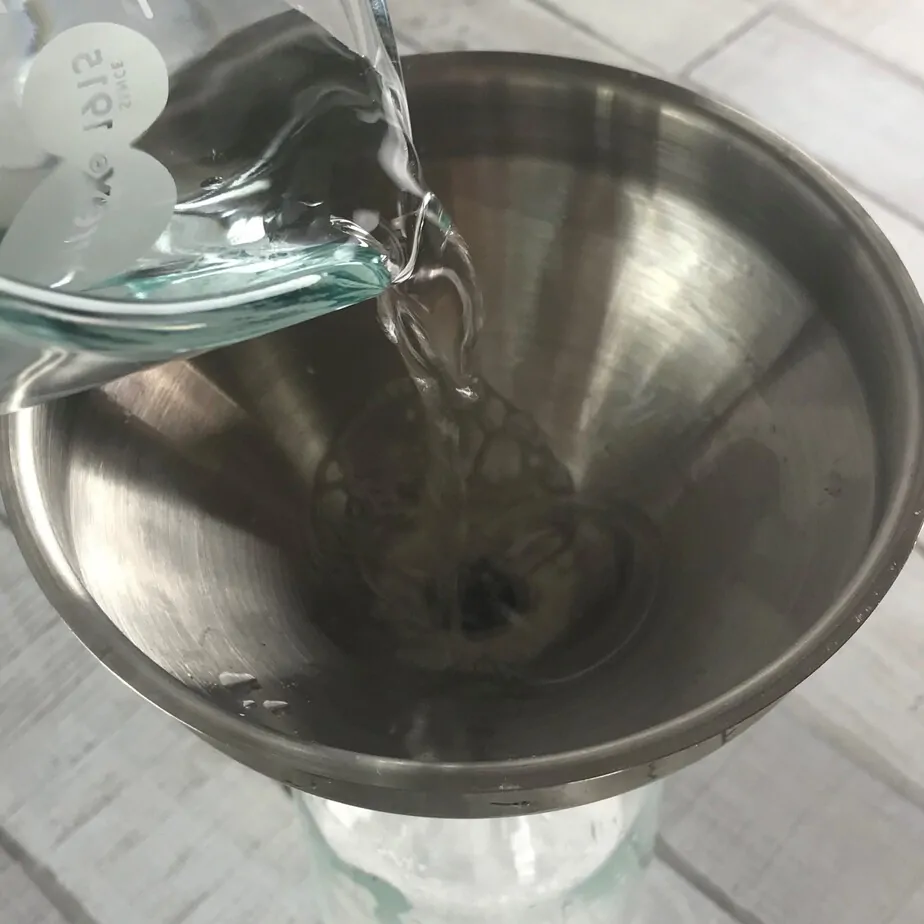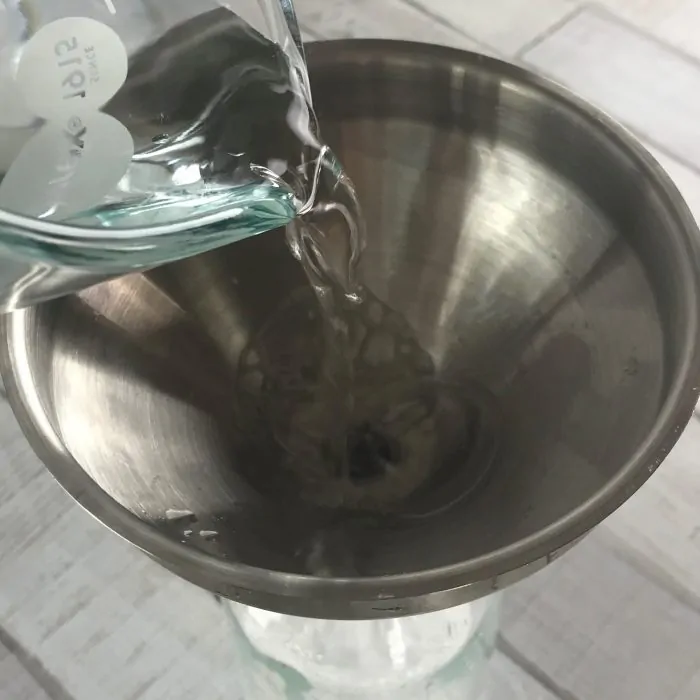 step 3:  add 1.5 cups distilled water
tip: if you don't have distilled water, you can substitute boiled and cooled filtered tap water.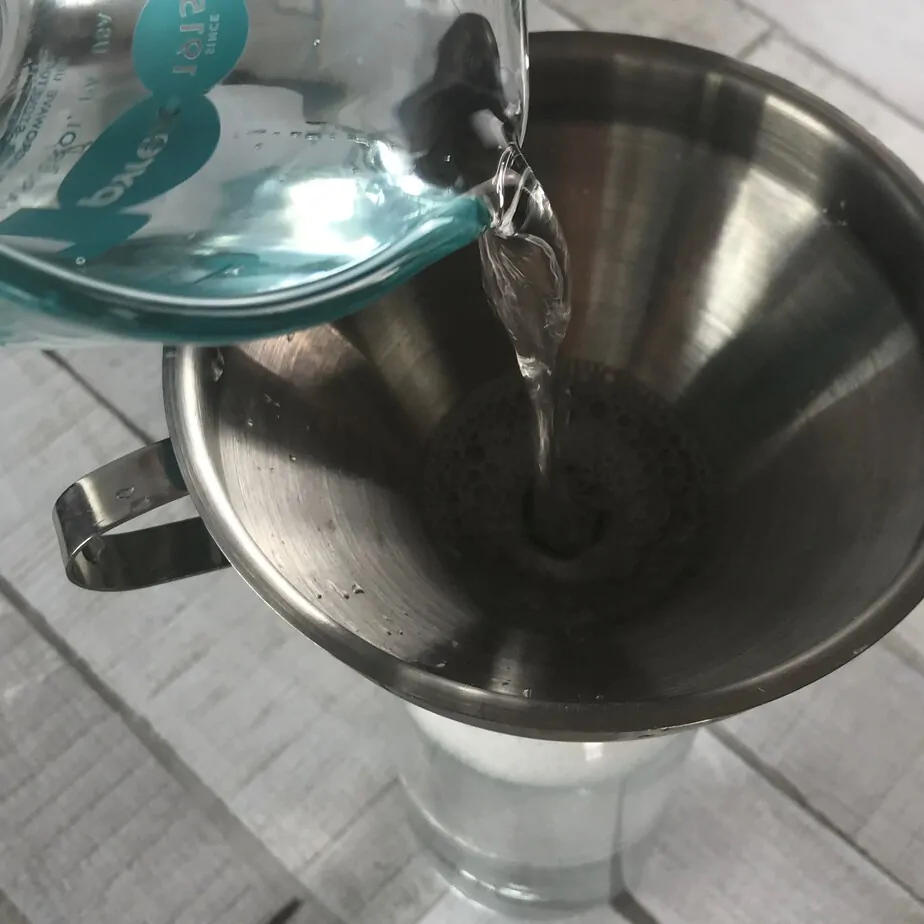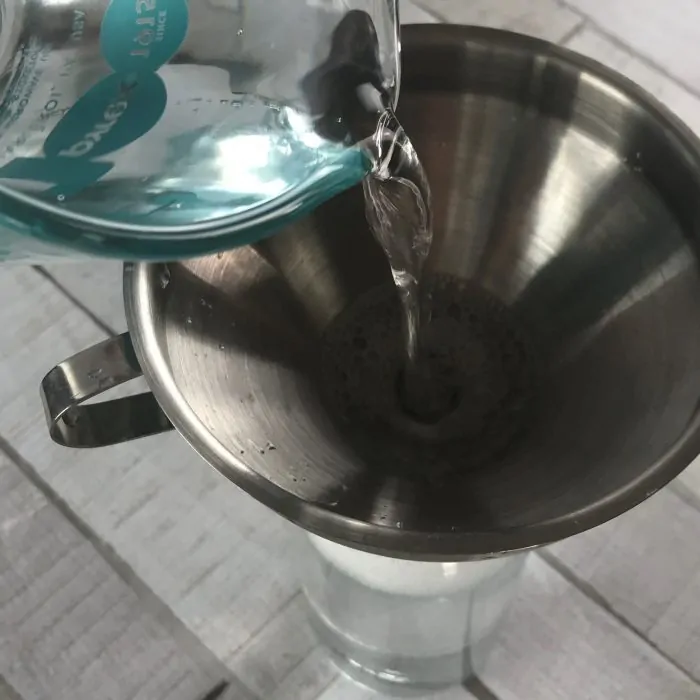 step 4:  add 40 drops of citrus essential oils
I use 20 drops lemon and 20 drops sweet orange (also known as wild orange).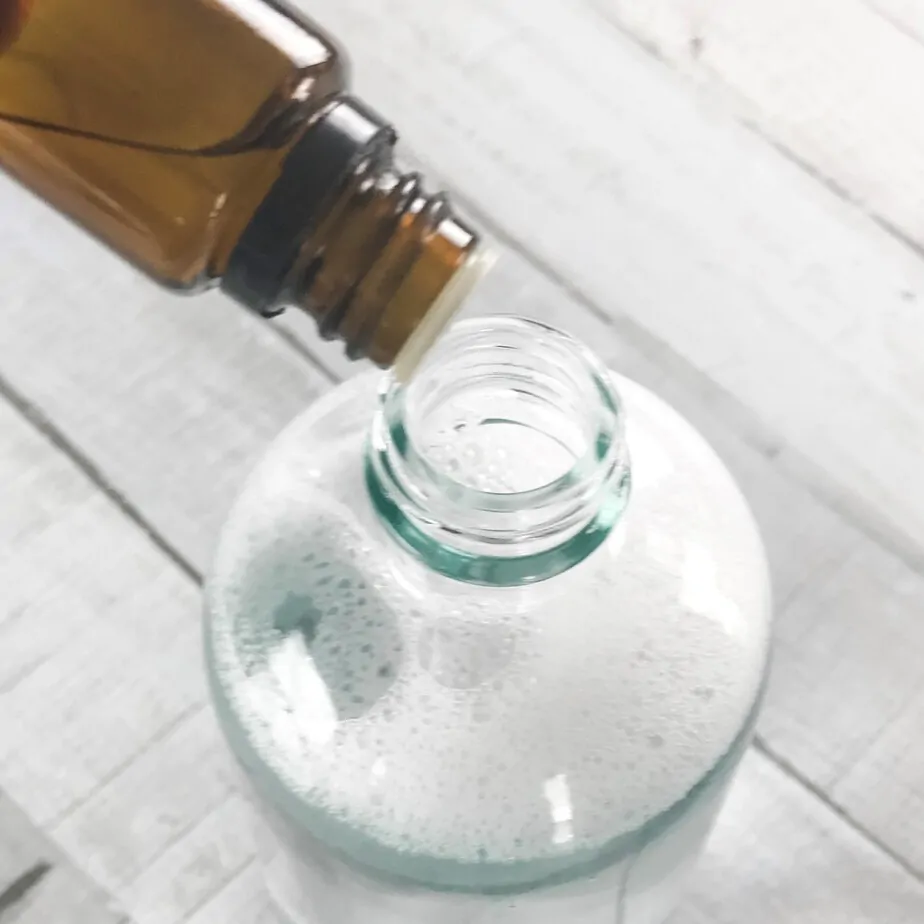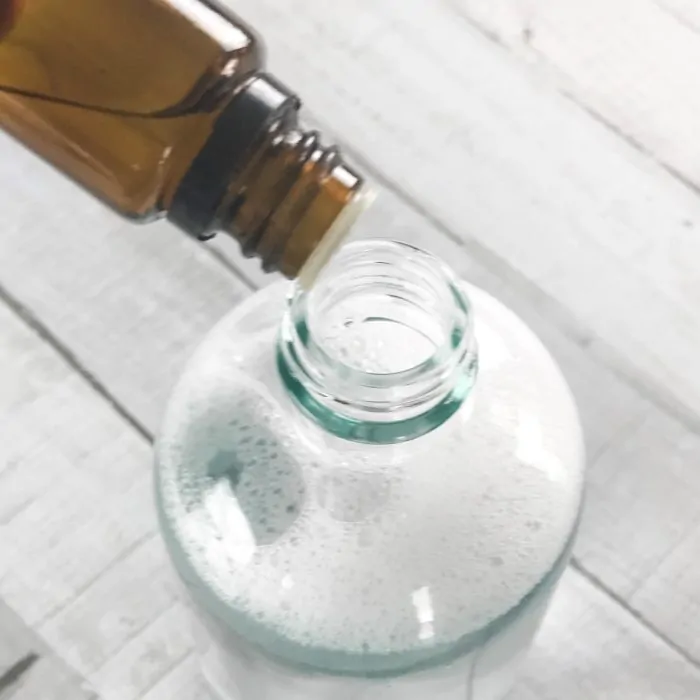 step 5:  put spray top on and shake well to mix.
tip:  You can print this label on full-sheet label paper, or do what I do and print the label on regular printer paper and attach it to the spray bottle with packing tape.  It's cheap and easy to do.  Plus, I find that the labels stay on better using packing tape than with regular label paper, and the packing tape protects the label really well, which keeps the labels looking great for a long time.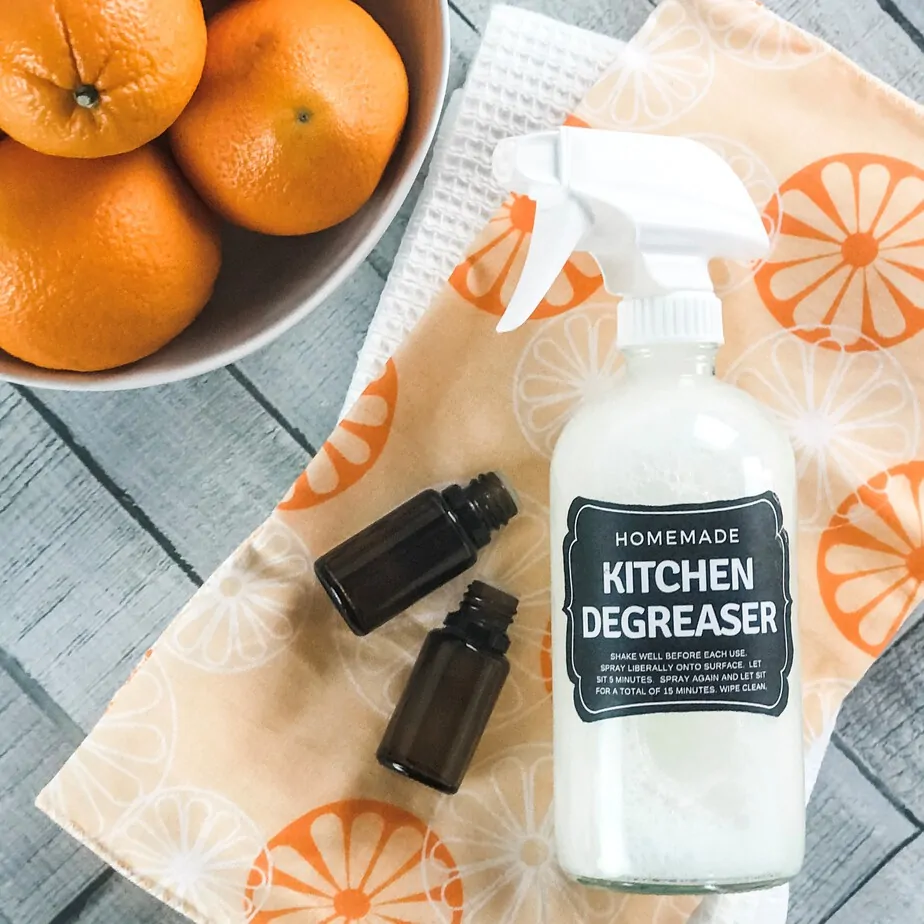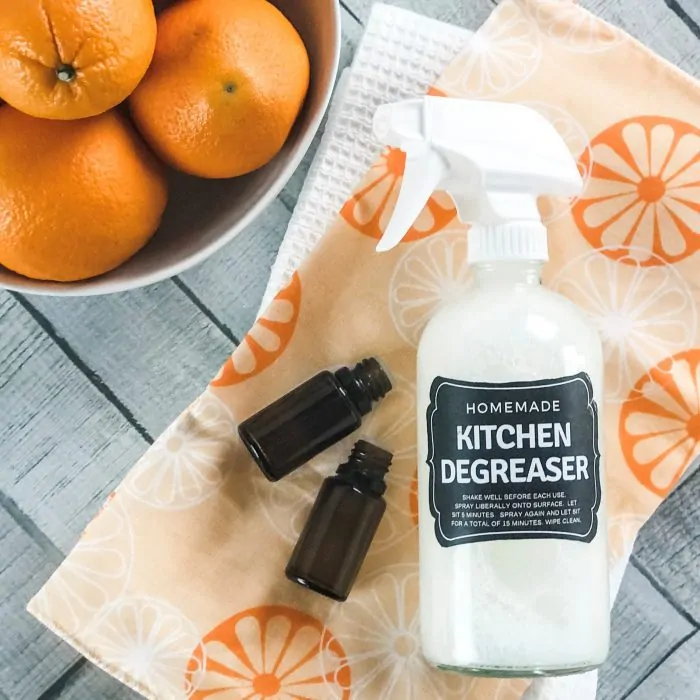 How to use
Use to clean grease and grime from kitchen cabinets, stovetops, oven, range hood, microwave, drip pans, vent, refrigerator, cupboards, and more.  Works on hard, non-porous surfaces.
shake well before each use
spray liberally on surface
let sit for 5 minutes
spray surface again (you want to keep it wet for a total of 15 minutes)
wipe clean – run a dish cloth under warm to hot water, wring out, and wipe over cleaned surface
tip:  If you need a little extra cleaning power, sprinkle surface with baking soda and then spray on natural degreaser cleaner.  The baking soda will react with the vinegar, foaming up upon contact.  Plus, the baking soda acts as a gentle abrasive to help loosen grease and grime.
tip:  always spot test the area first before using any new cleaner.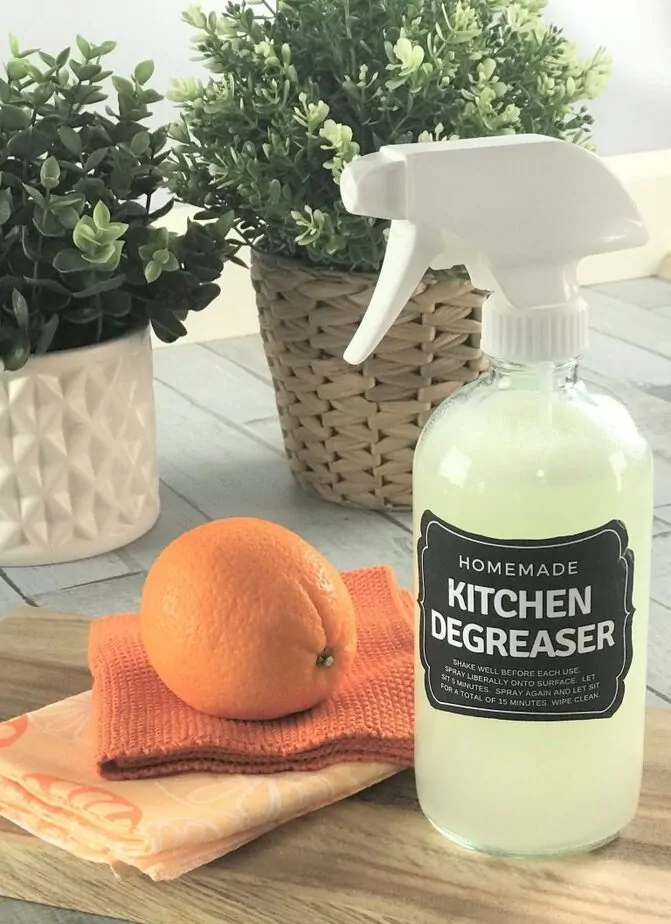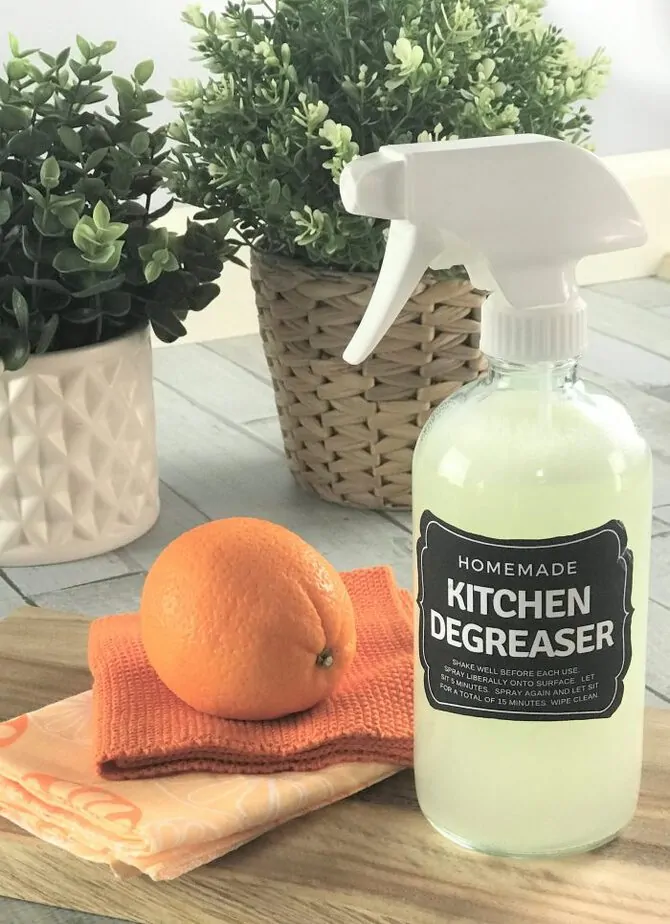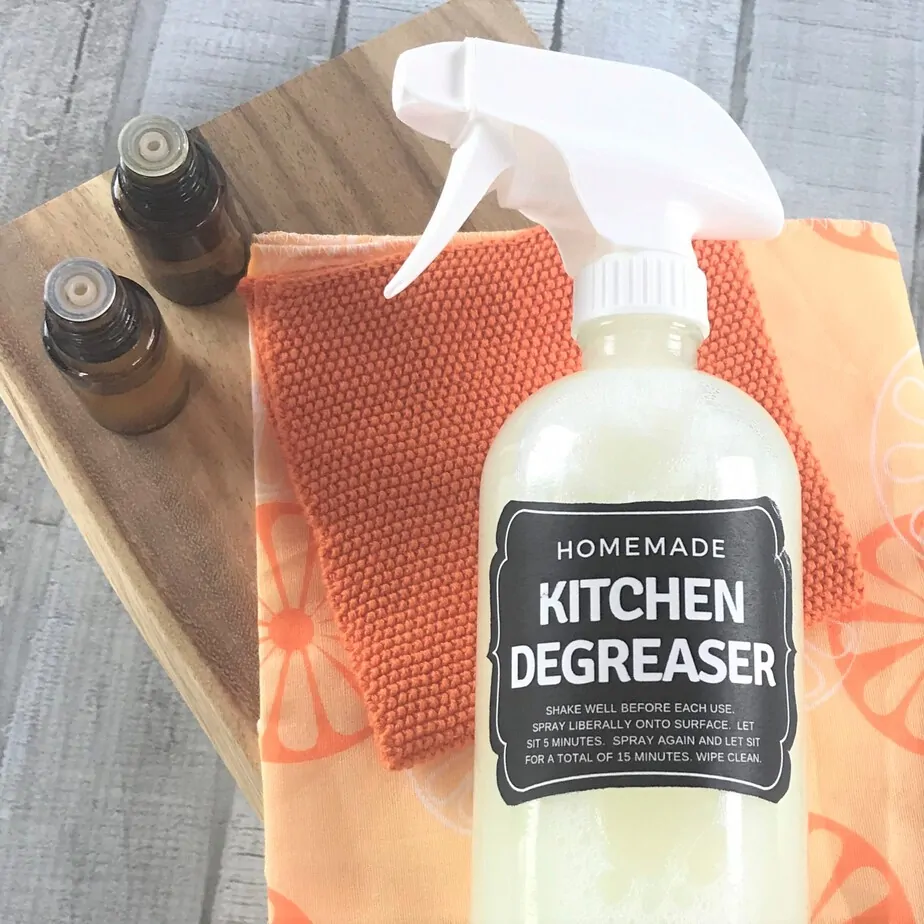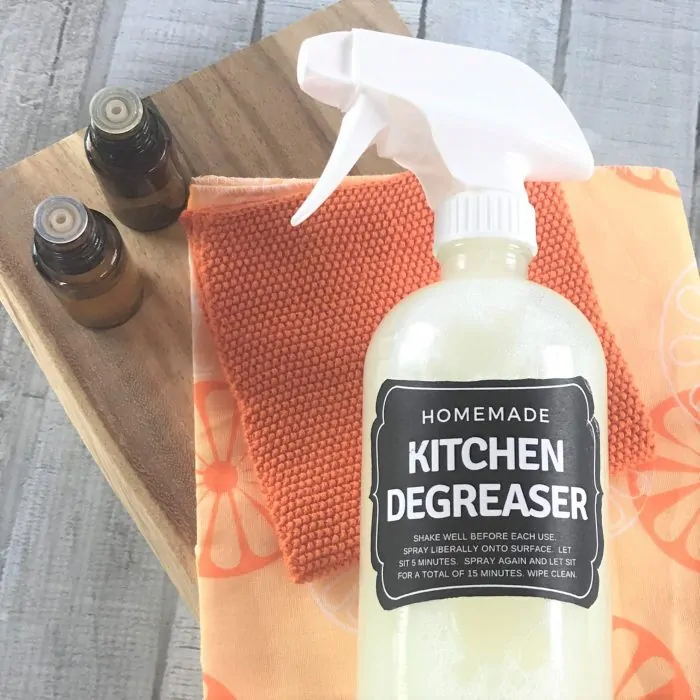 Please join us…
click here to sign up our email newsletter
Please note: Products mentioned in this article have not been evaluated by the FDA. These products and information on this page are not intended to diagnose, treat, cure, or prevent any disease. This website is not a substitute for professional care.  Always consult your medical doctor regarding your medical care. Never disregard professional medical advice or delay in seeking it because of something you have read on this website.
Disclaimer: Please know that this website contains affiliate links. This means that should you click on certain links, and then subsequently purchase a product, I will receive a small commission. The price is exactly the same for you as it would be without the affiliate link.