Do you have an essential oil diffuser necklace yet?
I love mine.  It's such an easy, convenient way for me to always have my favorite essential oils with me. …
Here are a few of my favorite oils for my diffuser necklaces:
for energy:  2 drops wild orange and 2 drops peppermint
to relax: 2 drops grounding blend and 2 drops lavender
to brighten my mood:  2 drops joyful blend and 2 drops invigorating blend
summertime blend:  2 drops bergamot, 1 drop lime, 1 drop lemon, 1 drop wild orange, and 1 drop peppermint
Check out these beautiful diffuser necklaces.  I want one of each!!
click here to check out this diffuser necklace on Etsy
You can use a several different kinds of diffuser inserts with this necklace:  a cotton pad, thin terra cotta coin, or leather disk (see below) would work great.  I love the leather disks because they hold the essential oil well and give a changeable pop of color to the necklace.
click here to check out these leather disks on Etsy
This one puts the diffuser at the back of your neck so that you get both the aromatic and topical benefits of the essential oil.  Simply place a drop or two of the essential oil if your choosing on the back of the necklace on the piece of leather that is connected with two lobster clasps and lays on the back of your neck and enjoy the benefits all day long.
This one is surgical grade hypo-allergenic stainless steel.  great for those of us with sensitive skin!  

click here to check it out
This one is a lava rock diffuser necklace with a copper feather charm and faceted labradorite bead wirewrapped onto an 18″ rose gold plated chain.  Love it!!

This beautiful diffuser necklace is made of wood!  Wonderfully absorbent, this wooden pendant created with locally harvested, untreated wood is an excellent personal diffuser for your essential oils or EO blends.
This one is on a 30″ long chain and is done in an antique bronze finish that's nickel, cadmium, and lead free
Love this dainty lava rock diffuser necklace!!  It's perfect for wearing on its own and or layering with other necklaces.
And this one allows you to pick silver or gold finish as well as 8 different colors for the cord/
Want to make your own essential oil diffuser necklaces?  Try these…
For less than $1 each you can make a lava bead necklace on a 24″ chain  click here for instructions

For about 10 cents each, you can make diffuser pendants out of air-dry clay  click here for instructions

For a few dollars each, you can make a necklace with a diffuser locket  click here for instructions
Interested in more recipes, tips, and ideas for how to use essential oils?
Please join us…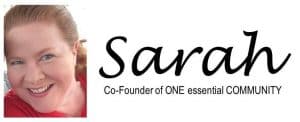 Please note: Products mentioned in this article have not been evaluated by the FDA. These products and information on this page are not intended to diagnose, treat, cure, or prevent any disease. This website is not a substitute for professional care.  Always consult your medical doctor regarding your medical care. Never disregard professional medical advice or delay in seeking it because of something you have read on this website.

Disclaimer: Please know that this website contains affiliate links. This means that should you click on certain links, and then subsequently purchase a product, I will receive a small commission. The price is exactly the same for you as it would be without the affiliate link.  Thank you for supporting me in this way.
Related posts: